Tyler Perry Feeds 5,000 Families at Drive-Thru Thanksgiving Food Giveaway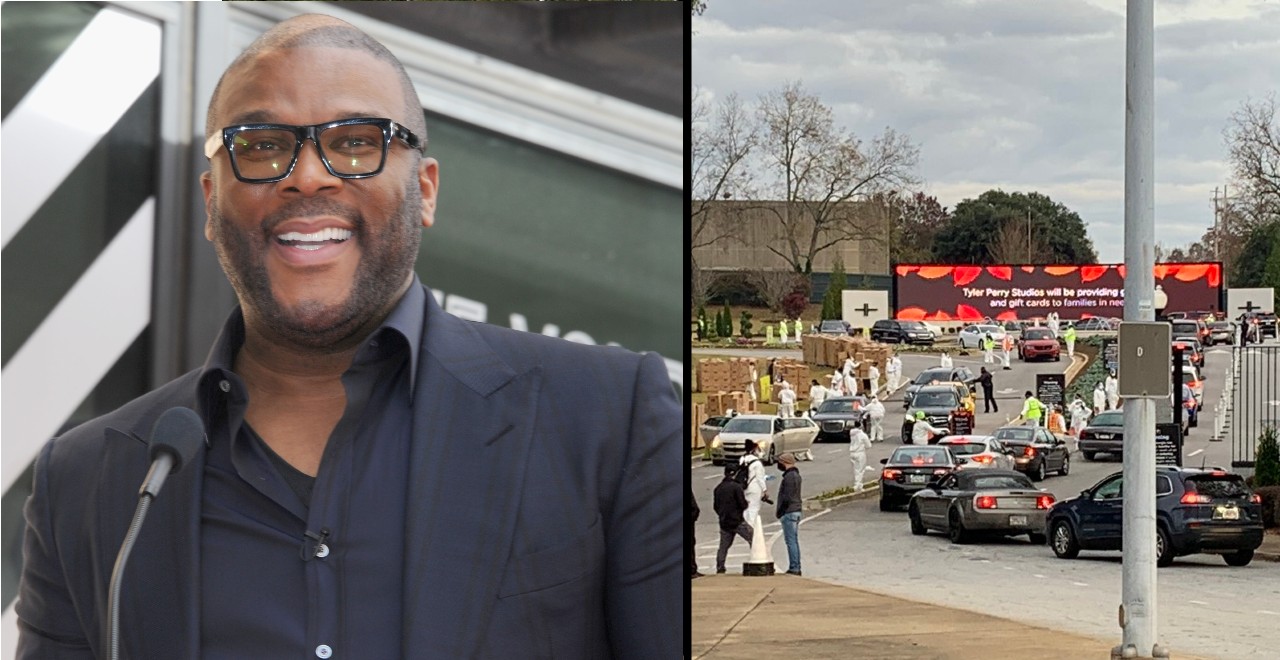 When it comes to famous people, 2020 has shown us who the true GOATS are, the ones who help people in their greatest hour of need and go above and beyond in delivering that help. And it's also shown us the ones who are astonishingly silent during this time or paying only lip-service when it comes to making a difference. You probably don't need a reminder, but Tyler Perry is indisputably in that first group. That's why he was recently crowned the people's champ.
Perry has always had a philanthropic heart, giving to the people and charities that make a difference. But he's kicked it up a gear during COVID times. He bought groceries for thousands of seniors during the height of pandemic paranoia, he went above and beyond to get his studio open safely so he could get people back to work, worked with local law enforcement to get gift cards to families in need, gave away $20,000+ in tips at his favorite restaurant, and is just an all-around good guy. Now, he's helping feed people on Thanksgiving.
His studio announced the news of a giveaway of non-perishable food items and gift cards to the first 5,000 families who came by. The poster for the Thanksgiving giveaway said they wished they 'could feed everyone', but wanted to do what they could during a time when so many are food-insecure.
We are excited to announce the #TPSGiving Food Giveaway event on Sunday, November 22nd from 8:00am to 12:00pm.

During this drive-up event we will be distributing non-perishable food items and gift cards to people who are in need during this holiday season. See you there! pic.twitter.com/kQH2DvwNYp

— Tyler Perry Studios (@TPstudios) November 19, 2020
In a sign of how much it's needed, cars started lining up THE DAY BEFORE the giveaway, like they were selling Playstation 5s. The long line even caused traffic problems.
The first car in line got here at 3pm…YESTERDAY. #TPSGiving starts at 8am. Already, lines extend miles long, causing back-ups on Langford Pkwy and I-20.@TPstudios will be giving away non-perishables and gift cards to 5K families.

People tell me, the need is greater than ever pic.twitter.com/ntoBGfaZTk

— Emilie Ikeda (@EmilieIkedaFOX5) November 22, 2020
Perry has given back during the holidays before, most notably a couple years back when he paid off $500,000 of layaway balances at Walmart for families. And this Thanksgiving give-away is another that will not soon be forgotten.
Traffic backed up for miles for the #TPSGiving food giveaway event at Tyler Perry Studios in Atlanta. https://t.co/aRqt4VxEPZ pic.twitter.com/2uIBTYWIsX

— 11Alive News (@11AliveNews) November 22, 2020
This should be the new barometer for charity work. If you're causing traffic, it tells you what you're doing is substantial, and it also tells you there are a lot of people in need, and hopefully his generosity inspires others to give back however they can during the holiday season.