Unable to Crawl, This 2-Yr-Old Is Now Mobile Thanks to Dad's Invention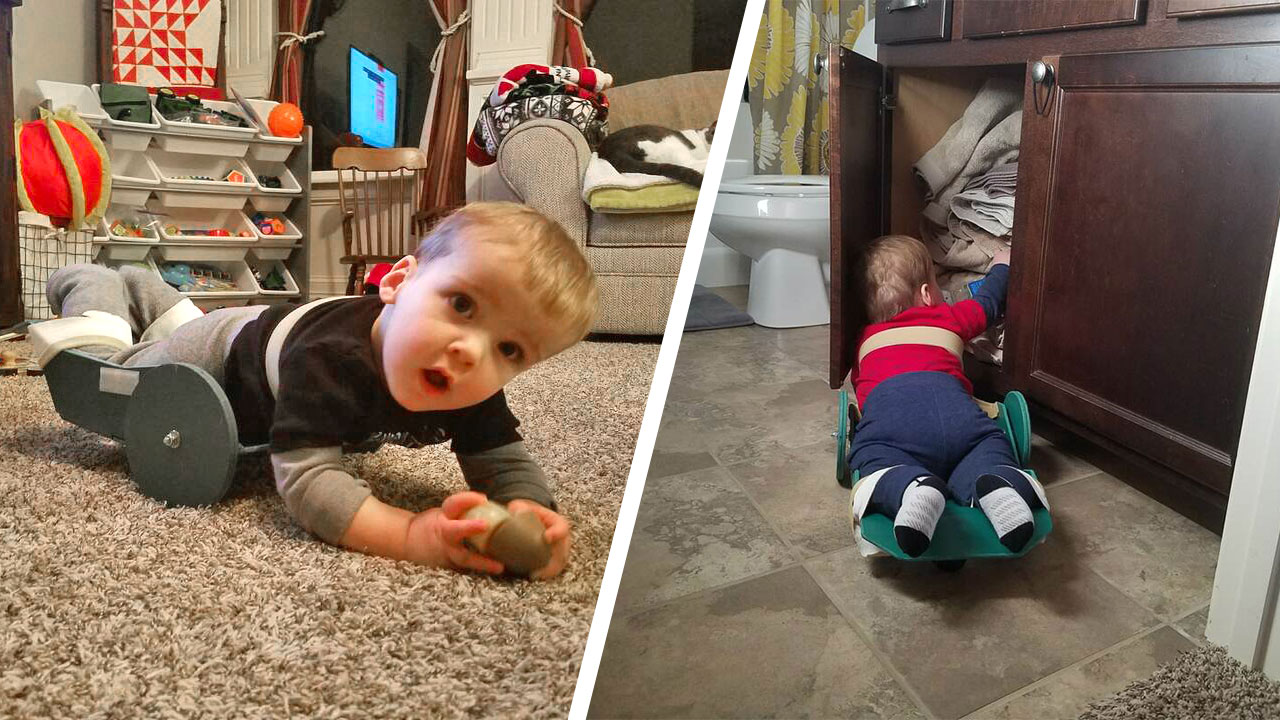 Once unable to move around on his own, Brody Moreland is now a toddler on-the-go thanks to a unique device created by his father, Taylor. Now the family is helping children like Brody by giving the gift of mobility to those who may otherwise be unable to play like other kids.
Brody was born with Spina Bifida, a rare birth defect which occurs when a baby's spinal cord fails to properly develop in the womb. In addition, Brody was also diagnosed with spinal cord atrophy, a condition which limits brain signals to his lower extremities.
"It essentially means he's paralyzed from the chest down," dad, Taylor Moreland, told Good Morning America.
Like many parents in their situation, Taylor and his wife were inundated with questions and concerns they never expected. "We were devastated," said Ally Moreland. "There was a lot of guilt and questions and worry; 'What did I do wrong? Why did this happen to my child?'" After the shock, the parents pivoted to finding solutions to make things as normal as possible for Brody. "We quit focusing on 'Why?' and began focusing on, 'How do we help him?'" said Taylor Moreland.
As time went on and Brody got older, the family was always looking for ways to give him as much freedom as possible. After the now one-year-old became increasingly curious, his parents got him a scooter board that was designed to help him crawl. Unfortunately, Brody's hands would get stuck, making things difficult for him and frustrating for his parents.
"I started thinking, 'Truly I can make something better,'" Taylor recalled. "Just seeing him try to move, that sparked it. Then it was a relentless drive to get him crawling." While the father had no formal engineering knowledge, his time spent growing up on a farm likely gave him the knowledge to think outside the box to find a simple but functional solution.
In September of last year, "The Frog" as Taylor has named it, was finally ready for use. The wheeled device allows children a more free range of motion using their arms to move around. Straps keep the rider secure while the device tilts up and down allowing it to move with them.
The family has now started producing the units out of their home in order to help others like Brody. "The Frog" currently costs around $300 to produce in its current configuration. If a family cannot afford the cost, the Morelands say they have raised some money via crowdfunding which currently enables them to send one free of charge.
"The goal right now is to get kids moving," Taylor Moreland said. "Before we had the Frog, we put him on the floor and that's where he was going to be 30 minutes later. He can now explore and do what he wants to do."
A mobile toddler does come with some additional chores, but that's just fine for his mom, Ally. "There's toys to pick up now," she told GMA." "It's exciting to watch him change. In the beginning, his cognitive development exploded as soon as he became mobile. There was a long time where I thought this wouldn't be a reality for him."
It's that reality that continues to drive their venture to help as many other families as possible to have the same experience.
Stories like this are a testament to how parents are finding unique solutions to otherwise limiting situations.