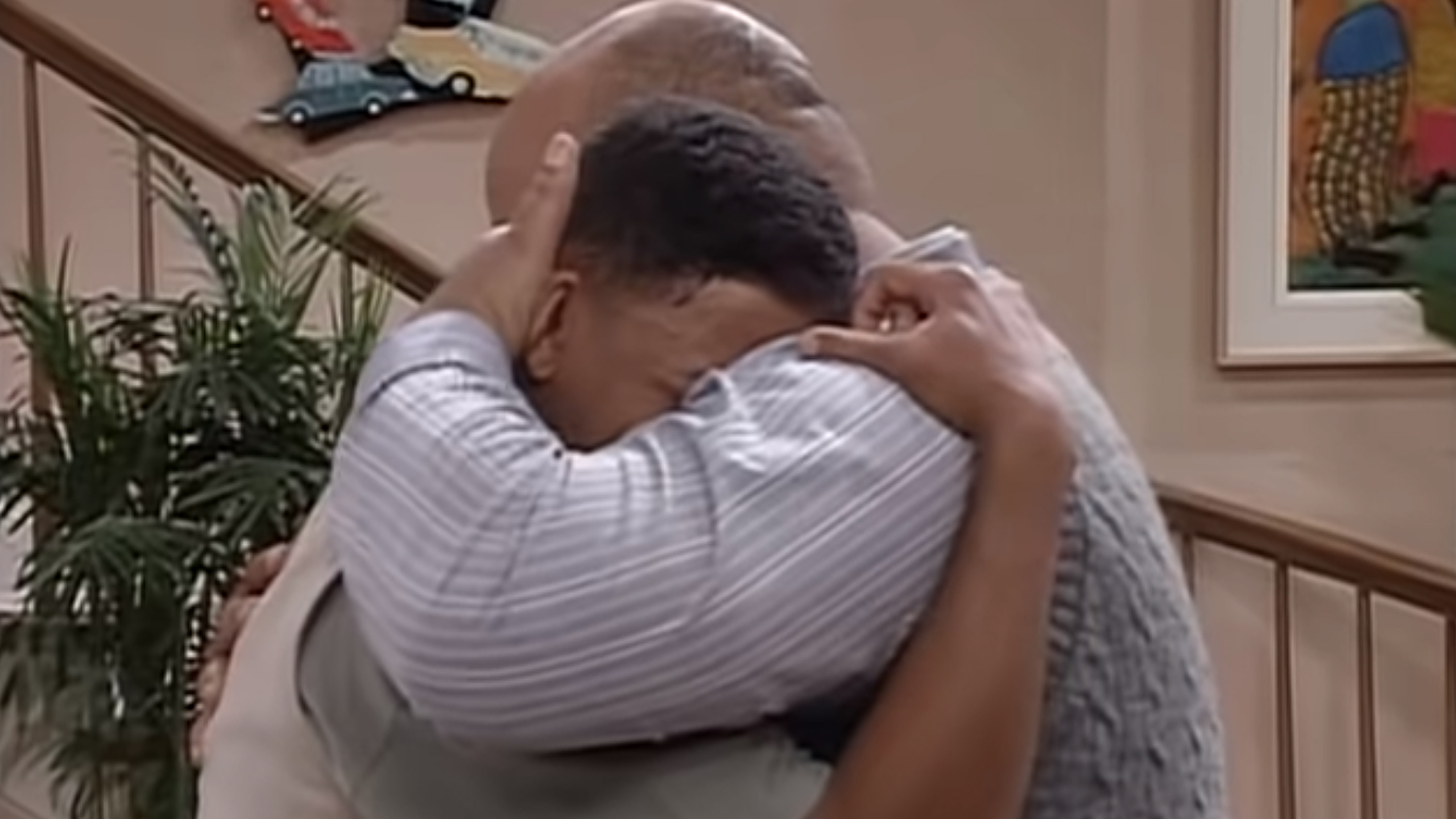 Credit: Warner Bros
During his time on The Fresh Prince of Bel-Air, Judge Phillip Banks, who we knew and loved as Uncle Phil, taught us many life lessons. In my opinion, the best thing Uncle Phil showed us was how you don't have to be a father to be a dad to a kid who needs one. Sure, Uncle Phil had kids of his own, but it was his relationship with Will, his nephew by marriage, that made the show so special.
Will was a kid from the streets of West Philadelphia (I hear that's where he was born and raised and apparently he spent most of his days on the playground. IDK.) with a no-show father and what Will needed more than anything was for someone to give a damn about him enough to be there for him. At first, neither Uncle Phil nor Will want the other in their life, but throughout the series, their relationship arc is one of the best in the history of television. The reconciliation between Will and Aunt Viv in real life was pretty sweet too. Uncle Phil was played by the incomparable James Avery who we lost in 2013.
Here are a few of my favorite moments of Uncle Phil being the dad we all needed:
"Before you criticize somebody, you find out what they're all about."
This was Season 1, Episode 1. Uncle Phil came right out of the gate strong. In this scene, we learn a lot about Will and Uncle Phil (he might be a big-time lawyer, but he was on the front lines of the civil rights movement). I really love the ending where you see Uncle Phil realize he should have taken his own advice because there's more to Will than meets the eye.
"Courage is being the way you are, no matter what anyone says about you."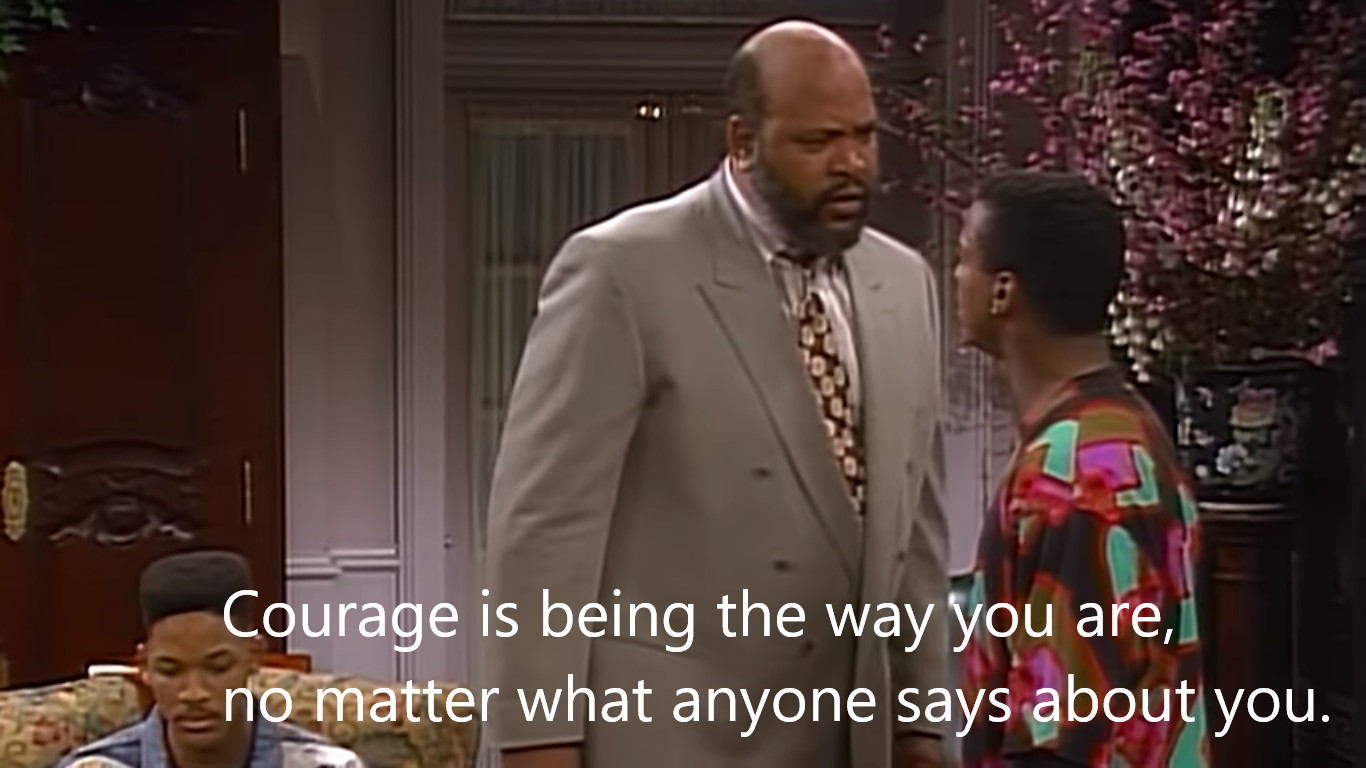 After Will challenges Carlton (AKA "C-Note") to spend a few days in Compton he ends up fitting in more than anyone could have imagined. After setting up bank accounts and tax deferments for Jazz and a few of his friends Carlton finds himself in a dangerous spot until Aunt Viv forces him to come home, but it's Uncle Phil that drops the powerful lesson. Like most high schoolers Carlton was trying to find his place and prove he belongs, but like Uncle Phil explains it takes real courage to just be who you are.
"Break out Lucille."
Do you guys think Geoffrey carries that pool stick in his pants all the time or just on special occasions? In this scene we see Uncle Phil come to the rescue yet again, a common theme throughout the entire series. One of the most important things a dad can do is simply be there for his kids when they need him and that's what Uncle Phil does over and over again. Yeah, you might get a lecture, but he's got your back all the way. Also, hustling a pool hustler who conned your kids is dad level 1,000. You get bonus points if you spotted a cameo from Hank, the security guard from The Office, in this scene.
"I'm gonna tie this place up in so much litigation that your grandchildren are going to need lawyers!"
After Will & Carlton are falsely accused of stealing a car and arrested Aunt Viv and Uncle Phil visit the police station to get them out. I love this scene for several reasons. Not only is this a jarring display of racism (that is sadly still all too familiar 30 years later), but also we get to see Uncle Phil go absolutely nuclear. My favorite thing about Uncle Phil going ballistic is you can totally hear him turn into Shredder (IYKYK). Also, how about a young Hank Azaria in this scene. Hank Azaria makes everything better. Again, Uncle Phil is there for Will and Carlton when they need him and he turns into super lawyer Phillip Banks to save the day.
"Nobody does anything without help."
After Will is too proud to accept help from Uncle Phil he gets a job he's embarrassed about to pay for Homecoming. Uncle Phil drops a truth bomb on him that its okay to let people help you. We can all use a helping hand now and again and there's nothing shameful about accepting it when it's offered.
Sometimes what you do is more important than what you say.
In what is probably the most famous, and emotional scene from Fresh Prince, Will's father lets him down one more time. It's great to hear Uncle Phil take him to task for running out on his son, but the most powerful moment comes at the end. After Will breaks down and asks the question "why don't he want me?" Uncle Phil doesn't say anything, he just grabs him and hugs him. Actions are more powerful than words.
As a kid watching Fresh Prince I thought Uncle Phil was overbearing, and at times he was, but as a dad now myself I have so much more admiration for him. Uncle Phil said it best himself when he told Ashley, after she snuck out past curfew, "I am your father. It's my job to protect you. It's a job I refuse to quit and at which I can't afford to fail". Imagine if Darth Vader had said that to Luke? "I am your father. It's my job to protect you" instead of "I am your father. I'm now going to remove your hand with my laser sword."
What the world needs is more dads like Uncle Phil.
If you want to have your heartstrings tugged even further, watch this video of the cast reuniting and watching a tribute video to Uncle Phil after James Avery passed away. Grab the tissues for this one.