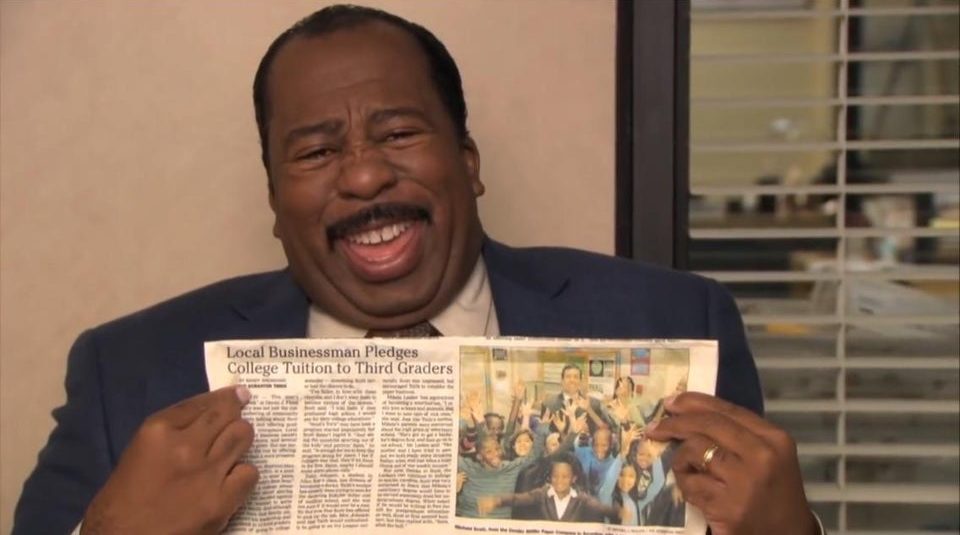 Credit: NBC
The Office has been a cultural force for over a decade now, celebrated during its nine-year run and lingering long after thanks to reruns, streaming services, and LEGO creations. But only a few of the cast have been able to parlay their success on the NBC sitcom into something larger. Steve Carrel became a movie and TV star, John Krasinski became a successful director, and also Jack Ryan, Mindy Kaling got her own show, and… Phyllis voiced Sadness in Inside Out.
Other than that, Oscar has been in a few State Farm commercials and BJ Novak wrote a children's book. No shade, but out of such a big, beloved cast, you might have expected more. You might have even expected a spin-off, and I don't mean the sort-of-but-not-really spin-off of Parks and Rec, I mean a spin-off focusing on one of the main characters.
Well, you might finally get it. And somehow it isn't Dwight!
According to his Instagram feed, Lesley David Baker might be reprising his role as Stanley in a show called Uncle Stan. That is if his Kickstarter works out.
Baker went on Instagram and posted a series of videos teasing the project.

"Yeah, I'm back. And I'm gonna need a cocktail if I'm staying," he said, as Stanely, adding, "Yeah, it's true, I'm back. Now go tell everybody," in the caption, before promoting a Kickstarter page full of information on Uncle Stan, including this synopsis:
After enjoying his retirement in Florida, carving wood, enjoying the white sand beaches, and dancing to old disco, Uncle Stan (Leslie David Baker) gets a call from his nephew Lucky in Los Angeles asking for help with his two kids and running his motorcycle/flower shop. With his business failing, his kids growing up without enough attention, and on the brink of losing his patience with the cast of characters he has working in the shop, Lucky is going to need all the help he can get from no-nonsense Uncle Stan.
When Lucky picks up his uncle at LAX in a motorcycle with a sidecar laden with flowers and no room for his luggage, Uncle Stan knows that he will be in for quite the adventure and challenge. With his unique personality and business acumen that he has acquired over decades, Stan is sure to clash once or twice with the wild personalities that Lucky has working in the shop. With his lady friend and soon-to-be fiancé completely in the dark, Uncle Stan must take swift action to make sure that not only his nephew comes out on top, but that he is able to maintain some semblance of his previously comfortable lifestyle moving forward.
Hmmm.
It's yet to be seen if this project will actually materialize, or if anyone really wants it to (the Kickstarter currently has nearly $40k of its $300,000 goal). Stanley was fun as part of a large ensemble but like much of the cast, it's hard to imagine an entire series built around him.
I'd rather watch a show about Kevin, featuring his band trying out for weddings and eating his favorite chili.