Over 5,000 Sea Turtles Were Rescued From Frigid Texas Water by Volunteers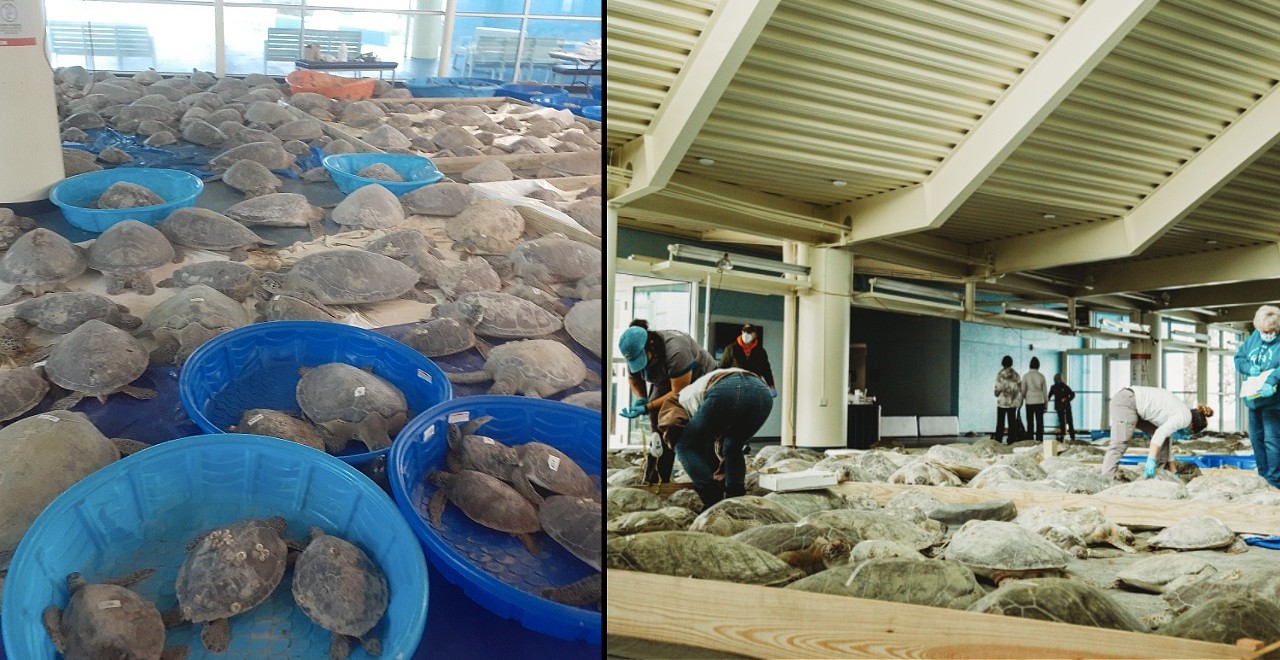 The historically cold weather in Texas left the entire state in shock. Millions were left without power, people were stranded, homes and buildings were damaged – cities were wildly unprepared and unequipped to deal with the extremely unusual weather, and as a result, the people of Texas leaned on each other for support. The humans of Texas suffered, and sadly, so did the animals.
The animals native to Texas prefer the warmer climate, and just like Texas's human residents, they were caught off-guard by the unexpected cold. In the waters of South Padre Island, thousands of endangered sea turtles live happily in the warmth they need to survive. In a typical winter, there may be a few days too cold for the turtles, but the water generally stays warm enough for them to remain there safely. This winter, however, temperatures dropped and refused to budge. The sea turtles were in danger.
Despite the personal stressors the residents of Texas experienced due to the cold, despite water shortages, dangerous travel conditions, and power outages, selfless volunteers banded together with one mission: they had to save the turtles.
Volunteers scrambled to gather supplies and provide transportation, with organizations like Sea Turtle, Inc. pulling turtles from the frigid water and moving them to the temporary safety of the South Padre Convention Center. SpaceX provided the heroic organization with a backup generator, which proved invaluable after the facility lost power.
We have surpassed more than 4,900 cold-stun sea turtles in the largest recorded cold-stun event in history. These endangered sea turtles are our number #1 priority your support and encouragement has been overwhelming. Donate here to support our efforts: https://t.co/9ajzm5oTTv pic.twitter.com/dEqu4Q8xtS

— Sea Turtle, Inc. (@SeaTurtleInc) February 19, 2021
When turtles' internal temperatures drop, similar to humans experiencing hypothermia, their heart rates slow. They experience paralysis and float to the top of the water, leaving them in danger of being attacked by predators. In a typical winter, it isn't unusual for volunteers to save several dozen turtles from too-cold conditions. But during this extremely taxing winter, thousands of cold-stunned turtles were pulled from the freezing South Padre water, some over 100 years old and weighing hundreds of pounds.
On Tuesday, Sea Turtle Inc. shared an incredible update on Facebook. They explained, "After an exhaustive 24-hour effort that went through the night and has just ended this morning, Sea Turtle, Inc. was successfully able to release more than 2,200 previously cold-stunned turtles into the open ocean of the Gulf of Mexico. We still have lots of work to do but we are rejuvenated with passion and having seen our first released turtles swim away. Thank you for your patience while we worked tirelessly overnight to get this work done."
The Dad Staff is donating to a collection of food and warming centers throughout Texas to help families in need. Impact Your World allows us to contribute to 14 organizations, including The Red Cross, Mercy Chefs, Austin Pets Alive, as well as local food banks in Dallas, Houston, and Austin. If you are able, please consider donating any amount here.