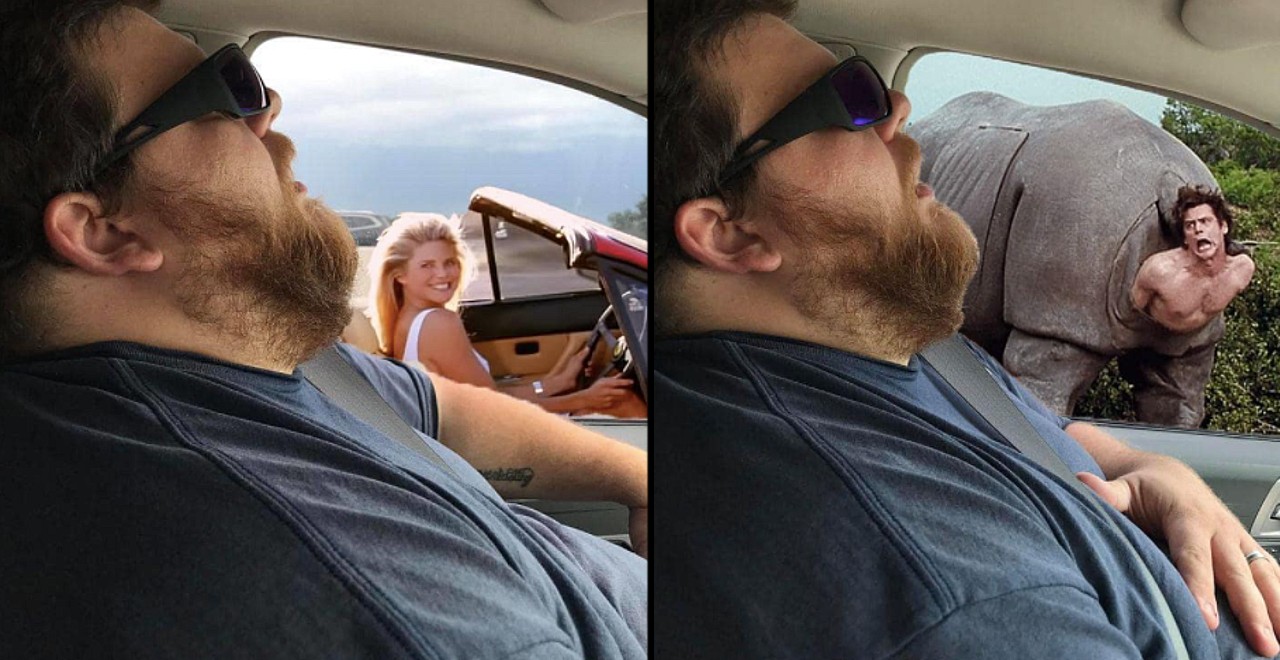 Credit: Facebook/Sharea Overman
Becoming a dad means suddenly possessing a very specific set of skills. There's the ability to grill anything at the drop of a hat, the nearly-uncontrollable affinity for lawn mowers, and the baffling mastery of falling asleep anywhere in under a minute in a half. While Nate Overman wasn't actually asleep in the driver's seat on a family road trip, he sure looked the part – so his wife decided to pull a picture-perfect prank that has captured the imagination of photoshop masters around the world.
Sharea and Nate Overman along with their three young boys were driving to visit family when Sharea noticed her husband looked a little too comfy in the driver's seat. Nate, probably enjoying a few hours without running after his kids, was leaning back peacefully in his seat with his head tilted slightly back. Because of his sunglasses, it's impossible to tell that he's fully awake – but given that the family of five made it safely to their destination, we'll take their word for it. After realizing that her husband looked like he was fully passed out in the driver's seat, Sharea, a part-time photographer, had an idea.
"I'm a part of this group of incredibly talented photographers on Facebook," Sharea told CNN. "So, I decided to post the photo and asked people to photoshop some fun backgrounds into the photo. To make it look like he fell asleep while all these crazy things were going on."
While the couple was still in transit, Sharea's Facebook group more than delivered. Photo after photo popped up in the comments, each more ridiculous than the last. Before they even reached their family's town, Sharea told her husband what she'd done with his picture (partly because she was no longer able to hide her laughter). Nate was a good sport, entertained by the creativity of the community of photographers. By the time they reached their family, the pair had more or less forgotten about the photo. A few days later though, Sharea realized that the photo had spread far beyond her Facebook group.
"I started getting messages from people in South Africa, Australia, New Zealand, Alaska… sending me their photoshopped images of my husband," Sharea said. "There are people who have broken down and told us just how hard this year has been for them and that this is the first time they've been able to have a really good laugh at something."
A Facebook user was nice enough to put together some of her favorite submissions from the private group, so click here to enjoy some much-needed laughs.