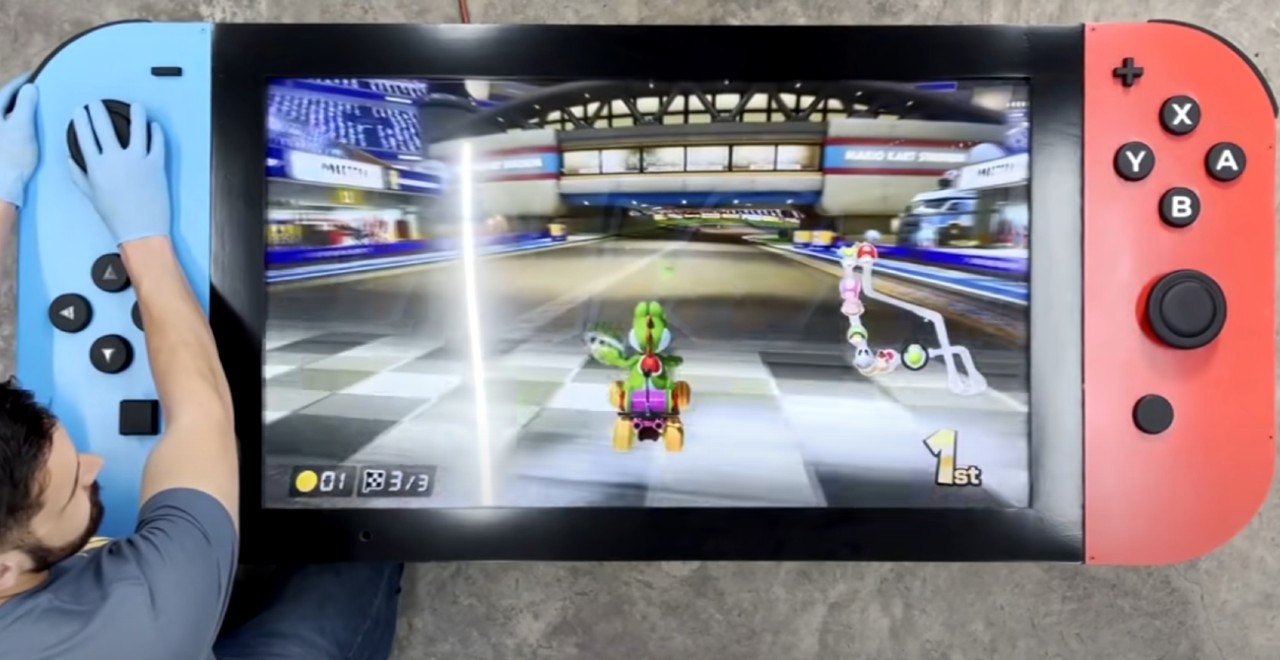 Credit: YouTube/Michael Pick
There are those of us that think the Nintendo Switch is just perfect the way it is… and then there's YouTuber/Engineer Michael Pick.
Pick aka "The Casual Engineer" has created the world's largest, fully-functional Nintendo Switch. In his video below, you can see the gargantuan process he had to go through to put it all together, as well as him struggling to reach all the buttons at once while playing Mario Kart and Fortnite. Could you imagine playing Breath of the Wild on it?
This giant Nintendo Switch weighs in at 65-pounds and features a 650% larger screen than the standard Switch. It even runs 4K, which sadly puts the specs on the newly rumored Nintendo Switch Pro console to shame. We've seen some really cool Nintendo Switch TV frames in the past, but the Joy-Con's are typically used for storage. The controllers on this beast are fully playable. Each button on the oversized Switch controllers toggles a servo that presses the same button via a real Joy-Con controller hidden within the project. It's also compatible with regular Joy-Cons and Switch Pro Controllers to make playing games slightly easier.
While creating the world's largest Nintendo Switch is quite the feat, the whole endeavor is made that much sweeter because Pick donated it to St. Jude Children's Hospital.
In an interview with IGN, Pick explained why he took on such a noble and herculean task,
"I kept losing my switch…haha. No, seriously I thought it would be a really cool project. And I knew that the kids at the children's hospital would love it. So it was a win-win in my book. The hospital told me they intend to install the Giant Switch in one of the play rooms for the kids to play games on. They'll most likely be using Joy-Cons/pro controllers, so using the switch to play games on won't be a full-body workout."
Honestly, it's one of the coolest things I've ever seen and it's always nice to see people giving back to the community!