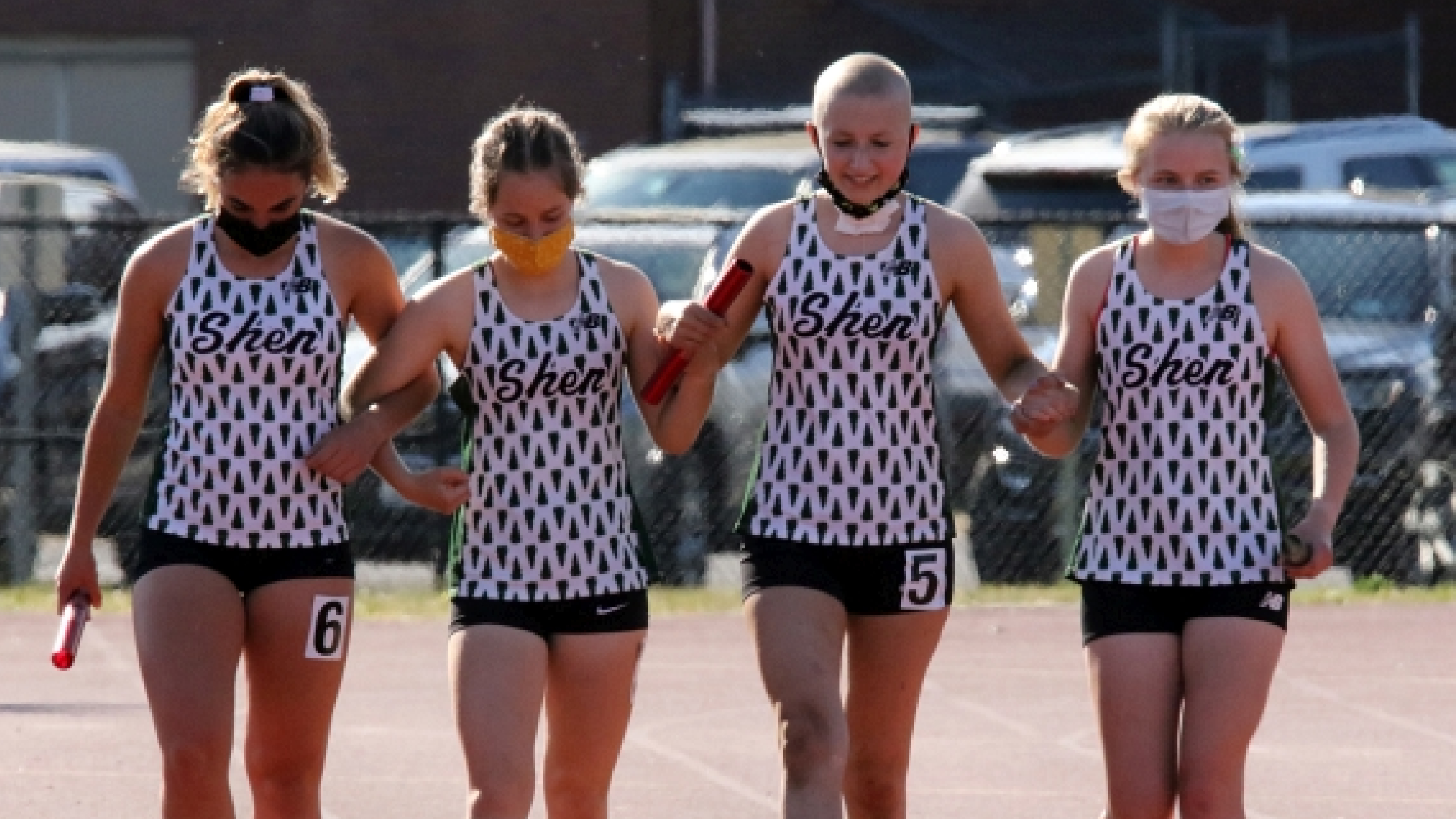 Credit: Twitter/ShenAthletics
A high school girls track team proved that some of the most powerful moments in sports have nothing to do with the scoreboard.
Shenendehowa High School in New York shared a video of their girls relay team finishing the final race of the season in the best way possible; together. With arms around teammate Yeva Klingbeil, a young girl with cancer, the whole team crossed the finish line as one.
What a great moment to see Senior Yeva Klingbeil at today's girls track & field meet. Yeva's teammates help her across the line in the 4X1 relay. Yeva continues her fight with cancer and we continue to be amazed by her spirit!! @CoachCloutier @ShenNews @Agostinoni_Ron pic.twitter.com/pMs35dYLgY

— ShenAthletics (@ShenAthletics) May 25, 2021
Klingbeil is a senior and was diagnosed with cancer in the fall of 2019. The school and team have rallied around her fighting spirit. Earlier that day she endured chemo treatments but wasn't going to miss the last meet of the season. Watching her team swarm her, jumping up and down, chanting her name after finishing the race is an incredible sports moment. That's what it's all about.
"To all be together and have something happy to celebrate, there was just a lot of joy in that moment," one of her teammates told a local news outlet. "She's inspiring everyone around her."
She's fighting a rare form of cancer that affects muscle tissue, and also affected her jaw and brainstem. Childhood cancer is a scourge on our society, and one of the most urgent medical battles researchers face. People like Yeva are an inspiration to everyone in that fight.
The best feeling is knowing you are part of a team!! #TeamFirst #GoYeva pic.twitter.com/9gAJEX2krk

— ShenAthletics (@ShenAthletics) May 26, 2021
While cancer has taken much from her high school experience, it didn't take her teammates, or their support and love for her.