Wholesome Father of Two Gains TikTok Fame as "Your Korean Dad"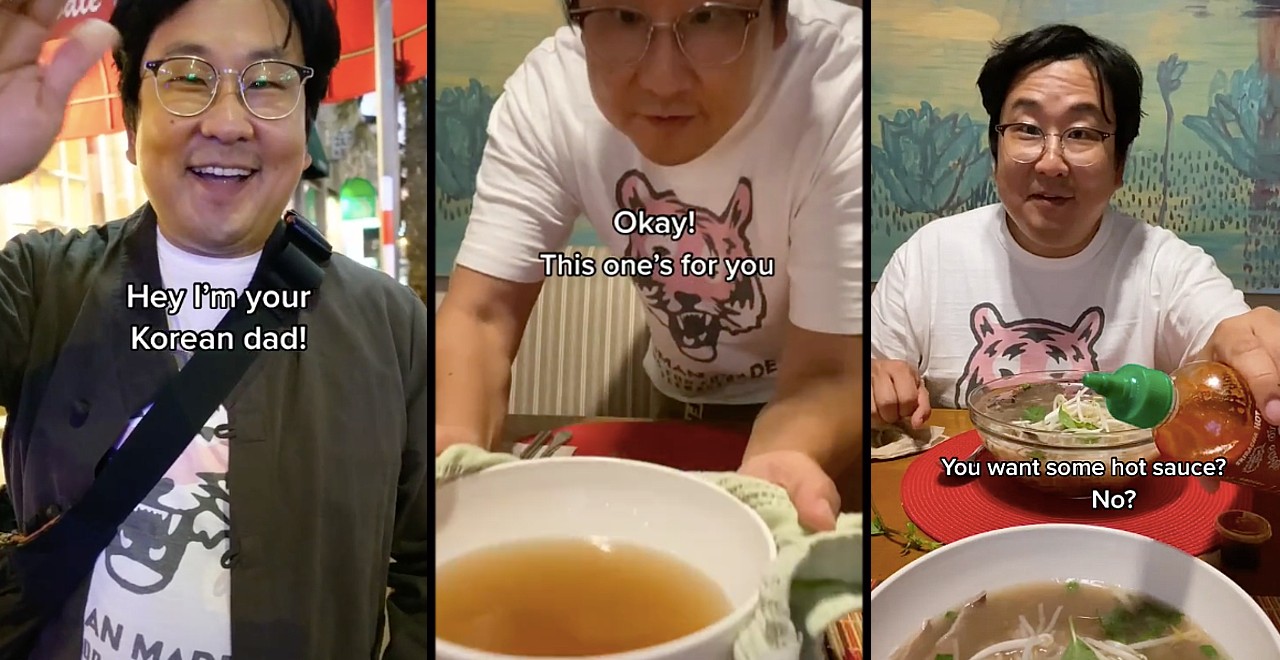 We're more or less obsessed with Dads who shine on the Internet – fathers gathering from far and wide to share their skills, humor, compassion, and over-all dadness with strangers around the world. We can't get enough of their dad-infused creativity, and the beautiful thing about the internet is that new dads are going viral every single day, especially on TikTok. We can barely keep up, and we couldn't be happier.
At first glance, Nick Cho's, or "Your Korean Dad's videos may not seem to stand out. They aren't the loud, goofy, visually-stimulating videos that often gain TikTok fame. However, Cho offers something that all filters in the world can't – a sense of connection. Each video begins with Cho delivering his charming introduction, "Hey, I'm your Korean dad!"
Though Cho has two kids of his own, he has indeed become the world's Korean Dad. In just over a year of posting his videos, the 47-year-old has gained over 1.5 million followers – and it's no coincidence. The subject matter is nothing out of the ordinary, but that's a huge part of this coffee entrepreneur's charm. Cho takes his viewers to the grocery store, out for dinner, he even prepares coffee to enjoy out in nature.
Cho never intended to gain internet fame, but something in his videos tugs at the heartstrings of his viewers. Nick Cho has a unique way of interacting with the camera, making you feel as if you're right there with him. He'll hold out his hand to make sure you don't fall behind when running errands, set a steaming bowl of pho in front of you, and talk as if you're sitting in the car next to him. Cho manages to make his viewers feel seen without actually seeing them.
"There's a lot of this I can't explain," he said in an interview with TODAY. "It's not like I had this master plan and it's all playing out."
"I'm just trying to listen and understand. At the end of the day, I'm just being myself — trying to be my best self — and offer up what I have to offer," he added.
It's clear from Cho's videos that he is indeed being his authentic self. From his contagious laugh to his inviting smile, he manages to make every viewer feel included. Whether you're lacking a father figure, missing your own dad, or feeling especially alone, Cho's videos have the unique capability of temporarily filling that gap.
Responses to his videos are overwhelmingly positive, with TikTok users expressing the comfort and safety they feel watching Cho in action. "I lost my dad two years ago. These videos always make me smile," one user commented. "Why am I sobbing," commented another.
Cho's videos make everyone feel a bit different, but they make everyone feel. This father of two touches on something that isn't easily identifiable, and does it with such sincerity that it warms even the coldest hearts. Cho hopes to use his platform to empower others and encourage them to be authentic, standing up for what they believe in even when it's difficult.
"It's less about being the perfect dad or whatever, it's more like little snapshots and lessons that ultimately when you put it together … helps heal a lot of the hurt and helps people treat each other better."