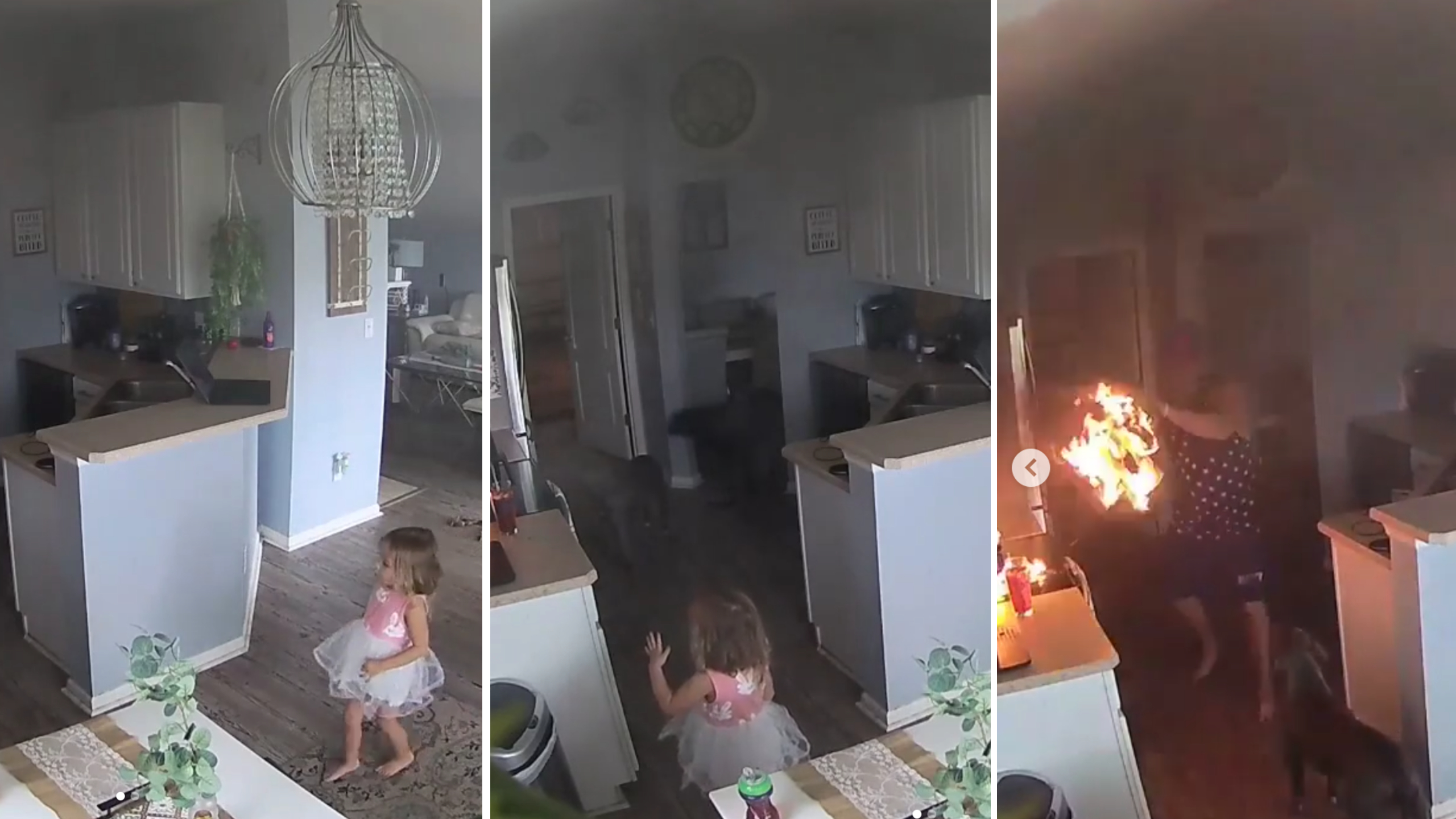 Credit: Instagram/danieljermyn
A 4-year-old girl is being hailed as a hero for saving her dad and their house from a horrific situation. The girl noticed a fire in the kitchen and was caught on a security camera facing down the crisis before taking decisive action. The girl's dad, Daniel, shared the incredible (and funny, since it turned out OK) footage on Instagram.
Amelia was doing what most 4-year-old girls spend most of their time doing; watching "Frozen." Then, she notices a fire in the kitchen (later discovered it was caused by a short-circuited air fryer). She can be heard looking at the fire mumbling "That's a fire. Oh no, my dad is gonna kill me."
She stands back from the flames and starts saying "think, think" and then decides on the best course of action ANY child can take in these circumstances. She ran and got her dad. You can see Daniel quickly take stock of the situation, and after a few overwhelming seconds, he locks it in and removes the air fryer before taking care of the other embers.
View this post on Instagram
"So my daughter saved my home tonight," he wrote on IG. "She is a real hero today, all while Frozen was playing in the background. I think Idina Menzel would be proud."
Let's just stop right here to say how amazing it is that this girl could act decisively at the moment, and, more astonishingly, could be pulled away from "Frozen" for any reason. My house could be getting sucked up by a tornado and my daughters would still be locked into the final verse of "Let it Go", without even pausing to appreciate the irony of the words during the impending doom.
And it must also be acknowledged that her first reactions are very funny. It's OK to say this since no one was hurt, but seeing a fire and just immediately thinking "oh no, my dad is gonna kill me" followed by "think, think" is probably the cutest way anyone has saved the day in 2021.
She didn't put out the fire using Elsa's ice powers, she used something much stronger and more real, Dad powers.