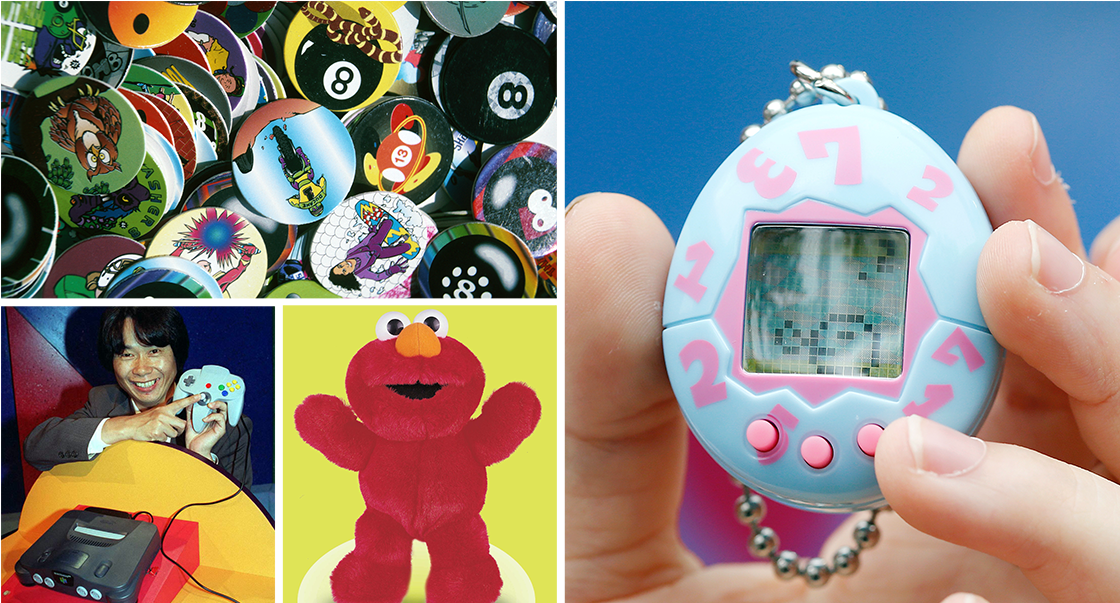 Credit: Getty / Education Images / Chesnot / John T. Barr
When someone references something from the '90s, my brain still categorizes it as something taking place roughly 7 to 10 years ago. I'm pretty sure it's a defense mechanism preventing me from focusing too hard on my body's gradual decay and slow march towards death. But let's not focus on that right now.
Instead, let's dwell on the special and bizarre decade that was the '90s itself. The books were weird. The food was awesome. Companies were going nuts with crazy, neon-colored ideas that, as kids, we couldn't stop pining over. The toys, specifically, held a very special place in our hearts, even if they seem a little absurd in retrospect. The internet was in its infancy so we didn't have detailed reviews or YouTube unboxing videos. We just had TV commercials that made us salivate at the prospect of getting our grimy hands on the newest popular gadget. It was a sickness and we loved it so damn much.
So here's a list of some of the most popular toys from the 90s that we ached to have and still can't seem to forget. And the cool part is a lot of them are still for sale!
Just because we didn't have smartphones or tablets like kids nowadays doesn't mean we weren't completely addicted to other tiny screens. Tamagotchis—every kid's favorite black & white virtual creature—required constant care from birth to their inevitable death when you forgot to feed it or clean up its pixelated poop. Hmmm, this all seems mighty familiar now that we're parents.
Fun Fact: Tamagotchis could start their own families. You and a friend could breed a male and female Tamagotchi, after which the female would produce two eggs—one for each parent to care for respectively. No custody battles here!
Everyone's favorite gel-filled action figure has actually been around since 1976 but he remained popular and in production until 1997. Stretch could be pulled, twisted, and tied into a near-infinite number of positions up to 5 feet in length. By popular demand, he even made a resurgence in 2016 and can be purchased today!
Fun Fact: As of 2017, Stretch Armstrong stars in his own TV show on Netflix called Stretch Armstrong and the Flex Fighters. Whether it's actually good is for you to decide.
While technically a card game and not a toy in the traditional sense, we can't talk about '90s crazes without talking about Pokemon Cards. This paper-based phenomenon was an instant success when it dropped thanks to the already surging popularity of the Pokemon video games. Just about everyone spent their time playing with or trading their card collection during recess… except for that kid, Kyle, who had a holographic Charizard and made sure EVERYBODY knew.
Fun Fact: Kyle is in prison now (probably).
The Skip-It was released in the '80s but didn't really hit its stride until the '90s. Not exactly an innovative piece of tech, it was literally a rolling ball attached to a string tied to your leg that required you to jump over it as you spin it faster and faster. Of course, the ball only really rolled on hard surfaces, nearly guaranteeing bodily injury when you eventually tripped and fell on the concrete. Oh well, pain builds character.
Fun Fact: The addition of the skip counter in the '90s led to sales doubling compared to the late '80s. The then-CEO gleefully referred to it as a "Skip-It Renaissance."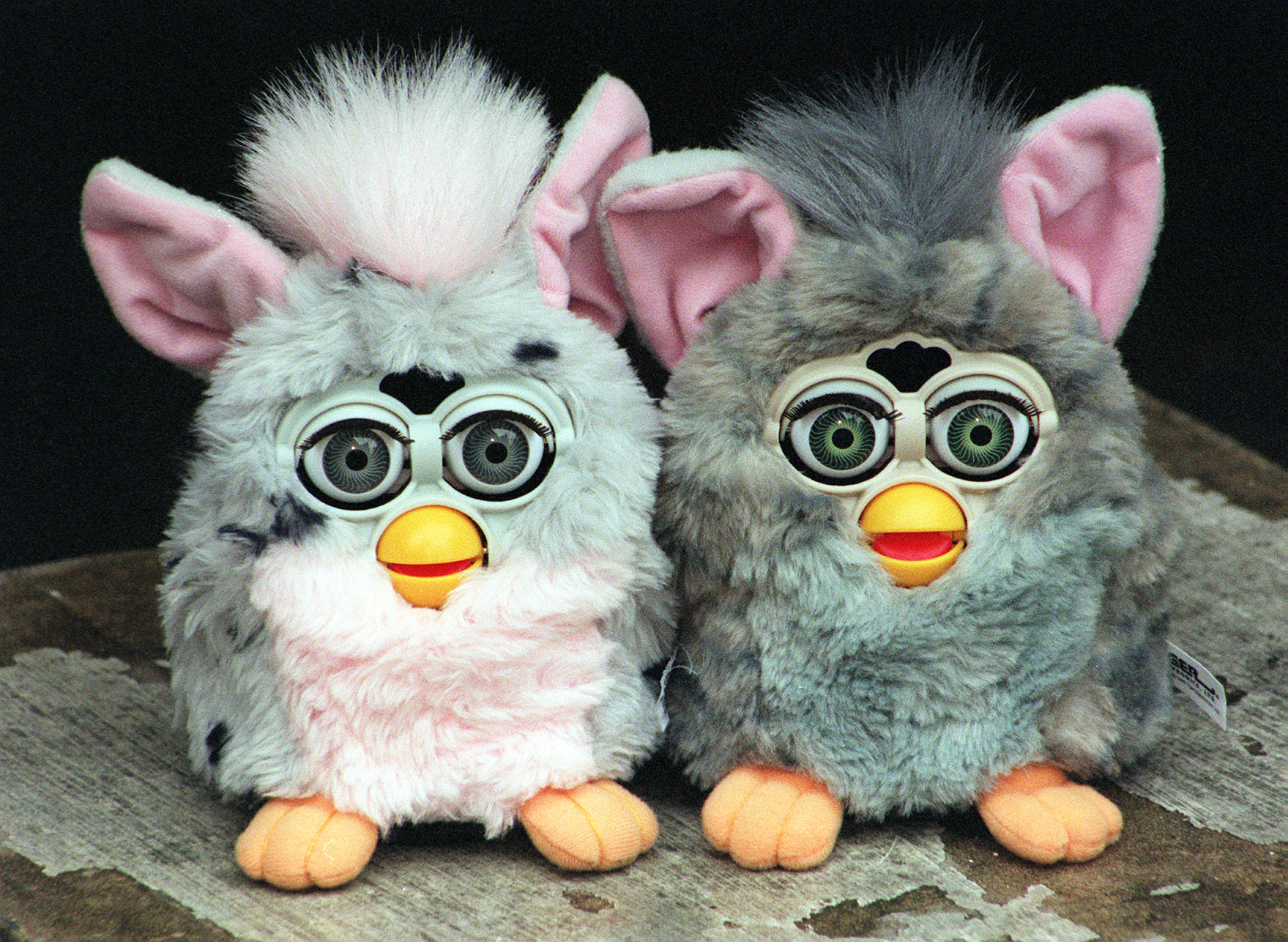 Odds are pretty good that you were one of the many kids who felt snubbed on December 25, 1998 when your Christmas presents were markedly Furby-less. These little beaked, furballs were a massive commercial success with their moving eyes and unnerving ability to gradually learn English. Of course, the real joy was teaching them swear words and laughing as their batteries died, causing their voices to deepen and slow until they sounded like tiny, possessed demon animals. God, what a treat.
Fun Fact: An English-to-Furbish (the Furby language) dictionary was published in 2005 and included 121 words, including terms like "dog" ("bar-bar"), "joke" ("loo-loo"), and "whassup?" ("doo-oo-tye?").
A doll that could fit in your pocket doesn't exactly sound revolutionary but '90s girls went completely ape shit over Polly Pocket and her teeny accessories. Polly's pocket-sized dollhouses came in a variety of pretty magical designs, including a wooden ship drifting in the ocean or a bright pink palace with gold accents. Of course, Polly was also the perfect size to be a choking hazard or get sucked up in the vacuum: two slightly less luxurious homes.
Fun Fact: When I turned 6, my older sister borrowed $5 of my birthday money to buy a Polly Pocket and has still never paid me back. Yes, it's been 25 years. Yes, I still remember, Leslie.
Objectively one of the greatest video game systems of all time, the Nintendo 64 sent shockwaves through the gaming community when it dropped in 1996. If you were one of the lucky few to get one early after its release, you instantly gained celeb status in your friend group. Even if you didn't have one, you begged your parents to take you to Blockbuster so you could get a few precious minutes with that legendary three-pronged controller yourself. The N64 boasted some of the top games of any console.
Fun Fact: The console's most popular release title, Super Mario 64, is in fact the bestselling game of all time on the Nintendo 64… by a lot. It sold around 12 million copies while the next highest seller, Mario Kart 64, sold a paltry 9.8 million.
Who wanted dumb old CDs with full-length albums when you could have a tiny plastic cartridge that played 1-minute clips of a song? Yes, Hit Clips might have been one of the stupidest concepts when it comes to music consumption but thanks to heavy promotion from McDonald's, Radio Disney, and Lunchables, late-'90s kids couldn't seem to get enough of them. Now, shut up – I'm listening to the chorus and half a verse of "When It's Over" by Sugar Ray.
Fun Fact: A 1-minute clip of music might not be great but the ultra-lo-fi mono music that Hit Clips provided… ALSO sounded awful. It was like listening to someone play music through a speakerphone that had horrible reception and was also on fire.
Even though they'd been around for decades, Pogs soared in popularity during the '90s. You probably had hundreds, won fair and square during lunch or recess, all thanks to your trusty go-to slammer(s). What was on yours? The Superman logo? Bart Simpson? A holographic skull? It didn't matter – they were all cool as hell… unless you used one of those metal ones. You, sir or ma'am, are a cheat and have no honor.
Fun Fact: POG stands for passionfruit, orange, and mango. The cardboard discs were actually bottle caps for POG juice bottles made by Haleakala Dairy in Hawaii.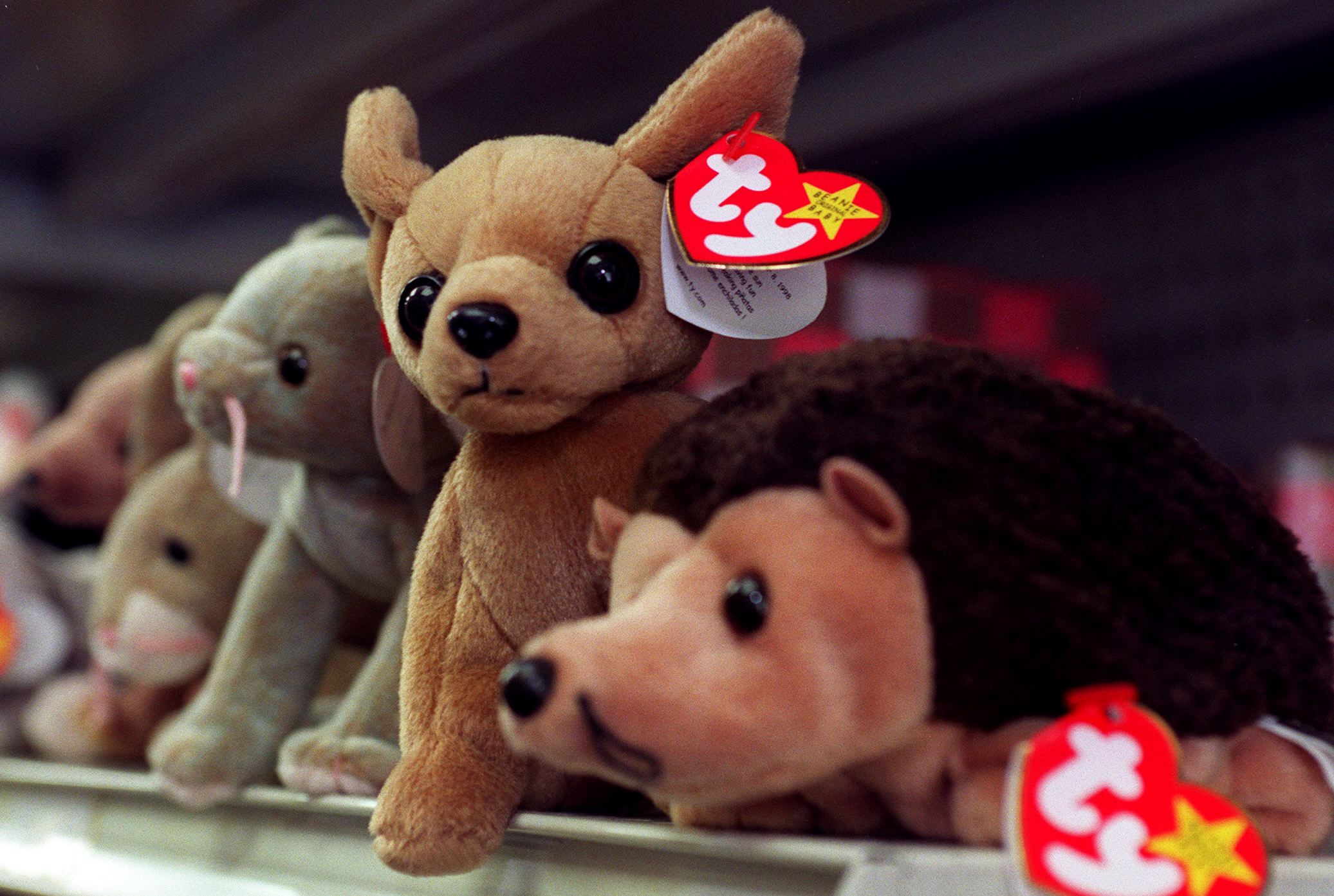 No '90s toys list would be complete without the worldwide phenomenon that was Beanie Babies. Each creature was filled with plastic beads that made them heavier than your everyday teddy bear and included a TY tag, which revealed the animal's name and a cutesy poem about them. God forbid you remove that tag, though. These bad boys were collector's items. Folks dreamt of paying off their mortgage or sending kids to college with the money from their Beanie Baby collections, and while some are definitely worth a pretty penny nowadays, others are basically just adorable stuffed animals that your parents won in a fistfight inside your local McDonald's.
Fun Fact: The most expensive single Beanie Baby is the purple Princess Bear, made in honor of the late Princess Diana. Its extreme rarity has earned an asking price of around $500,000. Time to go digging in your parents' attic!
Water guns were generally pretty lame until Hasbro started pumping out Super Soakers in 1990. These pressurized water weapons put measly squirt pistols to shame as you were finally able to launch powerful streams of water at your friends from an impressive distance. Sure, Super Soakers caught some heat in the media for looking like actual guns, but that just made us want them more. The company has since grown into a billion-dollar brand, and "Super Soaker" has even begun being used generically to refer to any pressurized water gun.
Fun Fact: The Super Soaker CPS 2000 Mark 1 released in 1996 was considered by many to be the most powerful water gun made by a toy company. It could fire an entire liter of water in about one second and provided the shooter with some noticeable recoil. Some of those unlucky enough to be on the receiving end complained about minor injuries; however, a legend arose that some kid's eye was shot out after catching a blast in the face at close range. The story has never been confirmed but the CPS 2000 Mark 1 was discontinued soon after these rumors spread.
When a toy is used by a child to thwart violent home invaders, it should be no surprise when it becomes an item wanted by kids everywhere. The Talkboy was released on November 20, 1992, the same day Home Alone 2 debuted and it was an instant hit. Granted, the cassette and recording quality probably weren't good enough to actually trick anybody, but why waste an opportunity to call someone a filthy animal?
Fun Fact: A pink version was released a little later, dubbed the "Talkgirl," because gender roles, I guess.
Just because a game is easy to understand doesn't mean it can't be difficult. The original "Bop It" rhythmically spat out instructions to either bop it, twist it, or pull it – commands that required you to engage one of the three parts of the toy. Mess up a command or take to long and you're out. Oh, and the game gradually increases speed as you play. It's a fun game to play alone or with friends as long as mild anxiety attacks are your kind of fun.
Fun Fact: The original Bop It model had a limit of 100 points while the second edition released in 2000 allowed a score of up to 200. Reaching the highest score ends the game with a victory song and, hopefully, an intervention from your friends to find a new hobby.
For most, the appeal of the Easy-Bake Oven was less about actual baking and more about being able to cook your own junk food whenever you wanted and without parental supervision. Sure, it felt like it took hours for the 40W incandescent bulb to heat a single serving but it was all worth it to be able to cook brownies and riddle your body with sugar all by yourself. Ok, this actually sounds a lot like my diet in adulthood.
Fun Fact: In 2003, an updated version of the Easy-Bake was released, called the Real Meal Oven. The newer model could cook two dishes at once and at higher temperatures because who doesn't love a good fire hazard?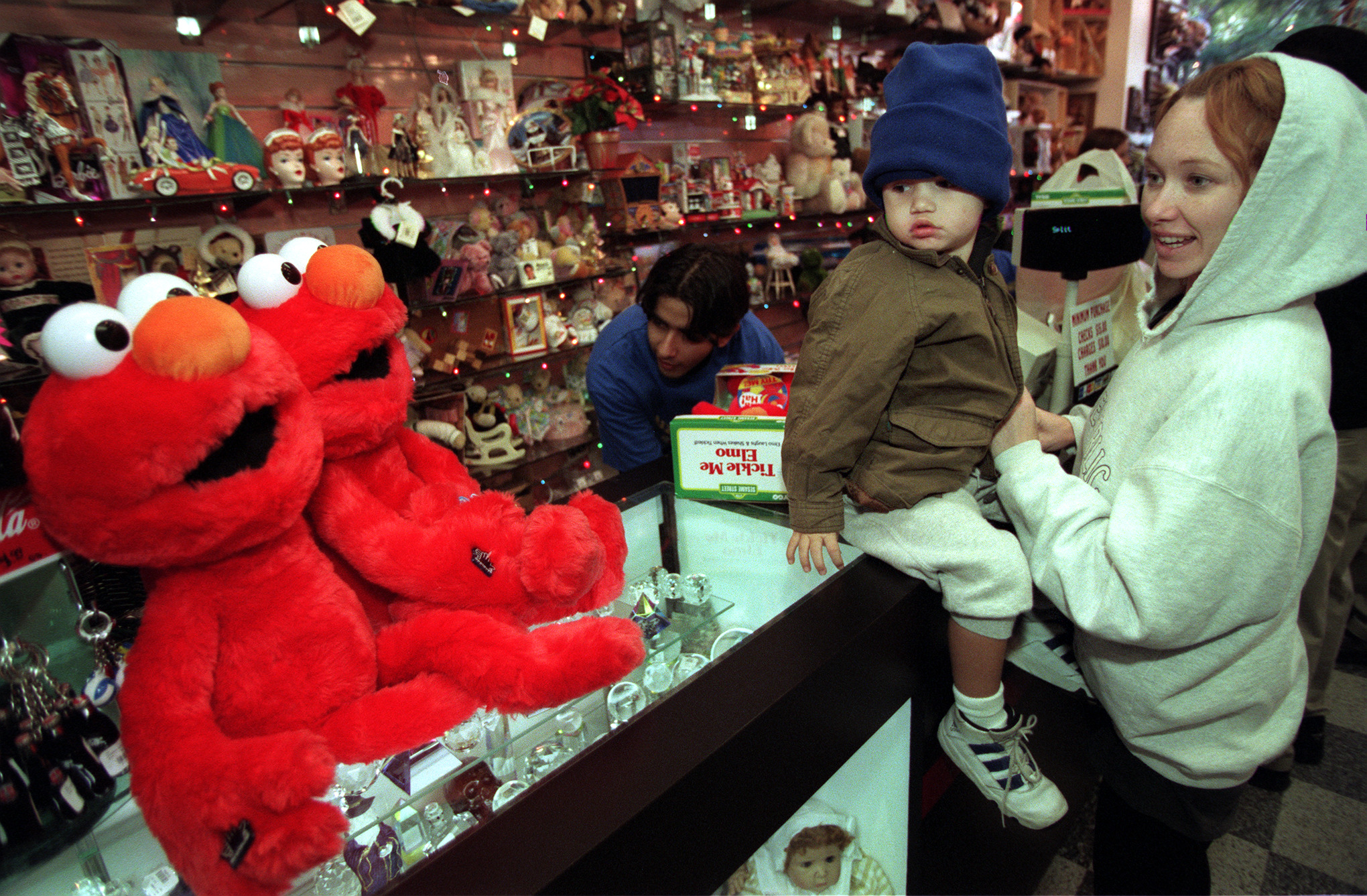 I never knew anyone who actually wanted a Tickle Me Elmo but seeing people lined up outside various K-Marts in the December cold, fist-fighting to get their hands on one of the red, giggly muppets was Christmas PR at its finest. Everyone wanted one just to say they had one. Of course, once kids realized that it was just a doll that vibrated and laughed when you poked it, they ditched the thing (likely for another toy on this list). Your dad likely drank a little extra egg nog that day while staring into the fire as a result.
Fun Fact: In 2001, a "Surprise Edition" of Tickle Me Elmo was released. Five of these Elmos were programmed to stop laughing on Jan 9, 2002, indicating that the purchaser had won a prize – the grand prize being $200,000! It was like Willy Wonka but without all the gruesome child deaths.
Although we only recommend picks we really love, we may earn a commission on purchases made through links from our site.