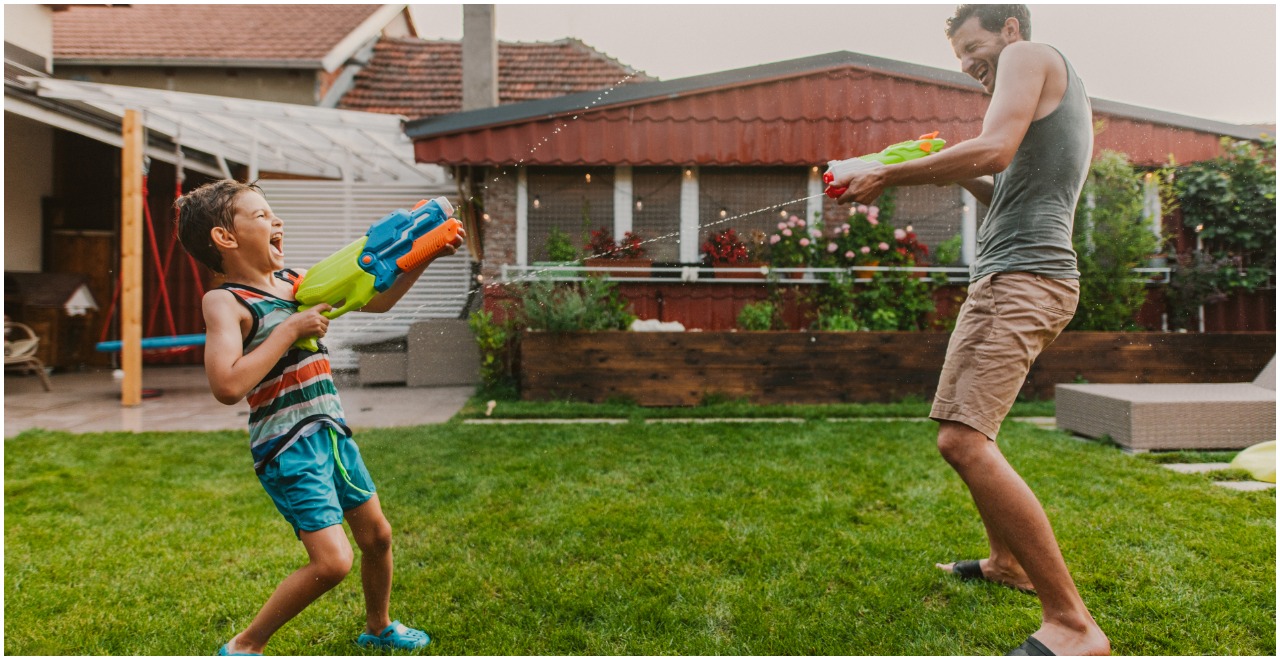 Credit: Getty/AleksandarNakic
Water guns for adults exist, and if you want one, we're not judging (in fact, we're encouraging it). There's no reason to deny it: We're all looking for an excuse to be "immature." (After all, dads just wanna have fun.) What better way to do that than with an old-fashioned water gun fight? Whether you're planning an all-out war with your buddies after a beer-and-BBQ session beer-and-BBQ session or you just want to have fun with the kiddos, you're no doubt in it to win it. For that, you're going to need the best water gun(s) you can get your hands on, and maybe a multi-pack so you can outfit the whole crew.
But what makes a great water gun? Today's versions might look way different than even the super soakers you were using as a kid. They're certainly different from the ones we remember. To achieve dominance over your enemies, you'll want to look for the water gun's range. Can you nail your progeny with a pelt of water, even when they run into the neighbor's yard? You also don't want to have to constantly stop and refill. When you're stopped, you're a target. Using water guns that hold a ton of water or guns designed for faster refills is key to your victory. There's also the option of looking for stealthier water guns or water blasters. Stealthy options might be small and easy to conceal, or they might be things that don't look like guns at all.
Need help choosing the right water guns for your backyard battle? These are our absolute favorites.
Best Water Guns For Adults
This puppy holds so much water (1000CC), it actually comes with a strap to carry it. That's not just helpful for puny kid arms. It will also enable you to carry it on your shoulder and free up your hands for — you guessed it — more water guns.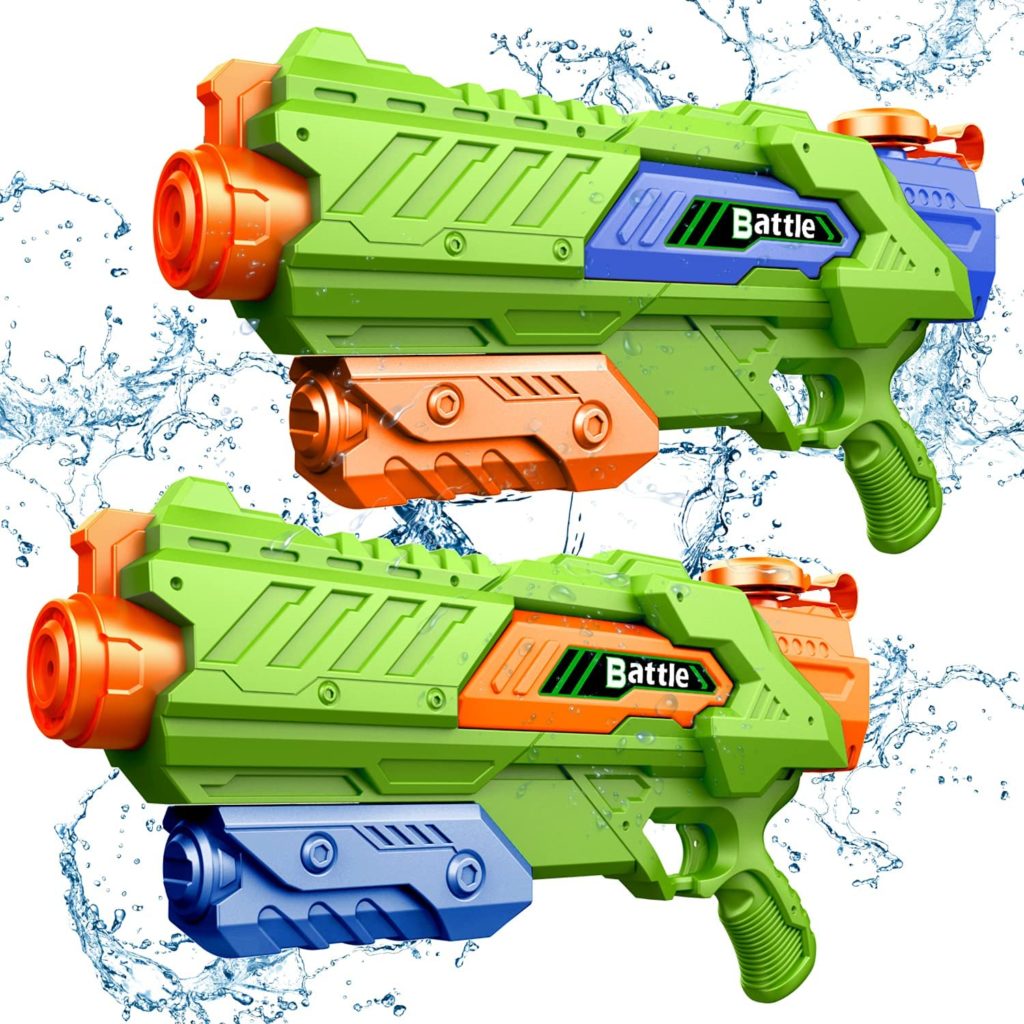 Cheater kids running out of bounds? Check it out. Not only does this water gun hold another 400CCs more liquid than our last gun, but it also shoots up to 40 feet. That means you can take out your "enemy," even when they're in the neighbors' yard. Gotchya!
Does this gun look like a T-Rex? Yeeeah, boi! You're never too old to love dinosaurs, just like you're never too old for water gunfights. Don't @ us.
This thing is a beast. The gun gets impressive range, boasting a 30-foot spray. But more importantly, it comes with an attached backpack that holds 2.5 liters of fuel. Fewer stops at the hose most definitely means a more mighty dad.
The Fterwk 2-pack is perfect for making you and your partner a virtually unstoppable team. The tank holds a precious 1500CCs of water and the gun has an (oddly specific) 49-foot shooting range. With that kind of power, if things get boring, you could probably use these guns to spray the bird poop off the Odyssey in the driveway while you lounge on the porch.
These guys require staying close to your water source, which can have a big impact on your warfare strategy. But if you can work around that, you'll enjoy the five-barrel squirting action and 50-foot range.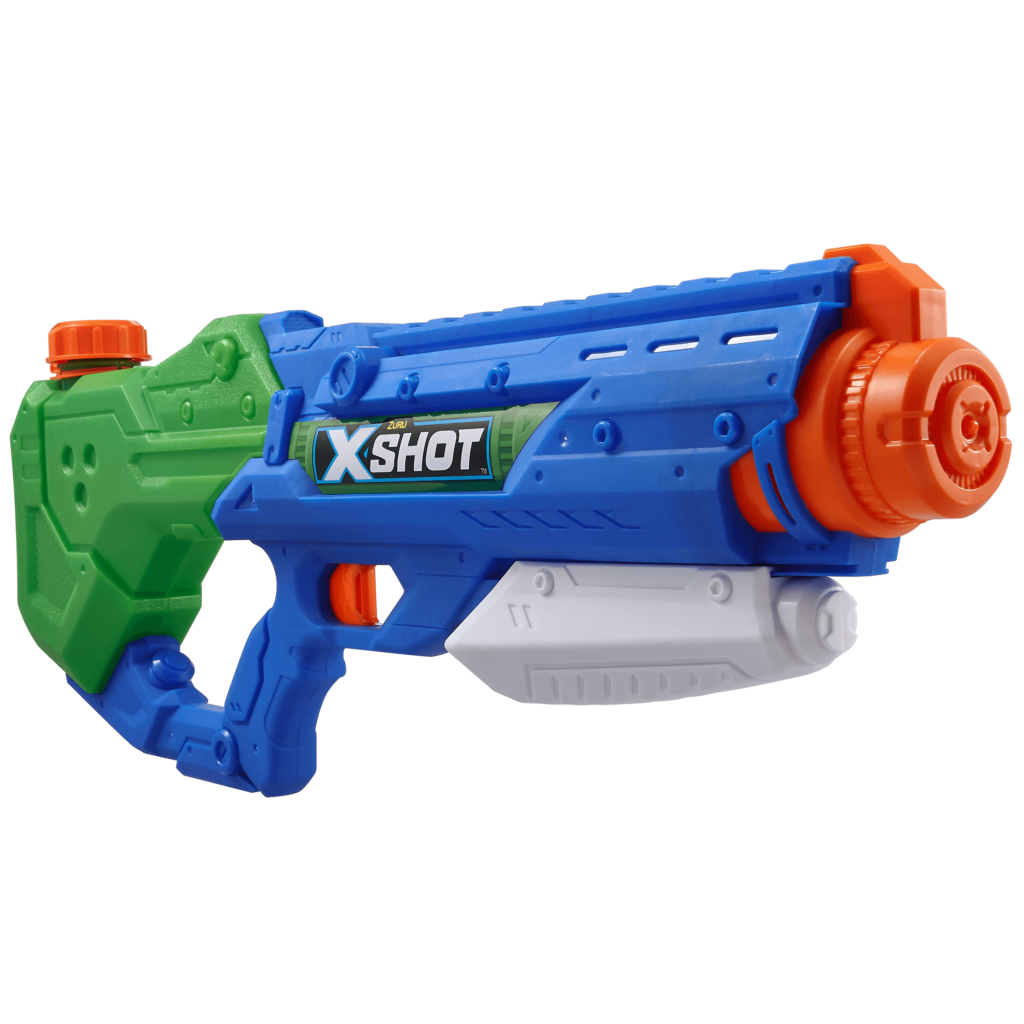 This mean little water gun holds 39 ounces of water and is perfect for concealing for a sneak attack. For perspective, that equals out to about two and a half water bottles. It also has an enviable 35-foot range. They can hide… but can they run?
Got a pool? These water blasters look deceptively similar to pool noodles. Fill them before the water gun fight starts and leave them somewhere inconspicuous for ready-to-go firepower.
When you need to refill fast, The X-Shot Fast-Fill (obviously) makes that possible. The back end opens up like a dump truck, so a quick dunk underwater is all it takes to "reload." We're not suggesting you use the half-melted ice and water from the cooler — we're demanding it.
The Tinleon is right up there with the best of the water guns with a 1000cc tank and 45-foot range. But perhaps the dad-est thing about it is that it looks like a power tool. If you want something you can hang on the pegboard above your workbench and a water gun that screams "property of Dad," this is definitely it.
"But they're so tiny!" True. But what are you compensating for with those giant water guns, anyway? These don't offer entire-neighborhood range, nor do they hold a ton of liquid ammo. However, they'll fit in the pocket of your cargo shorts, the waistband of your jorts, or just under the hood of your grill. In other words, you can stash 'em around the yard for surprise attacks.
Here's why we love this medium-sized water gun: That top hatch not only makes it easy to refill with 20 ounces of water, it's also made to easily open and dump on someone's head… because why shoot when you can douse?