When I was a kid, every year we would give our grandfather beef jerky for the holidays as a gift. He loved jerky, and it was an easy gift for a bunch of kids to buy and give. Back in those days, original was the main (and only) flavor and the idea of a jerky subscription box was still many years away, so it wasn't like we had to make a lot of tricky decisions.
I'm not sure what my grandfather would think of some of the flavors in today's best beef jerky subscription packages, but I can guarantee he wouldn't have argued with receiving jerky every month in the mail.
There's a lot to like about beef jerky. Who are we kidding? There's a lot to love about beef jerky. It's delicious, it has a great texture, and it's a fun snack. Don't tell the kids, but beef jerky puts their beloved fruit snacks and Rick and Morty Pringles to shame. (Although if Rick and Morty dabble in sponsoring a Szechuan flavored beef jerky, we'll be first in line.)
Bottom line: We love jerky. We're sharing our love of jerky with you by creating this list of the best jerky subscription boxes.
Remember, the best beef jerky subscription makes a perfect Father's Day gift. Dad will receive a reminder of how much the kids care 12 times per year, after all, rather than only on that special, special day in June.
LOLJerky subscription boxes emphasize quality over quantity, giving the beef jerky snob the perfect collection of flavors and textures each month. LOLJerky sources its beef from local farms, seeking to boost quality.
Choose among one, two, four, or eight bags of jerky each month with your subscription. Some flavors this beef jerky subscription has featured in the past include:
Spicy teriyaki
Baby blues BBQ
Korean BBQ
Sriracha honey
Best of all, with "LOL" in the name, when you suggest to the kids that they give this to you as a best Father's Day gift, they might actually remember it.
Buy for $22 per month on LOLJerky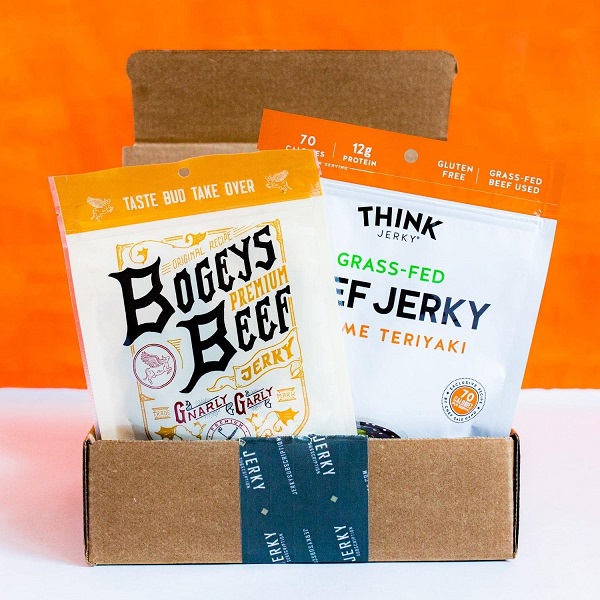 When looking at brands, sometimes you don't want a crazy, clever name. You just want the brand name to tell you exactly what you're receiving. For example, when you visit TheDad.com, you know exactly what you're receiving. At one time, though, when you visited WhiteHouse.com, you were definitely not receiving what you were expecting. (WhiteHouse.org is where you should've visited … at least that's what you were thinking while you were serving your detention after visiting WhiteHouse.com on the school computer.)
When you are ordering a product from Jerky Subscription, thankfully, you're receiving exactly what you are expecting — one of the best beef jerky subscription options.
Jerky Subscription uses only American-raised beef for its products, which are available in subscriptions of two, four, six, or eight bags each month.
It focuses on small-batch craft jerkies that give customers unique flavors and excellent quality.
Some of the flavors shipped in the past include:
Cowboy pepper
Sesame teriyaki
Fiery hot
Lemongrass
Habanero ale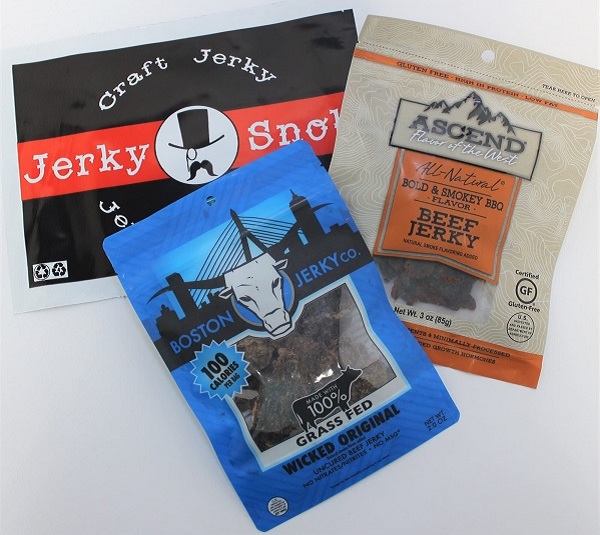 Being a snob may still have a slightly negative connotation, but this word certainly doesn't have the same meaning it had a generation ago. These days, if you're a beer snob, a whiskey snob, and a wine snob, it only means you demand a certain level of quality from these products. (It also means you really like alcohol.)
So when you order the Jerky Snob brand as a best beef jerky subscription, you're telling others that you demand the best from your beef jerky. Jerky Snob offers subscriptions with two, four, or eight bags per month.
Jerky Snob focuses on unique flavors and textures. It also occasionally includes exotic jerky meats, such as elk or boar, in addition to the beef jerky. Some of the flavors of jerky in past boxes include:
Wicked Boston original
Bold and smoky BBQ
Baja
Orange teriyaki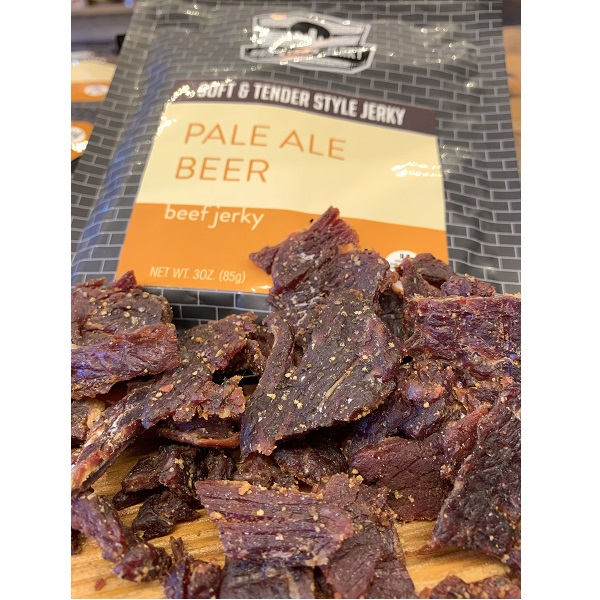 You'd expect a Jerky.com jerky subscription box to give you more ordering options than others, and you'd be right.
When seeking the best beef jerky subscription box from Jerky.com, you can select one, two, four, six, eight, or 12 bags per month. Jerky.com also offers an exotic jerky subscription, and — brace yourself — a Jerky of the Week Club. They know our weakness. We love jerky, and we eat all of it as fast as we can, so we always need more. (Let's just hope they don't introduce a Jerky of the Hour Club, or we're in big trouble.)
Some of the available beef jerky flavors include
Hickory
Honey pepper
Teriyaki
Pale ale beer
Montreal style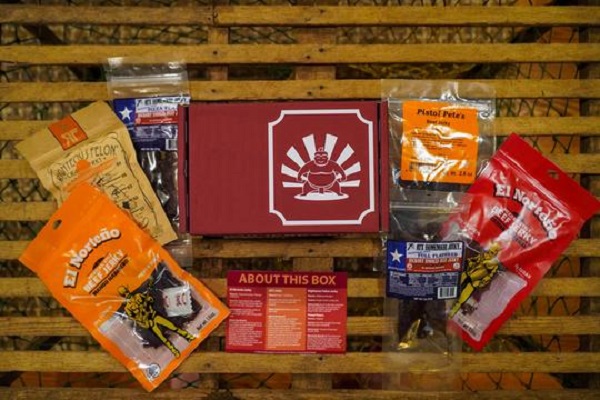 With a name like Sumo Jerky, you may expect mega-sized bags and boxes of beef jerky to arrive in the mail … maybe enough to actually last for the entire month, but probably not. (Did we mention we really like jerky?)
Well, the bad news is the Sumo Jerky subscription box is about the same size as others on our list, offering three, six, or 12 bags per shipment. However, Sumo Jerky focuses on delivering rare brands of jerky, interesting flavors, and small-batch options, creating some unique taste opportunities.
You'll pay for between three and 12 months of your subscription at one time, rather than monthly.
Some of the flavors in past Sumo Jerky boxes include:
Mango habanero
Hickory smoked
Teriyaki
BBQ mesquite
With Sumo Jerky, we'd recommend wearing pants instead of a loincloth when meeting the delivery person at the door with your monthly box. After that, when you're eating the jerky, though? It's up to you. Go nuts.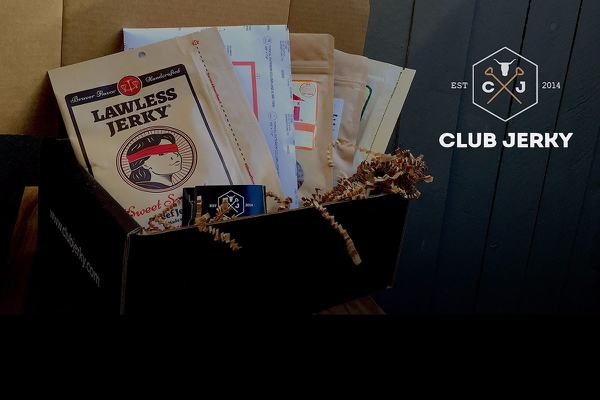 For those who like small-batch jerkies with a variety of flavors, Club Jerky will ship these tough-to-find brands to your home every month. Select either two or four bags per month with the subscription package.
And for those who hate the way jerky tends to stick in their teeth, this subscription comes with Club Jerky toothpicks. There are even trading cards in some boxes. (We guarantee the Club Jerky jerky tastes far better than the baseball trading card gum from back in the day.)
Some flavors found in past boxes include:
Orange Baja
Whiskey BBQ
Baja carne asada
Bacon jalapeno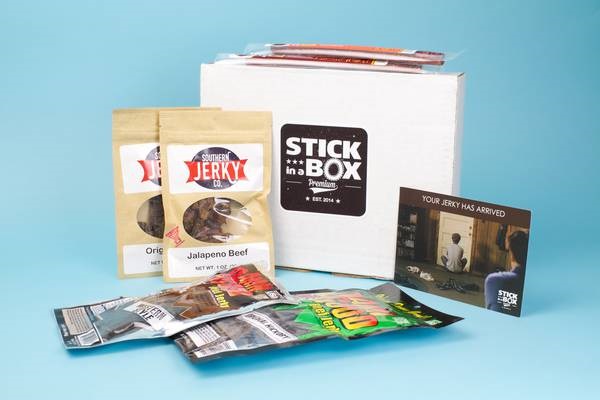 Stick in a Box tells us that we should "get our meat in a box like a king." We're not arguing. Having someone else give us meat each month is a damn fine idea.
This subscription offers anywhere from two to 21 bags of jerky in the box each month, depending on your subscription level. For those who want to feel like a king, go for 21 bags.
Some of the flavors available include:
Jalapeno beef
Western style
Teriyaki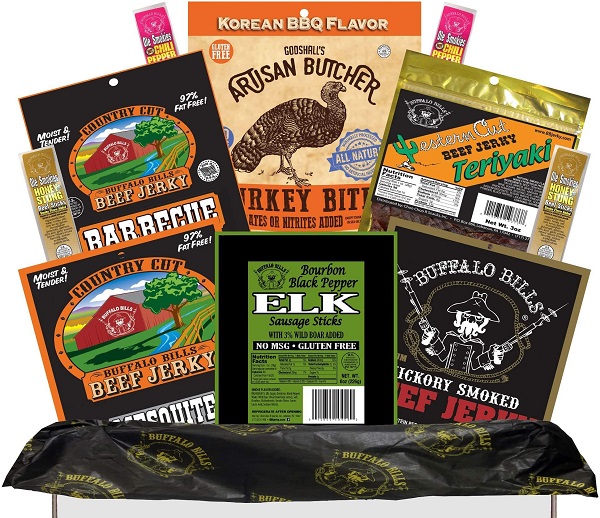 Maybe beef jerky isn't adventurous enough for you. If so, Buffalo Bills has you covered with elk, turkey, boar, and venison.
However, the main meat you'll receive is beef in many different flavors. This box is for the big eater or for the family to share. (Yeah, right.) It ships with 10 different snacks per month. It sticks primarily to Buffalo Bills branded jerkies and sausage sticks, but you will receive a few other brands each month.
This box is the best beef jerky subscription package for someone who prefers the Buffalo Bills brand, rather than for someone who prefers trying new brands constantly.
Some of the flavors you may receive include:
Mesquite
Black pepper
Hickory smoked
Barbeque
Teriyaki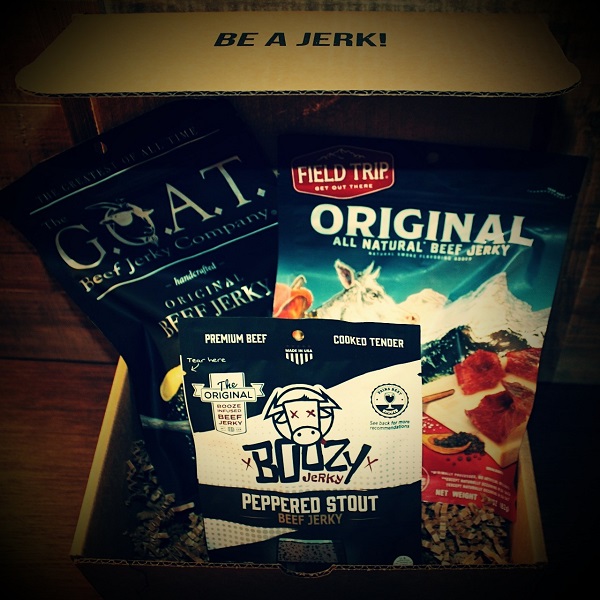 Box of Jerks chooses to focus its bags of jerky on those with a lot of taste and a lot of character. These craft jerkies come from suppliers from across the United States.
Pick among three, five, or seven bags per month with your subscription. All of the jerky from Box of Jerks comes from the United States. Box of Jerks makes it easy to subscribe for yourself or to give the subscription box as a gift. (Hint, hint.)
Some of the flavors available include:
Peppered stout
Voodoo hot sauce
Black pepper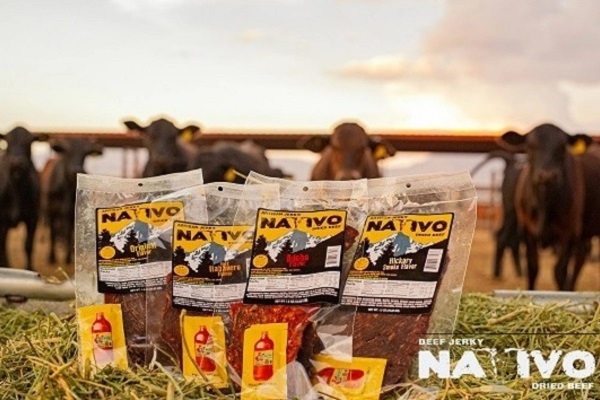 For those who are less interested in trying different small-batch jerkies, exotic jerkies, or odd flavors of jerkies, the Nativo Beef Jerky subscription box is made with you in mind. Your monthly box contains only Nativo branded jerkies of different flavors.
Nativo focuses on its own manufacturing process and on delivering the best quality from its own brand, rather than relying on other producers to fill out the box.
It's also a little less expensive than some others on our list, delivering six bags per month for $21. We'll never argue with receiving more jerky for less money.
Some of the flavors available include:
Adobo
Hickory
Hot habanero
Lemon pepper
Chile de Arbol
Although we only recommend picks we really love, we may earn a commission on purchases made through links from our site.