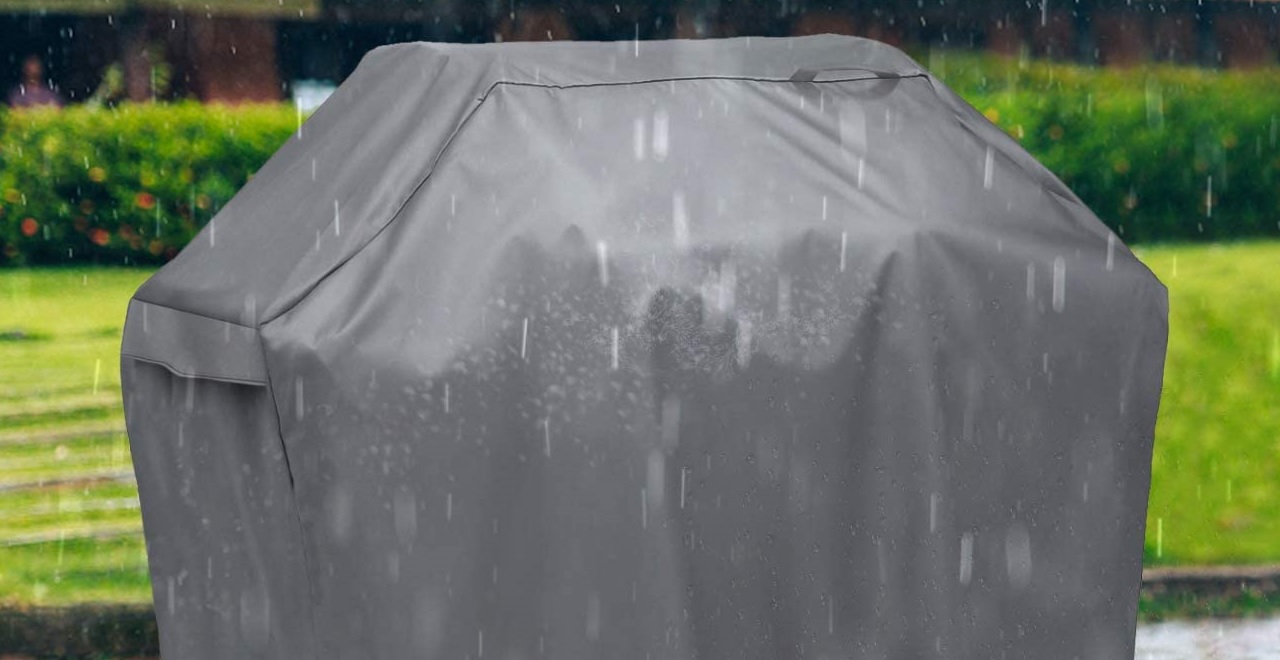 Credit: Amazon
When you have two thick, juicy steaks ready to grill — the rest of the family can have their hot dogs later — you want to heat up the grill, place them carefully onto the grates, and sear them to a perfect medium-rare as quickly as possible. Even though you know that having the best grill cover is important to protect the grill, when you're ready to grill, the cover may feel like it's just in the way.
Think about the greater good, though. Your grill is your baby. You know it. Your wife knows it. Deep down, even your actual baby boy or girl knows it. Keeping your grill protected with one of the best grill covers is a smart way to guard the investment you've made in the barbecue grill, which is the most dad of all of the dad items.
A grill cover will provide protection for the grill from weather, sunlight, and that damn bird that loves to dive-bomb and decorate your grill. With the right grill cover, when you receive one of those beautiful winter days where you want to grill a burger, your grill will be protected and ready to go.
It can be tempting to try to save a bit of money by leaving the grill uncovered — not to mention the extra 20 seconds you'll save when it's time to grill those steaks. However, this is a bad idea. Even the best grill covers are relatively inexpensive, meaning you can protect your investment without spending a huge amount.
Sure, the best grill covers are not anywhere near as important as the best steak, the best chop, the best burger, or, hell, even the best vege-burger that you can make on your grill. But sometimes, you have to make sure the basics are taken care of, so the star will be as juicy and charred to perfection as possible.
Best Grill Covers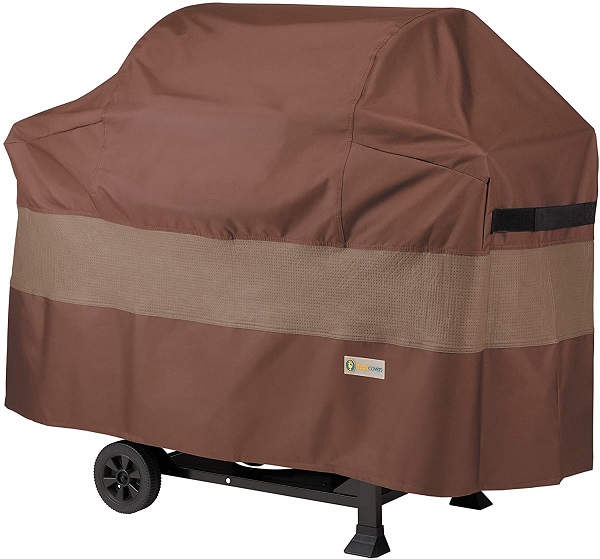 When you want the ultimate in water protection for a grill, you could do a lot worse than purchasing a best grill cover with "duck" in the brand name. This cover has multiple models, ranging in width from 44 to 82 inches.
The cover works for a variety of grill designs, as it has adjustable straps to create a tight fit as needed.
The rain-proof material will keep your grill safe from moisture … other than those times when you're grilling in the rain, of course. (We've all done it when we've been desperate for the perfect burger; it's OK to admit it.)
Some people are fine with grill covers that protect the upper part of the grill. If the wheels and legs don't have a cover over them, it's not a concern.
But for those with a desire for perfection 24/7, the grill cover needs to fit perfectly, all the way down to the legs and wheels. This Simple Houseware cover fits your need for perfection, giving you both the width and length you need in a cover. It is available in widths between 32 and 72 inches.
Should you have concerns about the snow and rain trying to climb up the inside the bottom of a loose fitting cover, your worries will come to an end with this model, and you can sleep comfortably. You're welcome.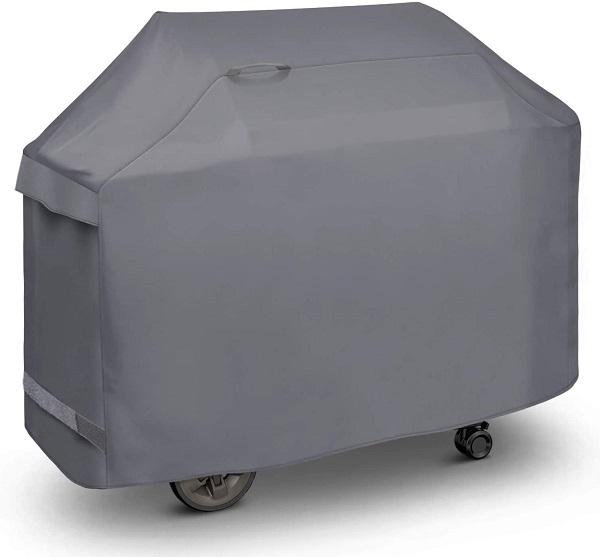 The grill cover Amazon offers often will be a universal cover that would fit a variety of models of gas grills. Sometimes, you might be better served with a specific Char Broil grill cover or a Weber grill cover to gain a tighter fit.
However, universal grill covers will save you some money. You can tighten the cover for a better fit using Velcro straps with universal covers.
This Unicook cover is one that fits a variety of grills, offering widths between 50 and 75 inches. This is a best grill cover for areas with quite a bit of humidity, as it has mesh vents on either side to allow airflow, evaporating moisture.
(These mesh vents also work for those times where you forgot to put the grill cover back on before a rainstorm, and you don't want to admit to your wife that you forgot, so you throw the cover over the top of the wet grill. With the mesh vents, the grill will dry relatively well with the cover on it. No one ever has to be the wiser.)
Use this heavy-duty grill cover from Kingkong to protect your baby from water and sun, delivering outstanding protection in all kinds of weather at any time of the year. It has widths ranging from 22 to 75 inches for an ideal fit.
The waterproof 600D polyester fabric is especially resistant to moisture. In fact, the manufacturer recommends rinsing the cover with a garden hose to remove dirt and other soils. So it's sure to stand up to those times when the kids decide to have a water balloon fight while you're enjoying a beer and grilling. Just climb under the cover, and you'll stay dry in your cocoon.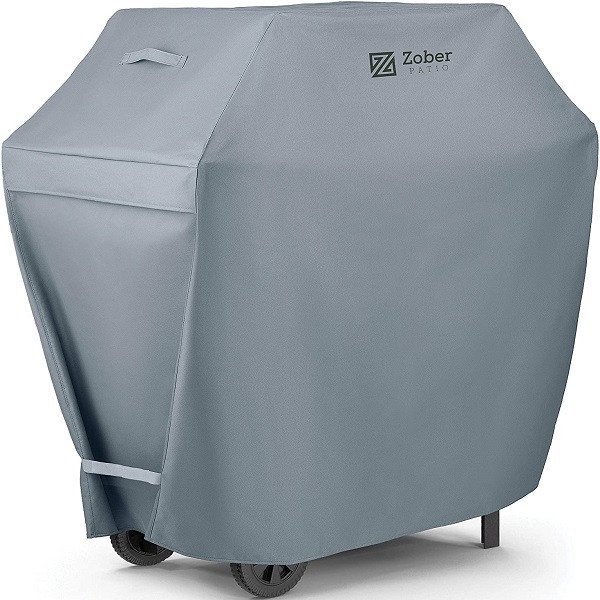 Let's face it. Sometimes we dads don't get the final say on purchasing things, even when they're primarily for our use. #underwear
Your best grill cover Amazon offers may be one of those things. Your wife may think a boring black grill cover doesn't compliment her design layout on the deck. She's going to vote for a different type of cover that looks better … say a light gray grill cover.
Fortunately, this Zober cover, which is available in widths between 44 and 64 inches, has plenty of toughness to go with its sharp gray color, including waterproof polyester fabric, sunlight resistance, and tightening straps along the bottom.
So when you pretend to put up a fight about buying a gray BBQ grill cover instead of a black one, before giving in to your wife's wishes, you can score some points for letting her have her way without sacrificing the quality you want.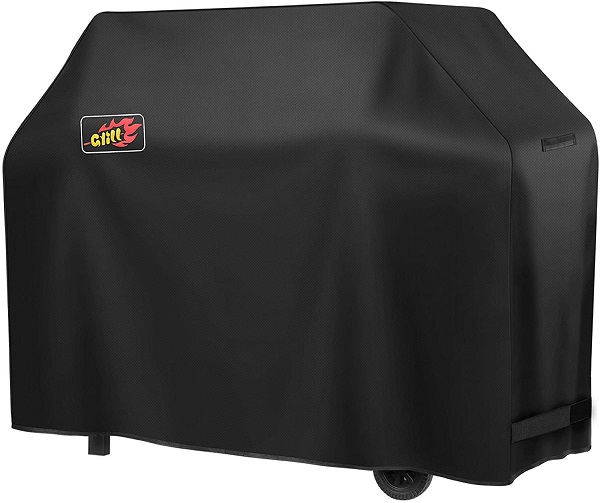 VicTsing grill covers are available in widths between 30 and 72 inches, protecting multiple sizes of grills in almost any kind of weather, including a sandstorm, according to the manufacturer. (We would not recommend grilling in a sandstorm, by the way, not because we don't think you could still end up with the perfect steak, but because that blowing sand is sure to make it tough when you're adding your own blend of seasonings.)
This waterproof fabric includes UV resistance and adjustable straps for a tight fit.
Plus this model has a drawing of a flame on the side, along with the word "grill" printed over the top. (Trust us: Depending on how many beers we've had while grilling, having this reminder printed on the grill cover isn't the worst idea in the world.)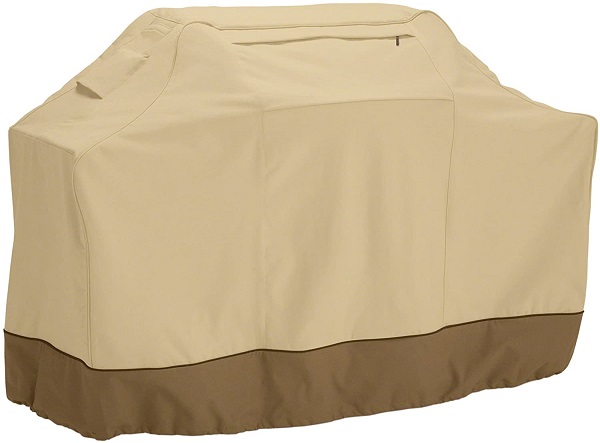 When you're seeking a grill cover that delivers the best in protective features for the grill, along with a heavy-duty fabric that looks great and reaches to the ground, it's tough to beat this Classic Accessories model.
It will fit a number of models, including a Weber, Jenn Air, Brinkmann, and Char Broil grill cover with widths up to 80 inches.
The light tan color in this BBQ grill cover is impressive, but we do have to warn you: If someone spills a little grease from your burgers and steaks, it will show up on this color of grill cover, unlike with a black colored grill cover. (We know with your impressive grilling skills you wouldn't spill a drop, but when the kids are trying to "help" you at the grill, the possibilities for spills are endless.)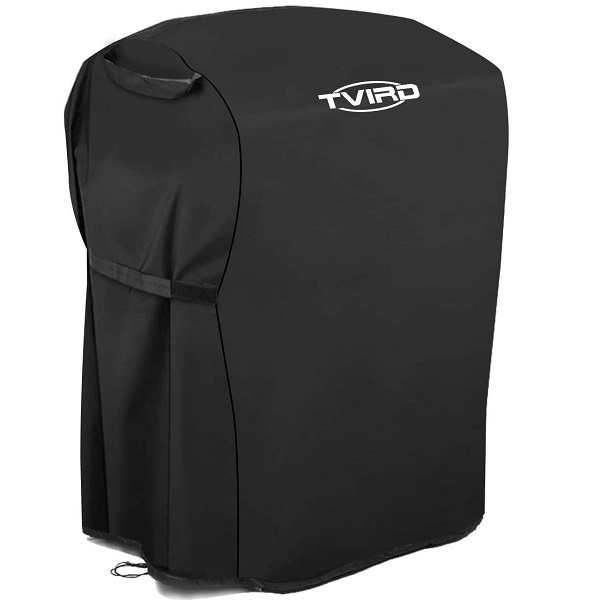 Every dad doesn't have to have a four- or five-burner gas grill with a roaster spit and multiple side burners built into it that takes up half the deck. Sometimes, it's OK to have a small, narrow two-burner grill. You don't need to have the largest grill in the neighborhood to show off your manhood.
Besides, you already have the coolest car in the neighborhood, which is far more important.
When you use a small grill, a small-sized grill cover gives you the perfect fit at a reasonable cost (leaving you more money for thicker, juicier steaks).
This 30-inch Tvird grill cover has waterproof fabric that's durable enough to stand up to all kinds of weather, just like the larger grill covers we've been discussing. (If you have a larger grill, this model also is available in a 58-inch width.)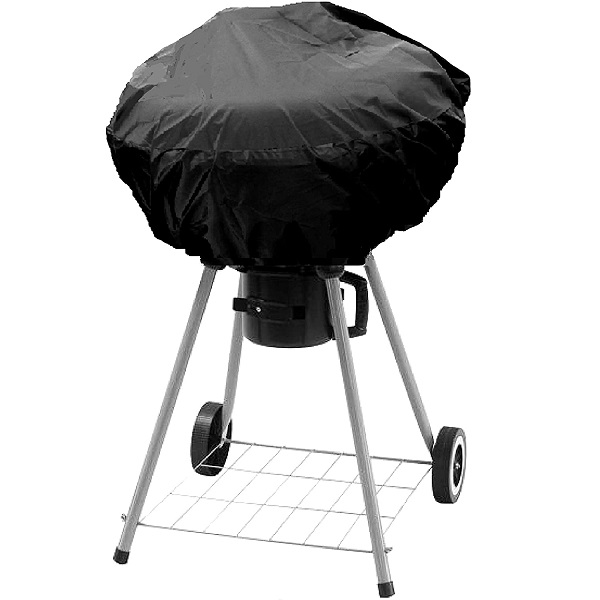 Grilling with charcoal briquettes may be an old-school method, but there's something about it that we as dads just need to do once in a while. (Just like we need to drink a 6-pack of Natty Light once in a while to remind us of the days when things were simpler and there weren't 100 IPAs to choose from in our favorite liquor store.)
Grill covers aren't just for gas grills. For those who still prefer charcoal briquettes for grilling in a round grill, this cover will slide over the main part of the grill and the lid, providing protection from the weather.
It has waterproof and UV-resistant fabrics, just like the larger gas grill covers, to protect your investment. It has a drawstring at the bottom to tighten it.
Although we only recommend picks we really love, we may earn a commission on purchases made through links from our site.