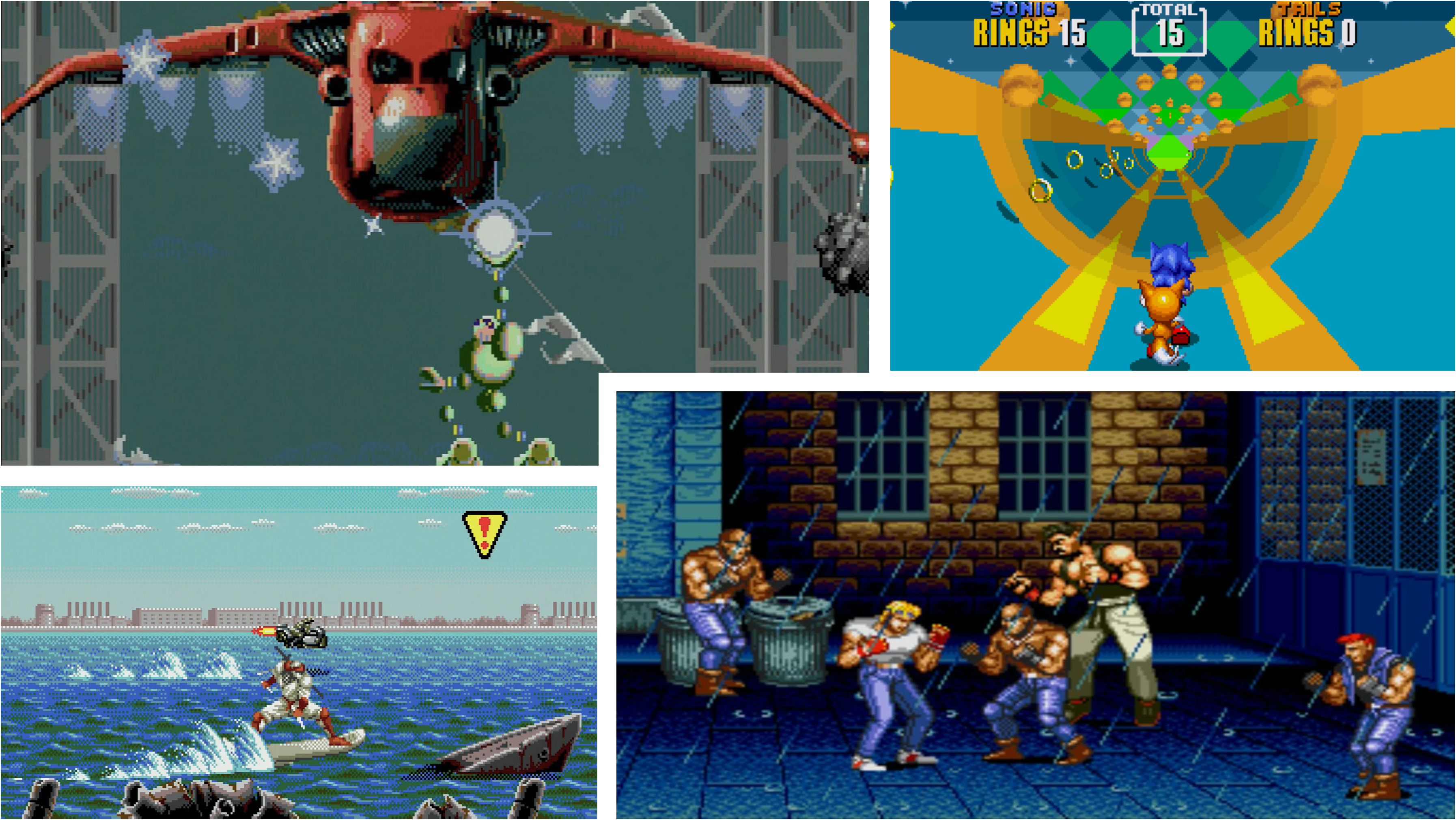 Credit: Sega
The Sega Genesis was one of the definitive video game consoles of the '90s and primary competition to the powerhouse that was Nintendo. At the time of its American release in 1989, it boasted incredible performance over the Nintendo Entertainment System (NES) and wowed gamers with eye-popping colors and giant detailed sprites. Even after Nintendo released the Super Nintendo Entertainment System (SNES) in 1991, Sega went on an absolute advertising offensive, bragging that "Sega does what Nintendon't."
With hundreds of games in its library, there were plenty of amazing titles to choose from – some standalone stars and others that built game franchises still popular today. So we're diving into our nostalgia-ridden minds to reminisce about the best games Sega had to offer in this 16-bit era and highlight the absolute cream of the crop. Even when considering only Genesis exclusives (sorry, Mortal Kombat 2, and NBA Jam), it's painful to narrow the list down to a mere 10, but dammit, we're going to do it.
First things first though, you'll probably need a console. You can grab one on eBay, they've got a great selection here.
So here it is. The Dad's Top 10 Games on the Sega Genesis (in no particular order):
Throwing an earthworm into a super-suit to create a superhero might sound ludicrous when compared to modern-day every-actor-has-a-six-pack Marvel movies, but this is 1994 we're talking about – weird stuff just worked. Earthworm Jim is one of many 2D platformers from the Genesis era, but it had a number of characteristics that really set it apart as something special. Sure, Jim was armed with a gun like other action heroes, but it wasn't until players watched him grab his own head out of his suit to attack enemies like a whip or navigate around and hang from hooks that we realized this was something different.
The art direction in this game is truly stunning with animations and cartoony graphics offering incredible detail and fluidity that few others can match. The only area where Jim really struggles is in the actual gameplay department. The animations, while beautiful, make Jim's movement and combat feel imprecise at times. Enemy hitboxes and platform edges can be frustratingly hard to pinpoint, which distracts the game's amazing humor and art style at times, but that still didn't stop this one from becoming one of the most iconic and easily recognizable games from the Genesis era.
Buy it here.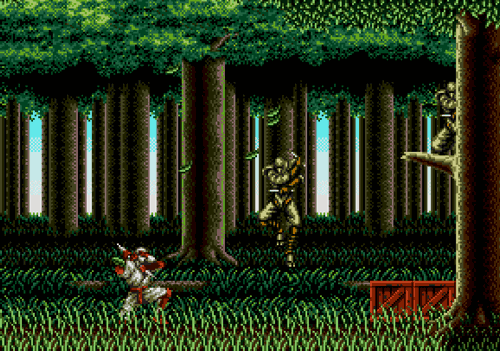 You don't really need a lot of context for a good ninja game. Just give me some cool moves, sharp weapons, and a bunch of "evil" ninjas to fight and I'm a happy camper. Shinobi III: Return of the Ninja Master does all three of these things just about perfectly on top of silky-smooth gameplay overall. The move set and weapon arsenal for this game are pretty standard when it comes to stereotypical ninja-ing (e.g., shurikens, a sword, flips, and kicks) but it's when you see them chained together that you really feel like a high-flying ninja badass. Taking things a little outside the realm of reality, players also have a handful of fancy ninjitsu techniques that do serious damage to anyone on the receiving end – the most powerful arguably being a self-sacrificing explosion move that literally involves detonating your entire frickin' body at the cost of one of your reserve lives. Hell yes, please.
On top of the great combat, Shinobi III breaks the monotony of its standard side-scrolling levels with alternate playstyle sequences like surfing and fighting on horseback, which actually work surprisingly well instead of feeling gimmicky or tacked on. Plus, the game features one of the best soundtracks on the Genesis, if not in all of gaming. It's a masterful title that provides that full ninja experience without being too punishing (looking at you, Ninja Gaiden).
Buy it here.
A 2D side-scroller developed by Sega in 1995, Comix Zone puts players in the shoes of a starving artist (appropriately named Sketch Turner) who gets thrown into the pages of his own comic book by one of his own villainous creations. Armed with his fists, glorious ponytail, and extremely '90s wardrobe, Sketch battles his way through an army of illustrated baddies while flipping through the panels and pages of an actual comic book. Yup, if you ever got in trouble for doodling in school, this is the game for you.
Even though the idea of seeing your drawings come to life is inherently fun as hell, Comix Zone can be brutally difficult at times. Barring a few rare occasions, there are no extra lives or 1-ups in this game. If you mistime a jump and fall into a pit or your health bar drains to zero, it's game over. Title screen. Oh, and on top of it all, your health constantly depletes as you progress through the game. Yup, since Sketch is comprised of paper, doing damage to enemies and the environment (who also live on said paper) results in taking damage yourself. Not the most enjoyable game mechanic, but it doesn't stop Comix Zone from being one of the most unique and visually appealing titles on the platform.
Buy it here.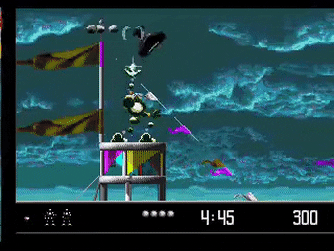 Released in October 1995, Vectorman was an attempt to extend the lifespan and relevance of the Genesis, and thanks to its stunning visuals and non-stop explosive action, it worked. Like Donkey Kong Country a year prior on the SNES, Vectorman featured revolutionary graphics for its time. The titular hero alone is comprised of 23 individual sprites moving in tandem, which are also individually affected by nearby light sources – really cool, even by today's standards. The stunning visuals are achieved largely in part to some clever design fakery rather than some previously hidden horsepower under the Genesis hood, but the results are still undeniable.
As for gameplay, it's a novel game but there are probably better run-and-gun titles. The enemies are a bit generic and not the most exciting to fight and bosses tend to be big, boring bullet sponges. Also, while Vectorman is fun to look at, his movement feels a little slippery and may take some getting used to. Once you get over the initial hump, though, you'll be running, gunning, and rocket boost jumping all over the place. Vectorman is not an easy title, though. Sure, you can tone down the difficulty settings or use cheat codes to give yourself a handicap, but the game makes sure you don't forget it by either restricting the true ending of the game or, even worse, calling you "lame." Harsh.
Buy it here.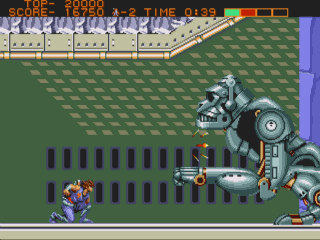 One of the earliest hits for Genesis, Strider was released in the pre-Sonic days when a huge selling point of the console was its ability to house perfect ports of arcade games. It was the title that made your NES-owning friends green with envy, and for good reason. With its explosive colors and character animations, the game looks fantastic even when compared to games that came out years later. Sure, the NES had its own version of Strider, but it was a completely different title – only loosely based on the coin-operated version in the arcade and nothing close to this beauty on Genesis.
The game follows the exploits of Strider Hiryu as he flips and slashes his way through a futuristic version of Soviet Russia (not quite as topical nowadays, but this is 1989 we're talking about). Hiryu is armed only with a sword that can be upgraded via power-up and, occasionally, a tiny drone that takes potshots at enemies from a distance. What really sets Hiryu apart, though, are his acrobatics. He can perform mid-air flips, cling to the sides of walls, and slash at enemies in any direction. While other games from this era might give you a single attack button, Strider offers a bevy of different ways to dispatch baddies, like hanging from a ledge until an enemy turns around and then hopping up to give him a quick slash in the back. It's all very exciting and satisfying – I just wish there was more of it. With only five levels, players can easily beat the game in less than an hour, while vets have been known to breeze through it in under 15 minutes.
Buy it here.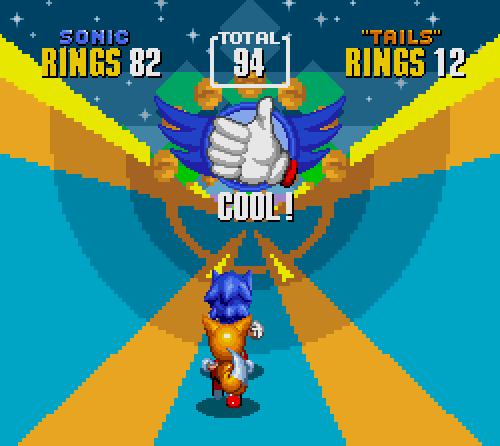 A good sequel keeps the aspects that worked for its predecessor and then builds on top of it to offer up a fresh new experience that still remains somewhat familiar. Sonic 2 is a near-perfect example of such a formula. It takes the characters, gameplay, and overall aesthetic of the original 1991 hit and then ramps them up into something truly special. I mean, the special stages that throw Sonic into a 3D half-pipe to find chaos emeralds were enough to completely blow my childhood mind at the time.
The game remains a fast-paced side-scroller with rolling hills and colorful surroundings, but instead of a solo mission, Sonic is now accompanied by his twin-tailed fox sidekick: Miles "Tails" Prower (a total dad-level pun based on "miles per hour," if you didn't catch it). Sonic 2 also introduces the Blue Blur's iconic "spin dash" for the first time, allowing players to charge up speed in place rather than needing a long runway to accelerate. These additions—along with split-screen multiplayer—made this sequel an instant hit and even more proper than its predecessor.
Buy it here.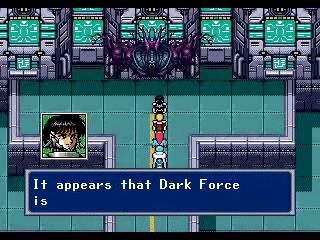 The SNES might have been a powerhouse when it came to RPGs with stellar titles like Chrono Trigger, Secret of Mana, and Final Fantasy IV and VI, but they were missing a huge game in the all-star RPG lineup: Phantasy Star IV: The End of the Millennium, only available on the Genesis. The universe created in the Phantasy Star series—an area of space dubbed the "Algo star system"—is rife with humans, aliens, and cyborgs, each with their own unique cultures that have been carefully developed over the course of four games and come to a satisfying climax in this fourth installment.
In true JRPG fashion, the game introduces players to new characters, teachers the general mechanics of the game, and then casually tosses in a mega-powerful villain bent on eradicating all life… pretty standard fare. The combat, while not revolutionary, includes intuitive and streamlined mechanics, like the inclusion of macros. This means you can set up systems for your entire party to execute each turn. Simply want everyone to attack? There's a macro for that. Want one character to boost your team's stats, three characters to attack, and then the last character to heal? That's another macro. Where Phantasy Star IV truly shines, though, is its narrative. The game doesn't talk down to players—characters in your party can definitely be killed permanently—and it neatly ties up loose ends from the previous games, crafting a sci-fi JRPG experience that's truly special.
Buy it here.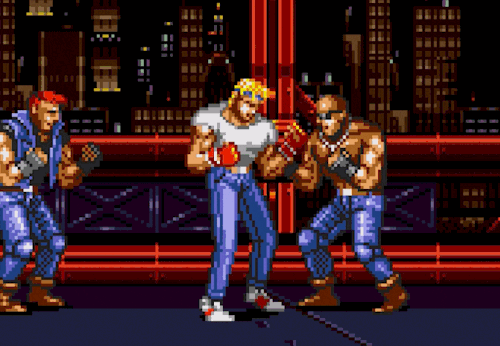 What do you do when your pal gets kidnapped by a criminal mastermind? You go on a vigilante justice spree; punching, kicking and pipe-swinging your way through droves of henchmen to get him back, that's what. Beat 'em up style games were a dime-a-dozen in the days of the Genesis, but Streets of Rage 2 stood out as one of the absolute best. On top of improved gameplay from the original SoR, the sequel also looked fantastic with colorful sprites the popped off the screen when contrasted against the grimy urban environment.
After choosing from a cast of four different characters, each with their own set of moves and combat styles, players bludgeoned their way through their crime-infested city to rescue their captured pal. And when things get tough, the adrenaline-pumping soundtrack full of killer house music will fuel you to keep fighting, just like the occasional rotisserie chicken dropped by defeated baddies. SoR2 remains not only one of the best beat 'em up titles on the Genesis, but of all time.
Buy it here.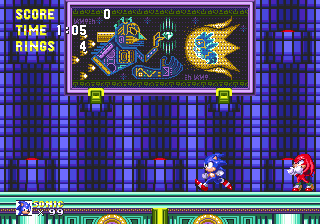 If you don't know any better, you might think that Sonic 3 & Knuckles is a typo, but the awkward title is actually a result of being one of the most unique games in the world. You see, Sega was so eager to get Sonic 3 on store shelves that they shipped it out only half-finished. Thankfully, they didn't just call it a day, but rather finished the rest of the intended game, polished it up, and released it as an add-on cartridge: Sonic & Knuckles. The new "lock-on" cartridge included the standalone Sonic & Knuckles game, but if you inserted Sonic 3 into the top of Sonic & Knuckles cart, gamers had access to Sonic 3 & Knuckles – separate storylines, game options, and access to Knuckles as a playable character in all the levels from Sonic 3. Basically, a physical version of DLC.
As for gameplay, the addition of Knuckles gives the game even more depth than its predecessors. Opposed to the Blue Blur, the red Echidna can soar through the sky with his glide technique and scale walls with this signature claws. Sure, he's fast and can keep up with Sonic as they speed through stages, but the differences are significant enough that it feels like a relatively fresh experience. This is a game where story and gameplay are both handled superbly and it's all wrapped up in one wonderfully polished package… well, as long as you have all of the necessary cartridges.
Buy it here.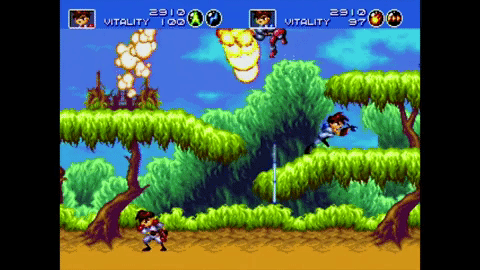 By 1993, many Genesis owners had thought they'd seen everything there was to see regarding the run-and-gun genre made popular by games like Contra and Mercs, but Gunstar Heroes unapologetically shook things up with its high octane action and stunning visual style. The cartoonish art direction is similar to that of Metal Slug and both games share a love for intense, over-the-top boss battles that conclude each level. Oh, and speaking of the Gunstar Heroes' levels, they vary constantly, keeping players guessing and preventing the game from ever really feeling stale (something that can't be said for many other games in this genre).
The weapon load-outs are diverse and fun to use, including a rapid-fire machine gun, a flamethrower, and a homing shot. Plus, these weapons can be mixed-and-matched to create powerful weapon combos that would usually feel overpowered if it wasn't for the hoards of enemies constantly filling your screen. Plus, when you get tired of fighting evil robots and beefy henchmen by yourself, you can boot up co-op mode with a friend. Gunstar Heroes truly pulls out all the stops and remains one of the most creative run-and-guns you'll ever find.
Buy it here.
Although we only recommend picks we really love, we may earn a commission on purchases made through links from our site.