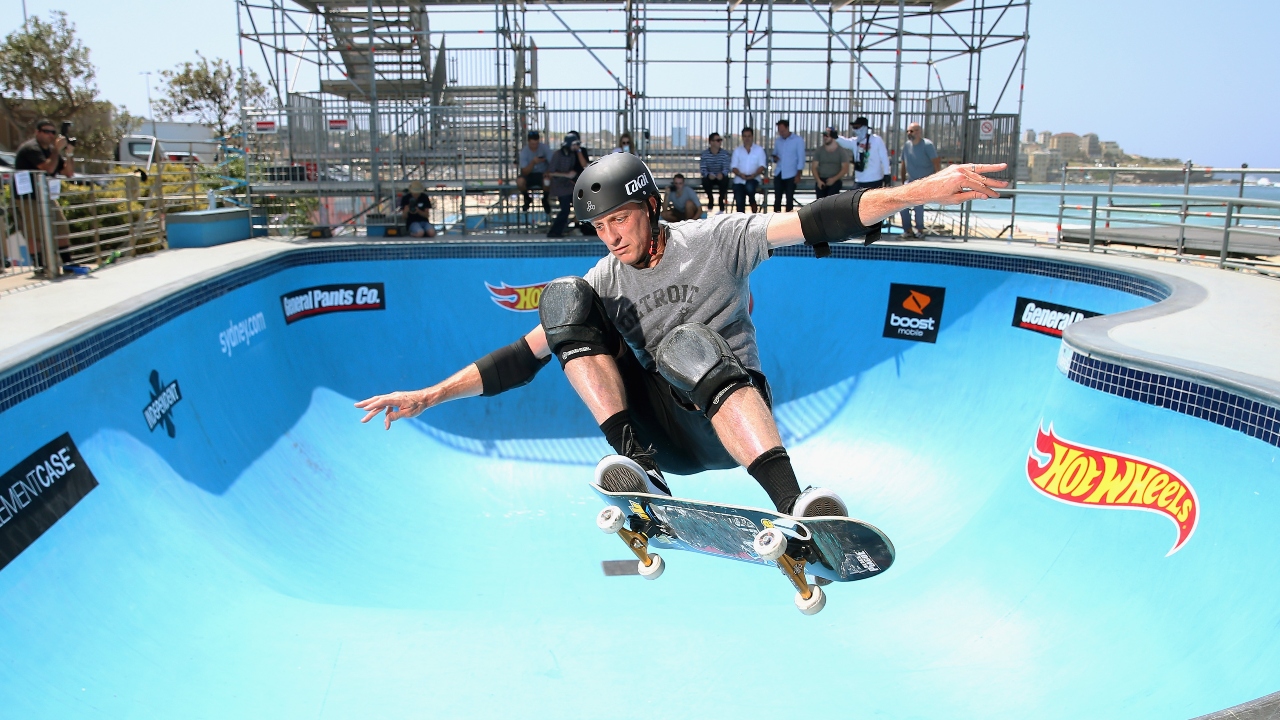 Credit: Getty/Don Arnold
If you grew up in the '90s, you couldn't avoid Tony Hawk. The skateboarder and current social media funnyman might seem like the ultimate dad now, at 53. But, that doesn't change his cool factor. Our dude became a professional skater at the age of 14. (And our teenager can't even roll his scooter through the garage without scratching the Tiguan.) He served at the National Skateboarding Association's world champion for more than a decade and, yeah, none of us will ever forget when the San Diego native successfully completed the first-ever 900 at the 1999 X Games. He was 31 years old. And he did it, again, for the last time, at 48. In other words, Hawk has lived his life defying the norms of being "too young" or "too old." Even now, as a retired professional skateboarder, Hawk is still sponsored by Birdhouse, Vans, and few others. And even as recently as last year, our dude was still landing 540s. He's that awesome.
And, as if he didn't make enough money and gain enough fame and street cred from skating, he's also played an integral part in developing no less than 21 video games across all gaming platforms. Most even came with a killer soundtrack. These Tony Hawk games are, without a doubt, the best. Give them a try — with or without your kids.
1. Tony Hawk Pro Skater 2
Yes, the original Pro Skater is a monster and absolutely worth a deep dive. It "started it all." But, like so many firsts you have in your life, it just wasn't that great. Pro Skater 2 built on the original Tony Hawk game and expanded it into something truly magnificent. The art was better, the world was richer, and the soundtrack was bonkers good. It featured all the coolest acts at the time like Anthrax, Naughty By Nature, Rage, and even Powerman 5000. (We'll say it without an ounce of embarrassment: "When World's Collide" is an absolute banger.)
2. Tony Hawk's Pro Skater 3 and 4
We're bundling these into one entry because they're so similar in terms of look and feel. The main difference between the two, however, is that Pro Skater 4 unleashed a ton of select, timed content that added a little more urgency to the game. Was it done perfectly? No. But, it was the start of something entirely new for Tony Hawk's Pro Skater games.
3. Tony Hawk's Underground
This TH game marked a big shift in the series. It was the first time you could step off your skateboard and explore the world around you without wheels under your feet. They also took a step away from the generic skating-for-the-sake-of-skating aspect and went into that choose-your-own-adventure story building for each character that is now widely popular in video games.
4. Tony Hawk's American Wasteland
While this gem technically released after the next two entries on our list, it was better than both. For this game, developers pared down the insanity of tricks in Underground 2 and replaced them with things that were must-haves in the gaming world at the time. Wasteland boasts an obscenely large map full of storefronts and buildings you can go into and explore. The downtown LA world that it showed felt as never-ending as the GTA maps. But, you know, it was just a little too much for a skating game.
5. Tony Hawk's Project 8
With a better-than-average (at the time) character creator, Project 8 held a ton of promise. It was, of course, lacking quite a bit. It was choppy and hard to play. But, because it was still somewhat grounded in reality, we like it slightly more than the next game on our list.
6. Tony Hawk's Underground 2
Let's just get it over with: Underground 2 is absurd. It was released in 2004 when Bam and Johnny Knoxville were still capitalizing on their idiocy to make make money doing dumb stunts and pranks. People fell for it, of course, because we always enjoy seeing extreme success and extremely painful failures. Underground 2 capitalized on our most basic desires. It was a game full of chances to try crazy skateboard stunts and fail at them without the hospital bill.
7. Tony Hawk's Pro Skater 1 + 2
Let's face it: On the surface, this is just a remake of Pro Skater 1 and Pro Skater 2. They did this before with THPS HD. But, this time around they actually nailed it. The old characters are built out more and the new characters fit right in. The art in each level is infinitely better, too, building out the world with more detail, light, and substance. And, yes, it's even got that same amazing soundtrack from the classics.
8. Tony Hawk's Pro Skater
What's that? You're mad that the THPS OG is all the way at the bottom of our list? Stop living in the past. We get it — we're often nostalgic for the things that sparked our initial interests. But, why dwell on a mediocre first start when you could play any other game in the series that takes on Tony Hawk's initial premise and expands on it. Pro Skater started it all and was wildly popular… but it was only just the beginning.