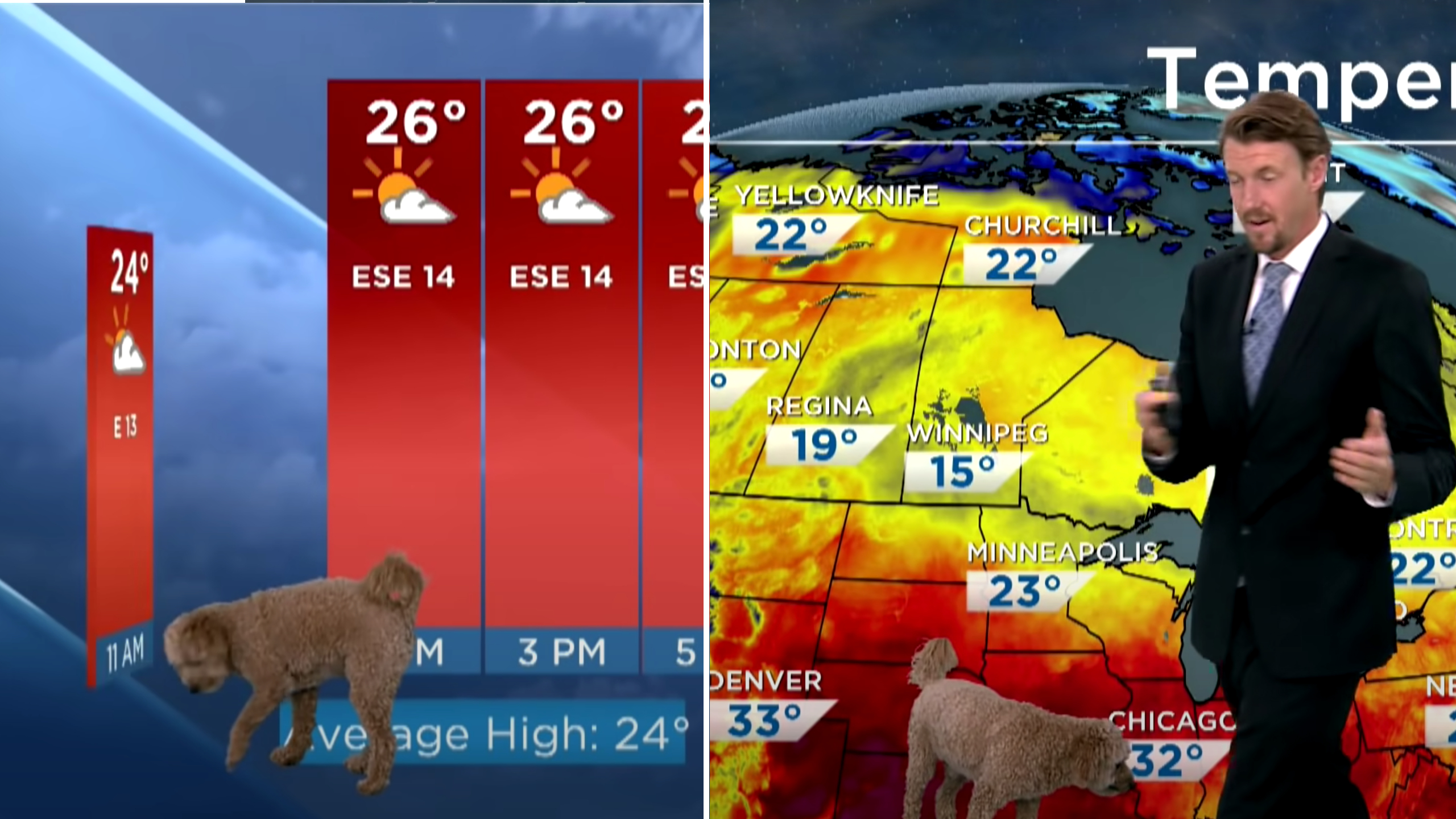 Credit: YouTube/Global News
If you're gonna name your dog Storm, you can't be surprised when he crashes your weather forecast. A Canadian TV meteorologist went viral when his golden doodle decided to crash his live forecast report and just hung out on screen.
Anthony Farnell is attempting to deliver breaking news on Hurricane Ida to viewers when Storm decides to lighten things up for the audience by wandering on screen for some comic relief. Farnell tries to shield the dog from view, as if he could stop what was coming. Instead, Storm sniffs around the set for a while, as the weather background continues to cycle through. Thanks to the green screen, it looked like Storm was traveling on thin air and then across the weather map.
"Yes, Storm is in the building," the weatherman said, finally accepting defeat at his attempts to hide the pup. "He's walking on thin air and looking for treats."
At least the network wasn't bothered by the canine video-bomb, as they shared the hilarious video on YouTube (where it predictably went viral). The company wrote "both consummate professionals, Anthony finished his segment without a hitch while Storm sated his hunger (and mugged a bit for the camera)…all in a day's work!"
The best part is when the weatherman just accepts it, like OK he's gonna be here, we don't need to fight it. And honestly? We get what the weather forecast is, we understand what the numbers mean. Add more dogs to ALL forecasts! Give us the temps, sum it up for us, and give us a dog wandering around the screen.
Most people watch TV with a phone in their hand anyway. You get a dog wandering on and off-screen? People are watching that attentively, full stop. Come for the dog, stay for the weather, and whatever else qualifies as "news you need." That could revolutionize the way news is delivered.
People would WATCH THE NEWS with more dogs. I understand this was a viral accident, but if they were smart, they would embrace it and add Storm to the team tomorrow. He could be the Air Bud of broadcasting.