Isolated From Friends, 81-Year-Old Becomes "Grandpa" of Staff at Local Dunkin'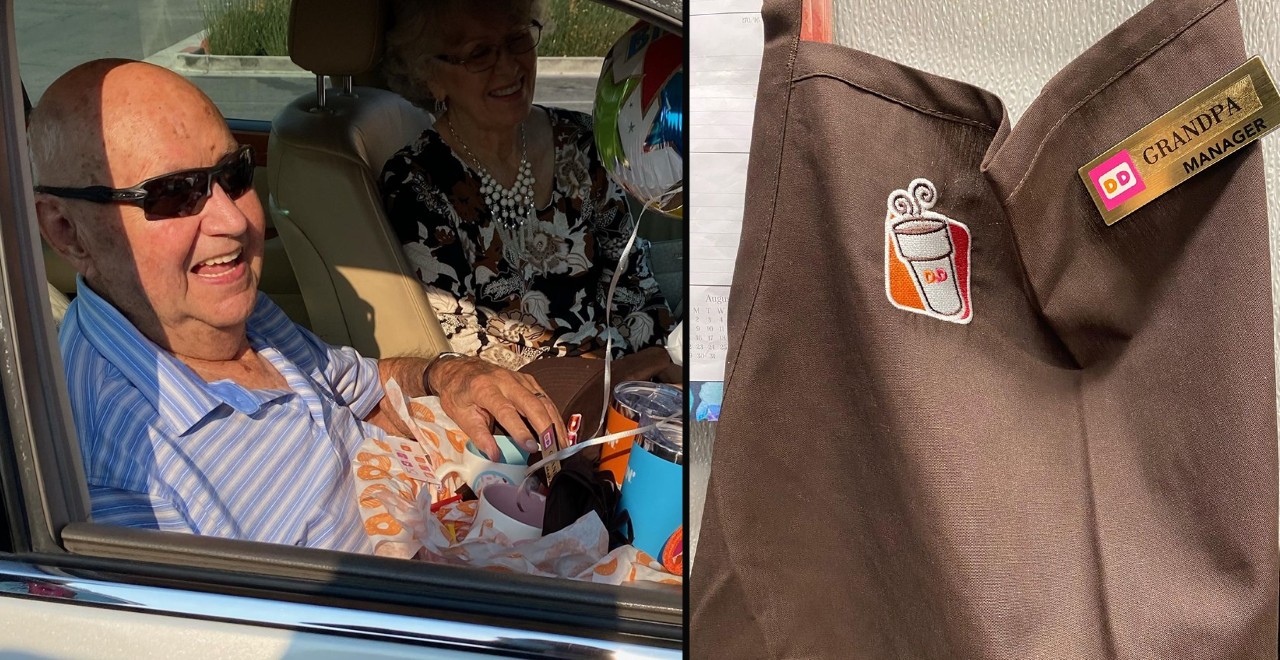 Restaurants were among some of the hardest-hit businesses by the pandemic. Navigating crushing losses, confusing and always changing restrictions, and additional sanitary guidelines have resulted in significant losses in the industry. Some have closed their doors, and won't return. Food icons, like Guy Fieri, have tried to help where the government fell short and raised millions for food service workers. But when it comes to morale, sometimes your store just needs a grandpa.
A Dunkin franchise in California, feeling the crunch like most places, got just that boost from an 81-year-old regular customer who has been "adopted" as the store grandpa after he left a huge tip for the staff.
Retired school teacher Gil Walker has been going to the same coffee shop every day with his friends. When COVID hit, he became separated from them and all of his extended family and saw his daily routine fall apart (like everyone). So, he adapted. He found a local Dunkin where he could get his morning coffee fix from the safety of a drive-thru window.
From that point, he got to know the staff and when he learned they were struggling, he gave the franchise owner an envelope with $280 ($20 for each employee) to help out a bit. From that point on, he was no longer Gil, he was 'Grandpa' and his money was no longer accepted.
"We love seeing him," the owner told People. "So many of us are running on emotional empty right now, especially in the restaurant industry, so to have someone who's 81-years-old pull up to the drive-thru and get everyone excited like little kids, he's that emotional filler up."
Walker told CNN that seeing the kids working at the restaurant reminds him of his former students, and of his own kids and grandkids (and great-grandkids!) which he hasn't been able to see due to COVID.
"Every day, I'm greeted with warmness and love and affection, and it's just amazing," Walker said. "I saw a way to give back a little and I couldn't think of a nicer group of kids than what I was experiencing at Dunkin'."
There's not only a sign in the store that says "anyone who accepts grandpa's money will be terminated," but they also did a special celebration for his anniversary and for his birthday. Plus, they have plans to have a cookout at Walker's house once the pandemic has ended.
"This guy has given us so much," the store owner said. "He's just an amazing guy. He's funny, he's caring… He thinks he's getting more out of it, but really we get more out of it."