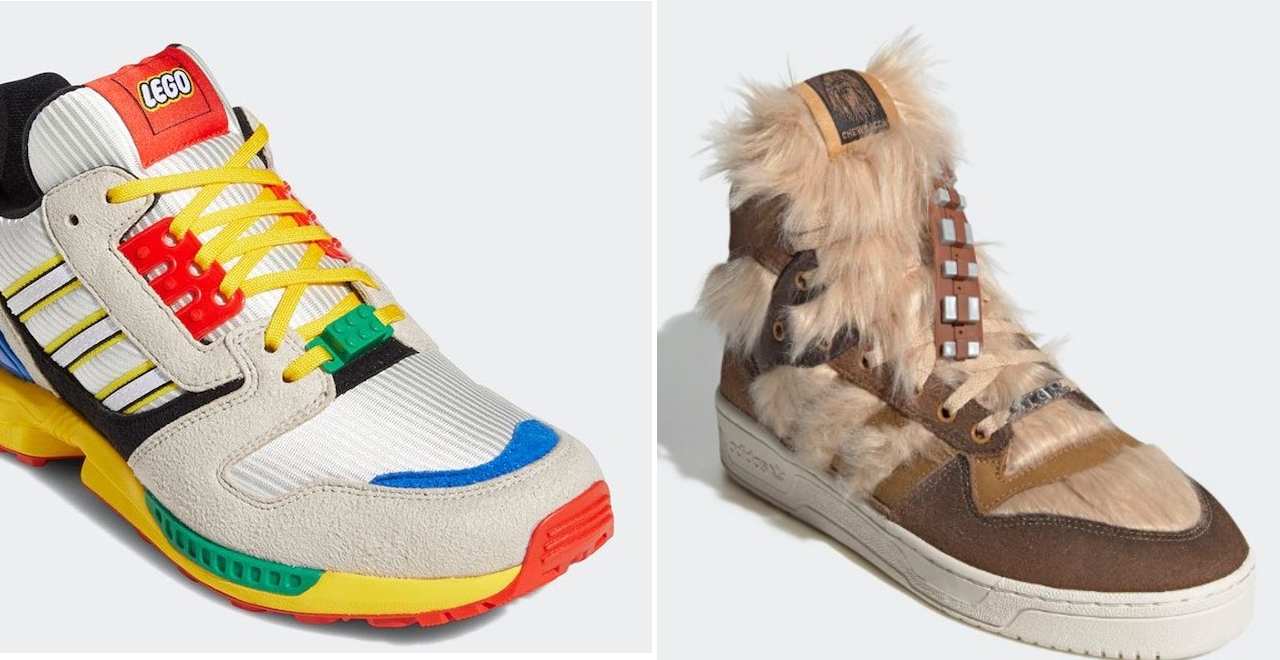 Credit: Adidas
Adidas gets it. Shoes should be one of two things; enormously comfortable with little regard for appearance, or they should be plain fun. The brand has been making news in the last few weeks with two new collabs that are deeply entrenched in nostalgia. First, they teamed with Pixar and Damian Lillard for some Buzz Lightyear sneakers. Now, they've beyond, beyond infinity by joining forces with the folks at Star Wars and LEGO.
Adidas is known for some big swings, like the "Game of Thrones" inspired shoes that came out shortly before the final season. And LEGO itself is always game for a collab that makes sense, such as teaming up with IKEA. The Adidas Original ZX8000 will sell out, there's no question there. It's going to go down in the pantheon of collectible shoes. Not only does the shoe colors remind you of the iconic toy, but there's literally a Lego brick on the laces. Interchangeable lace options and brick add-ons basically let you customize them however you want, which just makes them more fun.
The shoe became available on the Adidas website on Friday, September 25th.
Incredible collaboration between @LEGO_Group & @adidas for the ZX 8000 sneakers. Expected to be released on Sept. 25. pic.twitter.com/8PWN2dcmTJ

— cohncollab (@cohncollab) September 17, 2020
Maybe Legos aren't your thing. Maybe you don't want to protect your feet from stepping on a Lego by wearing Lego, I get it. But you still have options, if you want a shoe to remind you of your youth. Adidas is also releasing a Star Wars shoe, this one dedicated to everyone's favorite elderly Wookiee.
Chewbacca is an iconic and underappreciated legend in the Star Wars universe. He's been in more Star Wars movies than nearly every other living character (droids don't count). You can embrace your inner Wookie with the 'Adidas Rivalry Hi Chewbacca' which is a high-top covered in fur. The laces feature Star Wars and Chewie is on the soles. They even added his trademark bandolier to the tongue of the shoe. They'll be available on the Adidas website on October 21st, just in time to get you hyped for the start of Season 2 of The Mandalorian (the only good new Star Wars content we have).
Chewbacca is getting signature kicks

The Adidas Rivalry Hi Star Wars shoes drop October 21

(via @adidasUK) pic.twitter.com/8tSuDOg3Hl

— Fandom (@getFANDOM) September 17, 2020