After 28 years, an unreleased Game Boy add-on called the "WorkBoy" has surfaced, and its features might surprise you.
The WorkBoy, which was designed by Source Research and Development and produced by Fabtek Inc. was supposed to be an accessory that would turn the Game Boy into a handheld computer.  By connecting the WorkBoy via Link Cable (that beautiful cable that would allow you to trade Pokemon with your friends back in the day), it would bring PDA-like functions such as an appointment book, calculator, and more to Nintendo's handheld juggernaut.  If you thought trying to position your Game Boy under a light so you could see what you were playing was fun, just imagine how much more fun you would have trying to position the screen at exactly the proper angle under a light so you could jot down your appointments for the week.
All joking aside, it's amazing this beauty was discovered after all these years.  This kind of tech would have been revolutionary when it was originally supposed to release back in 1992.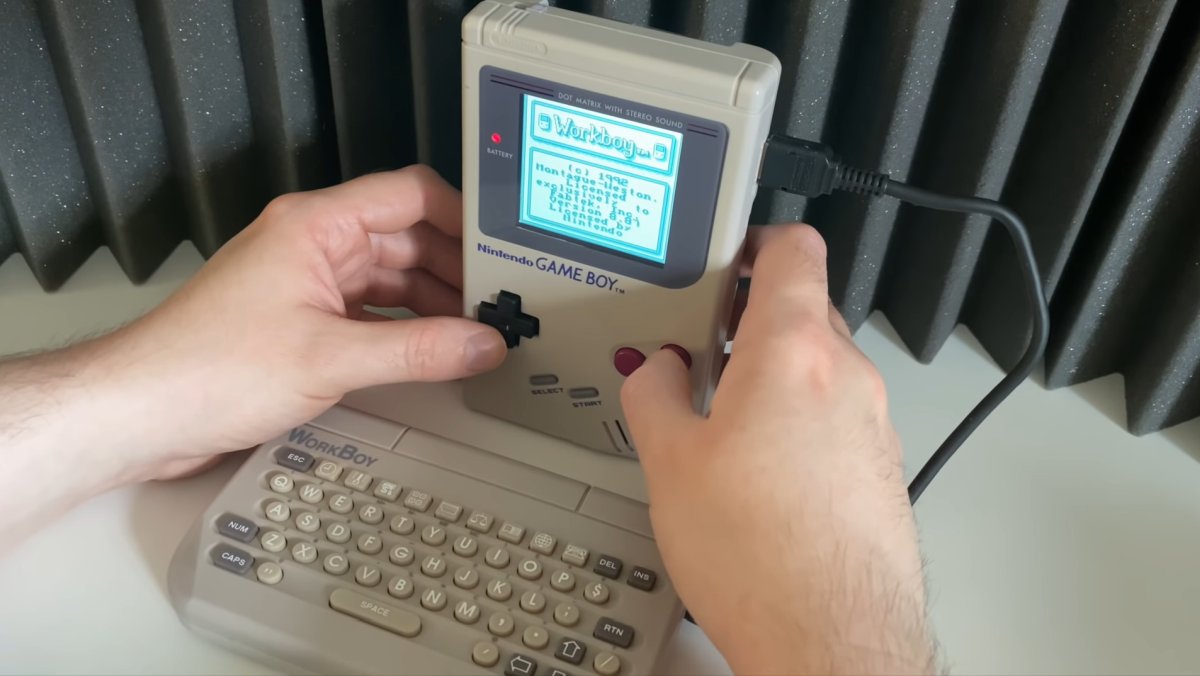 The one who gets credit for finding the WorkBoy and actually getting it to work is game historian enthusiast Liam Robertson of DidYouKnowGaming?.  Robertson spent months researching this long, lost hardware, and it definitely paid off.
During Robertson's investigation, he was able to track down Eddie Gill, the architect of the WorkBoy and founder of Source Research and Development.  Gill said there were only two WorkBoy prototypes left in the world that he knew of and that one was most likely "deep in the vaults of Nintendo," while the other was in possession of Frank Ballouz, the founder of Fabtek.
Robertson got in touch with Ballouz and as luck would have it, Ballouz did have a WorkBoy prototype.  What Ballouz didn't have though was a Game Boy to test it out on, so he actually sent the WorkBoy prototype to Robertson in the hopes that he would be able to get it working.  Unfortunately for Robertson, it turned out that the WorkBoy needed a cartridge inserted into the connected Game Boy to fully function, and no one had one.
With a little ingenuity (and the unfortunate Nintendo 'Gigaleak'), Robertson was able to find a ROM for the WorkBoy software online.  After burning the ROM to a blank cartridge,  Robertson was able to get it to work.
It really is fascinating to see the WorkBoy in action, so if you want to watch Robertson's investigation, discovery, and messing around with all its features, definitely check out his video down below.
I still have my original Game Boy (albeit, in very poor condition) and it had a huge impact on me when I was a kid.  The Game Boy had a lifespan of 14 years (1989-2003) and it's crazy to think about how far the tech could have gone if this WorkBoy had released as intended.  Maybe in some parallel universe, the WorkBoy released and we're all carrying around WorkBoys in our pockets and we can talk on our Game Boys like cell-phones.