Make Your Kids Excited About Going to Bed — No, Really — With Marvel Sheets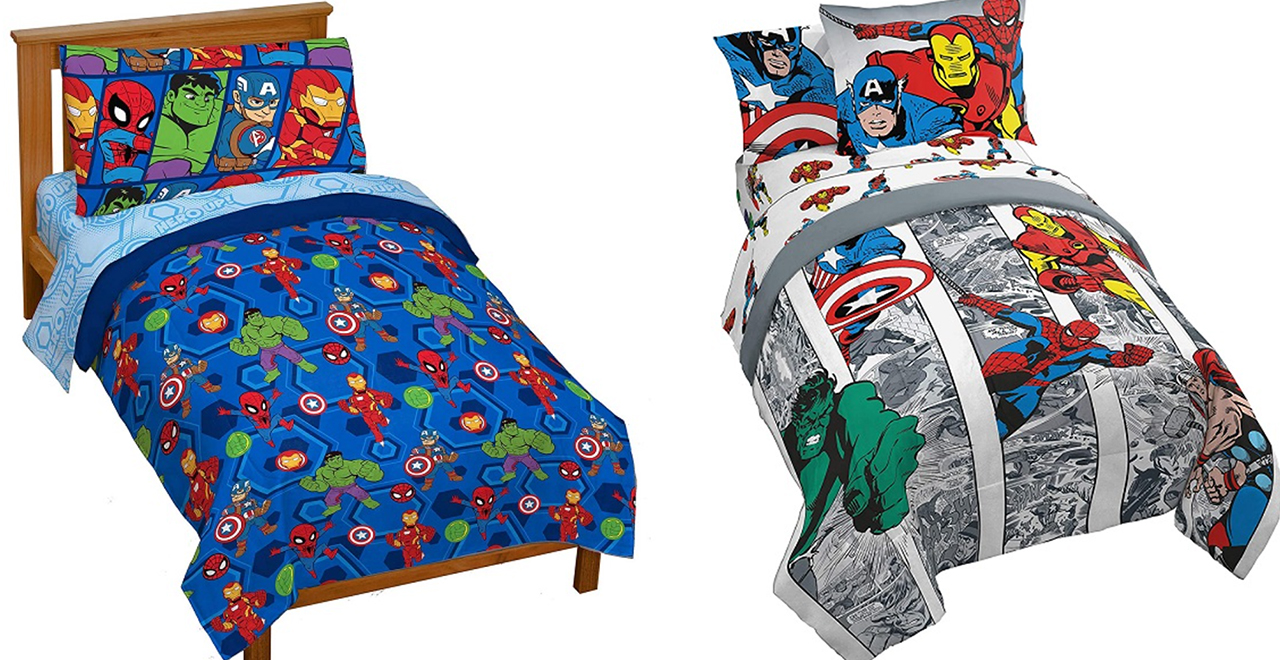 Looking for Marvel bedding for your kid? That's understandable. When it comes to classic debates for sci-fi nerds, the best ones used to involve Picard vs. Kirk, Han Solo vs. Indiana Jones, and Sarah Connor vs. Ellen Ripley. Now, though, the majority of these debates have Marvel vs. DC Comics at their heart. Whether you're debating if Batman could out-gadget Iron Man, if Thor or Wonder Woman has the better backstory, or if any DC character could challenge Deadpool in a gross-out contest, the debates can become fierce.
Within the superhero genre, the majority of fans feel the need to pledge allegiance to either Marvel or DC. (Although some people would love to see a Marvel/DC crossover.)
If you as a dad have made the choice to be a Marvel fan, you're probably going to try to raise your kids as Marvel fans too. (We wouldn't recommend writing your kids out of the will if they slide toward being DC fans, but if you did write them out, we wouldn't argue with your decision either. The DC/Marvel divide runs that deep.)
One of the ways to get your kid excited about Marvel characters is to purchase a Marvel bedding set for them. For kids who are scared to go to bed or who dislike going to bed, having Marvel bed sheets may be the trick to convince them to hit the hay at the appropriate 9 p.m. bedtime you've set (for a change).
Now we can't guarantee that having Marvel bedding won't make them act like superhero lunatics from 7 a.m. to 9 p.m. Pretending to be Hulk, Black Panther, or Spider-Man may have them jumping on and off the bed for hours at a time during the day. As long as they're out like a light at 9 p.m., though, you may be willing to make this tradeoff.
The Best Marvel Bedding: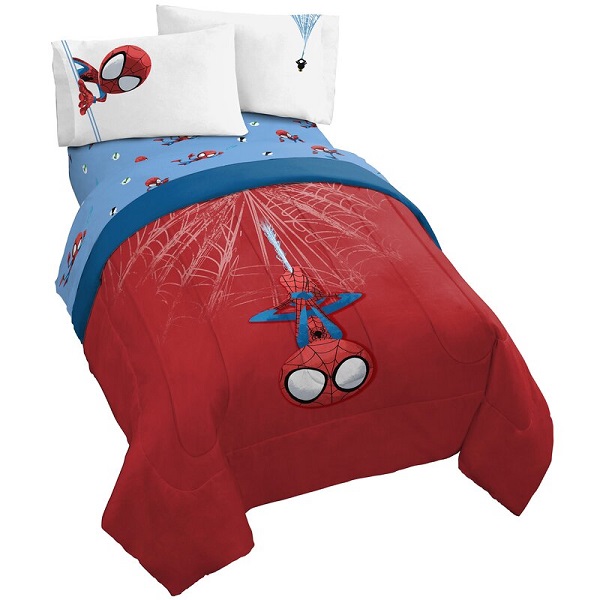 When you want a classic Marvel character to use as Marvel twin bedding, Spider-Man is a great choice. After all, about 20 years ago, the highly popular Spider-Man movie really kicked off the onslaught of Marvel and DC Comics superhero movies to follow.
Plus kids love Spider-Man. The costume is cool. Shooting spider webs out of the wrist is cool. Flying around New York City on a web string is cool. Even kids who are terrified of spiders can find something to like about Spider-Man. Just don't expect the most squeamish ones to watch the scene where the spider bites Peter Parker. Ouch.
The Spider-Man character on this Marvel bedding is an adorable cartoonish character, which makes it a good Marvel toddler bedding set. Little kids will like the friendly look to this Spider-Man.
This twin size Spider-Man bedding set includes:
Reversible comforter
Pillowcases
Sheets
For older kids (or adults) who prefer the Miles Morales version of Spider-Man over Peter Parker, this bed set is made with you in mind. (And if you don't know what the hell we're talking about, you may need to check in your Marvel Fan Club card.)
This set uses a lot of darker colors, far more than the first Spider-Man Marvel bedding we discussed, which may scare some younger kids (or they might think it's super awesome).
Plus, one of the pillowcases is just a drawing of a giant spider from the Spider-Man logo, so this isn't the best option for kids who are a little skittish.
This Marvel bedding set includes:
Twin comforter
Pillowcase
Sham
Flat sheet
Fitted sheet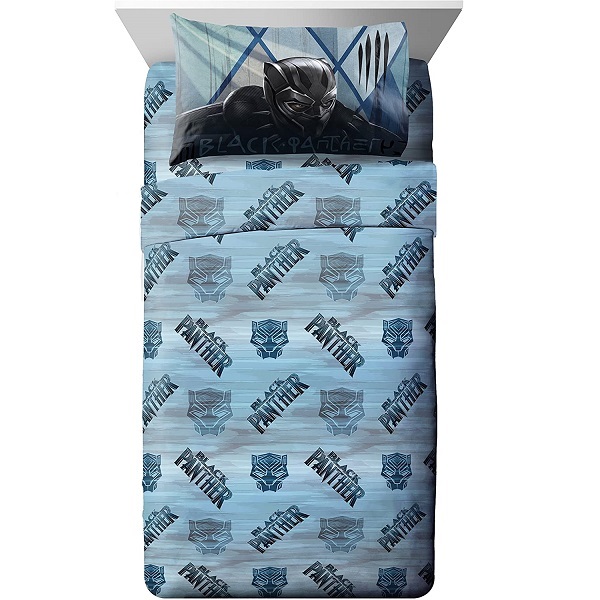 For kids who loved the Black Panther movie from a few years ago, this Marvel twin bedding will quickly become a favorite.
One of the best things about the Black Panther character is the detailed backstory, which some kids will want to dive into after receiving this bed set.
This Marvel bedding set doesn't have a comforter, so you can save some money if you just add a solid colored comforter, more than enough to see the upcoming Black Panther II movie. (By then, we'll hopefully be back attending movies in theaters again, so you'll almost certainly need the extra cash — and then some — for snacks too. Even the mob is impressed by the markup at the movie theater snack bar.)
This twin size Black Panther bedding set includes:
Pillowcase
Fitted sheet
Flat sheet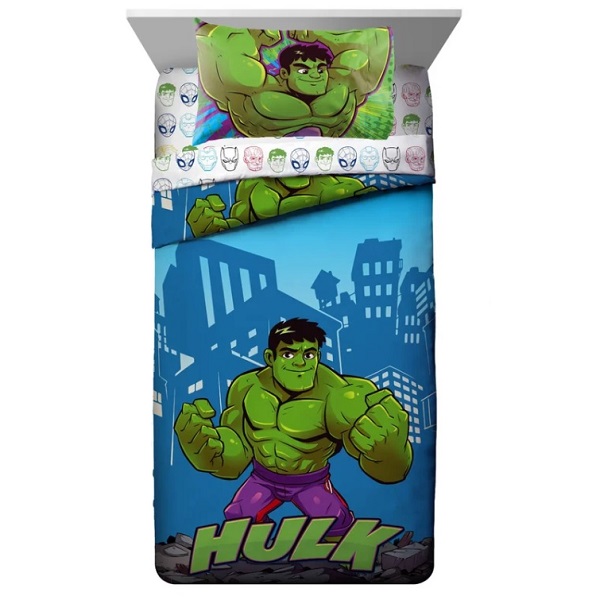 Kids can relate to the Hulk character. When Bruce Banner gets mad, he turns into the Hulk, wreaking havoc in an uncontrollable rage. When your kid gets mad … well, let's just say the kid's tantrums would give the Hulk a run for his money. If the kid knew how to turn green, it'd be tough to tell the two apart.
The good news is you can send your kid to an extended timeout. We wouldn't try that with the Hulk.
This Hulk set is made as a Marvel toddler bedding set or even as Marvel crib bedding, as the fitted sheet measures only 28 by 52 inches.
The Hulk character is a cartoonish version of the Hulk, made to be more fun than brooding and scary, further appealing to toddlers and preschoolers.
This twin size Hulk bedding set includes:
Reversible comforter
Pillowcase
Flat sheet
Fitted sheet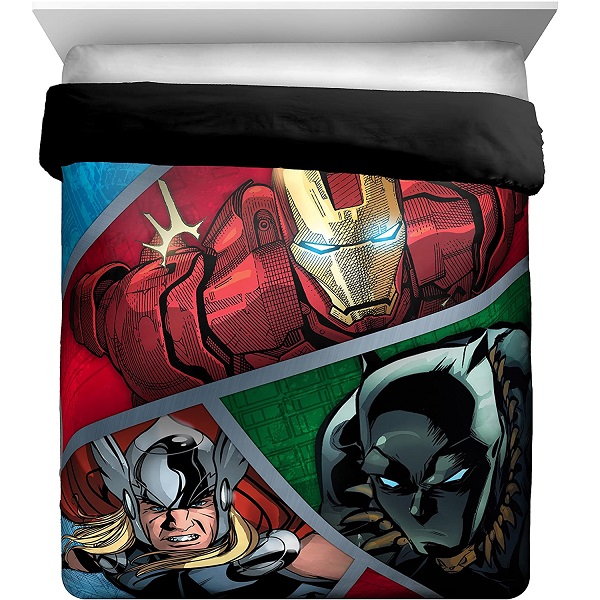 For those older kids and adults who are huge Marvel fans but who just can't decide on a single favorite character, this Avengers comforter and sham set has you covered. It includes artwork featuring Iron Man, Black Panther, Captain America, Thor, Hulk, and Ant-Man.
The artwork on the comforter and shams is highly detailed, made to resemble artwork you'd find in a modern Marvel comic book, which will appeal to teens and adults.
The images are a bit darker than something that would be aimed at young children, some of whom may find them a little scary.
Then again, sometimes the best way to overcome a child's fears is to throw them in the deep end. Leave the kid in the room with these character drawings for an entire night and the kid will overcome the fear … or will have nightmares for the next few months. Just a word of advice as you try to decide what to do: A few months is a long time for you to sleep on the couch while your wife is pissed at you.
This queen and full-size Avengers bedding set includes: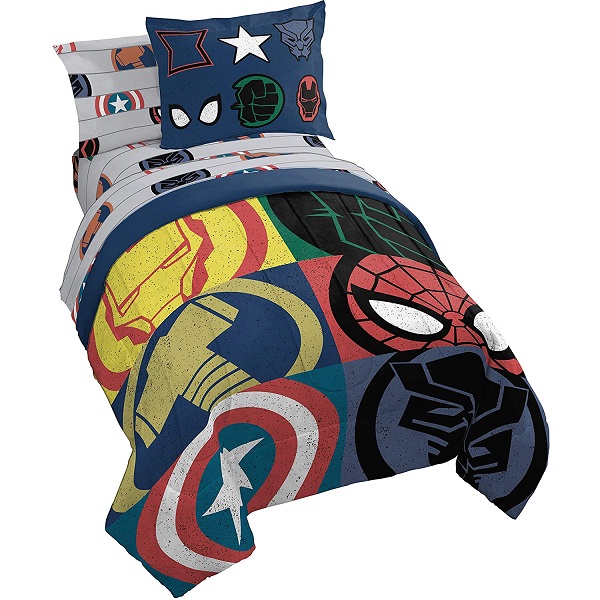 As an adult, you may feel a little weird about having bedding with cartoon characters on it. (Your wife might use a different word to describe her feelings.)
This Marvel bedding set may be a nice compromise, as it features the emblems of several Avengers superheroes, giving you a more subtle look than drawings of the characters themselves. The emblems represent Captain America, Spider-Man, Iron Man, Thor, Hulk, Black Panther, Black Widow, and Guardians of the Galaxy.
Someone who has no idea what Marvel is might even think these are NHL or NFL logos. (Feel free to use this idea to see if you can fool your wife on this one. We'll wait to see how it goes for you before trying it ourselves.)
This full-size Avengers bedding set includes:
Comforter
Two pillowcases
Two shams
Fitted sheet
Flat sheet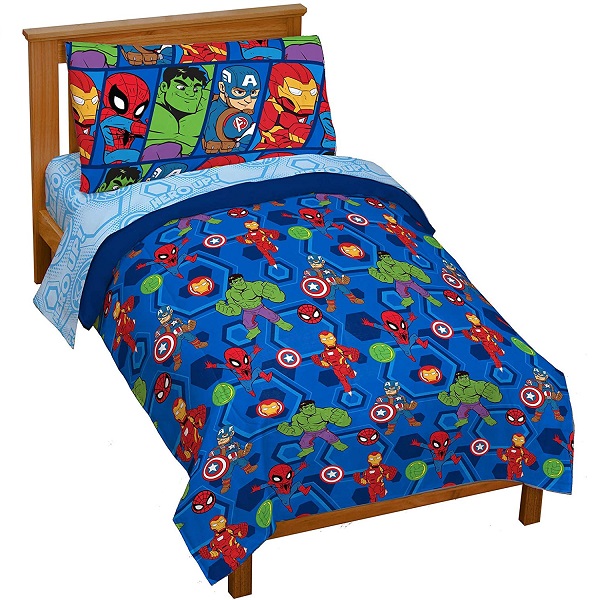 Toddlers who are a little nervous about bedtime can feel braver with these Marvel Avengers bed sheets. They have multiple Marvel characters along with their emblems on the pillowcases and comforter. All of the character drawings are cartoonish and made to be friendly, which keeps the scary level to a minimum.
The sheets have the message HERO UP! printed on them, which may encourage the kid to be brave all night.
Just imagine it … a child who stays in his or her bed all night and doesn't interrupt your sleeping. Just the thought of it brings a tear to your eye.
This twin size Spider-Man bedding set includes:
Reversible comforter
Pillowcases
Sheets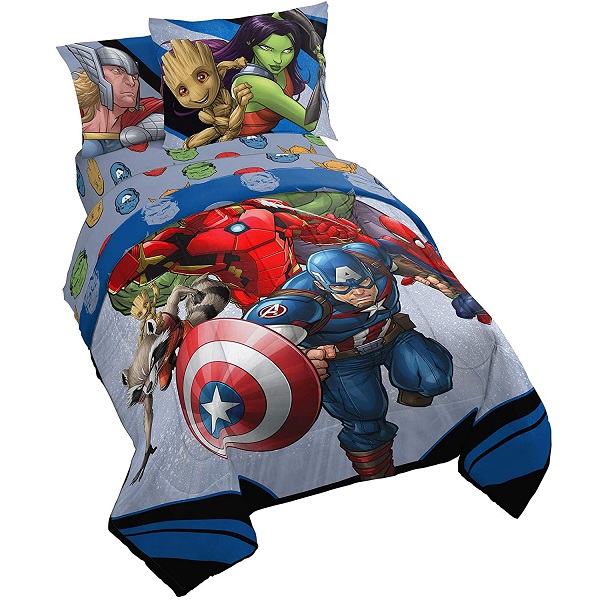 When it comes to traditional superheroes, a talking raccoon and a tree creature normally wouldn't have fit the bill for most fans. Then Guardians of the Galaxy came along and "I am Groot" became a sensation, holding us over until the Baby Yoda phenomenon started.
If you and your kids are big fans of Guardians of the Galaxy, you'll appreciate these twin Marvel bed sheets, featuring a host of those characters, including Groot, Gamora, and Rocket Raccoon, as well as Captain America, Thor, Black Widow, Spider-Man, Hulk, and Iron Man.
This twin size Avengers bedding set includes:
Twin/full comforter
Pillowcase
Sham
Fitted sheet
Flat sheet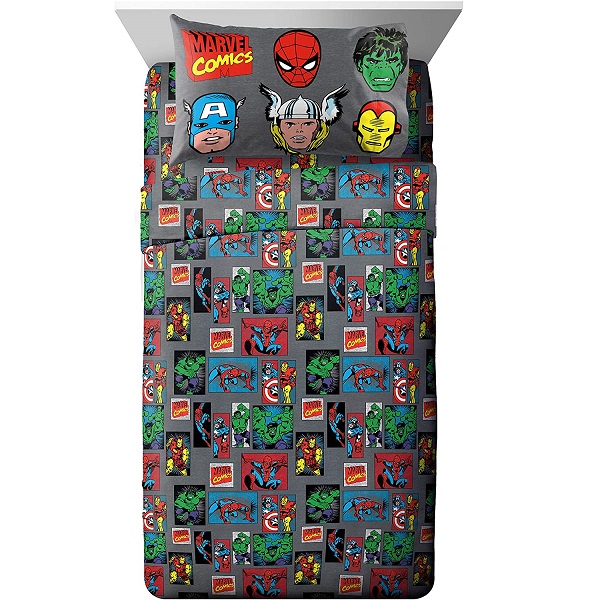 If you're the kind of dad who likes to tell your kids how much better things were in your day, here's your chance to put those words into action with this Marvel bedding set. It features popular Marvel characters in artwork that resembles classic comic books.
The drawings of Spider-Man, Hulk, Captain America, Thor, and Iron Man have an old school look to them. Your kids may snicker at the look of some of these characters, but maybe they'll learn to appreciate the rough, hand-drawn look these characters had in the comics from when you were a kid (or maybe from when your dad was a kid and gave you the same "things were better in my day" speech).
If your kids don't appreciate the old school look, well, you can make them sleep on these Marvel bed sheets until they do. You're the dad, after all, and your word is law. (Until your wife overrules you.)
This full-size Avengers bedding set includes:
Two pillowcases
Fitted sheet
Flat sheet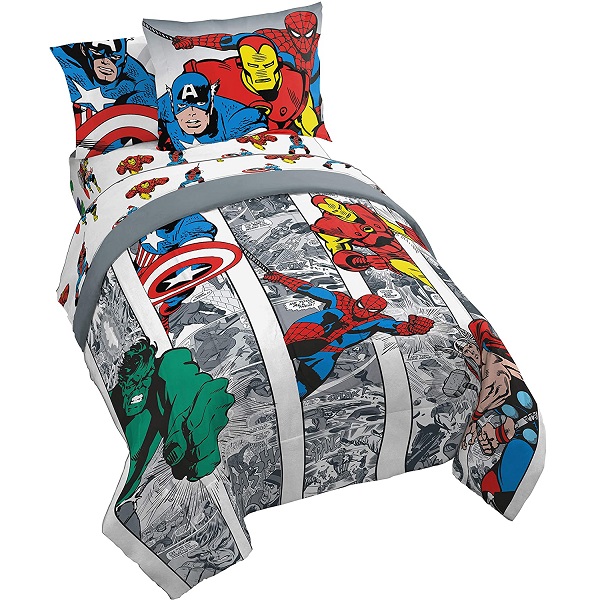 For teens (or dads) who appreciate the comic books featuring Marvel characters as much (or more) than the multitude of movies over the past couple of decades, this Marvel full bedding set is made with them in mind.
This is an interesting design with black and white comic book panels adorning the comforter with large full color drawings of characters like Spider-Man, Iron Man, Captain America, Thor, and Hulk superimposed over the top of the comic panels. These are old school drawings of the characters from the vintage comics, which adds to the cool factor.
With the black and white comic panel drawings, it may even spark an interest in the child of reading black and white graphic novels. Yeah, yeah, we know. There's plenty of people out there who would tell you graphic novels are not real books. But at least the kid would be reading willingly. (Pat yourself on the back. You just parented the crap out of your kid's reading time.)
This Marvel full bedding set includes:
Twin/full comforter
Two pillowcases
Two shams
Flat sheet
Fitted sheet
Perhaps you wanted Marvel bedsheets when you were a kid, and your mom quashed your hopes. Then your live-in girlfriend in college (who you somehow kept a secret from your mom) also said no to your hopes of buying a Marvel bedding set.
Now your wife says no too. But when she says no, you can see a hint of pity in her eyes. (Never underestimate the benefits of being the recipient of your spouse's pity.) So if you believe there's a sliver of hope for your Marvel queen bedding quest, we have the model that may work.
This 80th anniversary Marvel bed set has a reversible comforter. One side has Marvel comic panels in color on a gray background. And when your wife wants to pretend that she did not marry a huge comic book and superhero nerd (totally on her, TBH), the reverse side of the comforter has a classy gray and white stripe pattern.
Most nights, she's so tired from the antics of the kids that she'll never even notice if you flip the comics side of the comforter upward for all to see.
Hopefully, she says yes to this Marvel comforter. But if she says no, and if you've lived through being a father to a toddler, at least you're finally at a point in your life where you're prepared to hear no. After all, your toddler likely said no to you roughly 156 times per day.
This queen-size Marvel bedding set includes:
Reversible comforter
Sham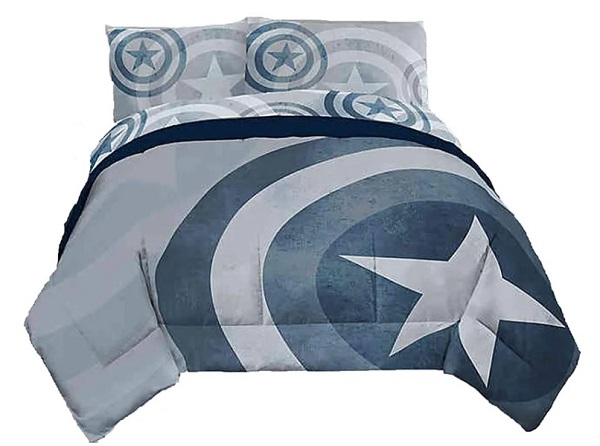 If you want to go even more subtle when it comes to your Marvel bedding, this Captain America comforter set will meet your needs. Rather than full color drawings of Captain America on the bed sheets and comforter, this product uses his emblem of stars and rings from his shield in varying shades of blue and gray.
If you encounter someone who is not a Marvel fan, they may not even know that this is Captain America's shield emblem. This kit provides a contemporary style (whatever that is).
This Captain America full-size bedding set includes:
Comforter
Two pillowcases
Accent pillow
Sham
Although we only recommend picks we really love, we may earn a commission on purchases made through links from our site.