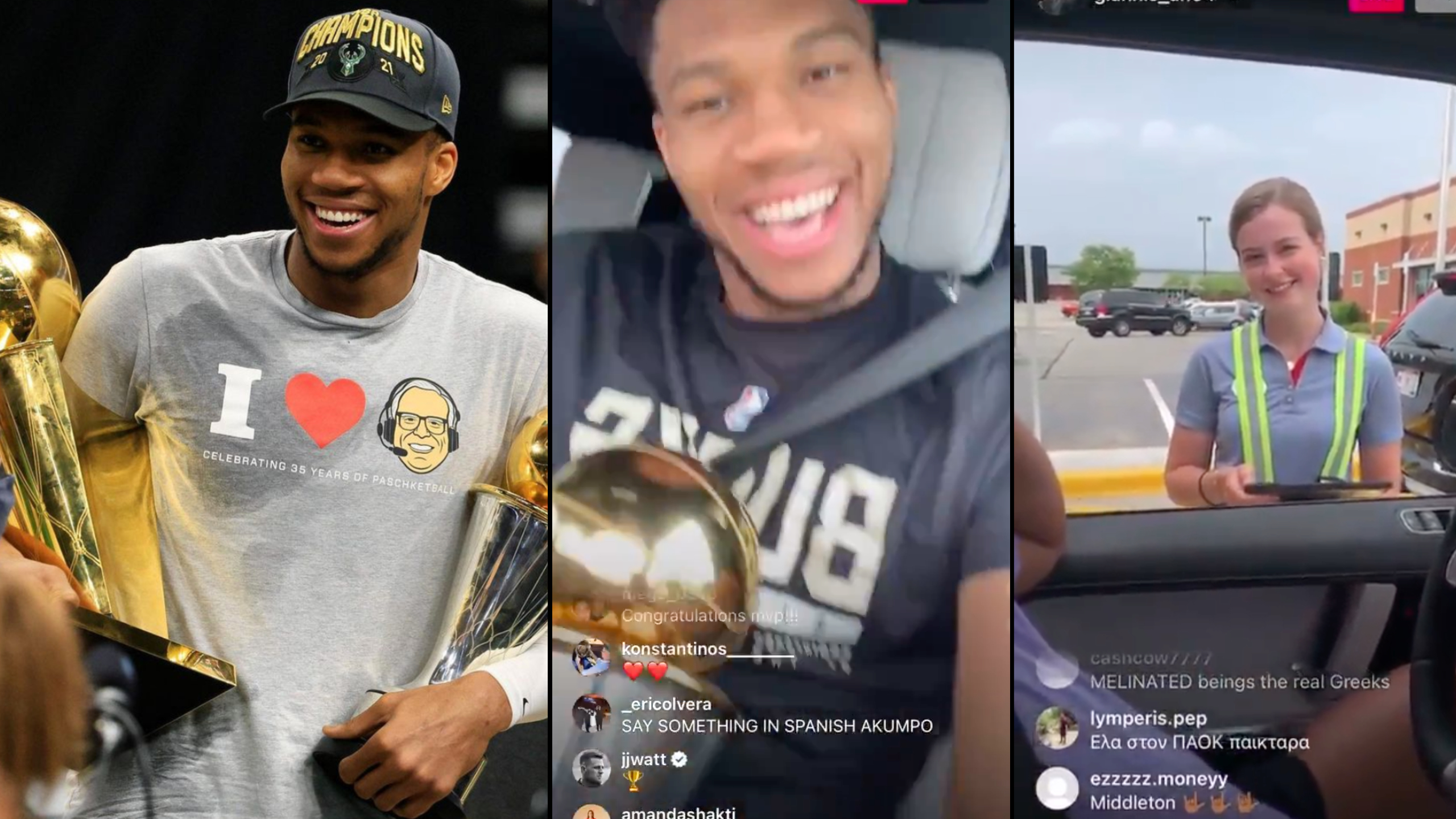 Credit: Instagram/giannis_an34
You just won the NBA Championship and won the Finals MVP. You brought a championship to a city that hasn't seen one in decades and secured your place in the history of your sport. How do you celebrate? If you're Giannis Antetokounmpo, you take the trophies straight to Chick-Fil-A to try and barter for free food for life.
Let's be real, Giannis is living his best life. The Greek Freak was INCREDIBLE this season. At 26, he is one of three players in NBA history to win an MVP, a DPOY, and a Finals MVP. He's taking shots at the super teams, and he celebrated with his brother in his hotel room after winning it all. After hours of partying, he decided he wanted some nuggets. So he went live on Instagram and…got in line in the drive-thru. You'd think becoming the city's hero would let you skip the line but there he was, broadcasting his first meal like a champ.
Giannis woke up like this: ordered 50 piece nuggets & kept the trophy overnight. 🤣🤣🤣

Keep the trophy safe until tomorrow, @Giannis_An34! pic.twitter.com/6BISJ8IEz0

— Milwaukee Bucks (@Bucks) July 21, 2021
He made his order, 50 nuggets, "not 49, not 51." 50, in honor of the 50 points he scored in the NBA Finals clinching win (did I mention he's incredible? He's incredible). Psyched Milwaukee fans started flocking to the Chick-Fil-A to catch a glimpse of the superstar. Later, he's seen with the team's trophy just chilling on the floor of his car like it's a Little League participation trophy! Truly wild. And then he rolls down his window to lead the fans in a "Bucks in Six!" chant. HE EVEN LETS A FAN TOUCH THE TROPHY.
When the dude finally gets to order, he politely asks if the cashier will go on camera, and then in front of 150,000 viewers, he tries to make his case to get free food for life.
He puts the manager on the spot… wants Chick-fil-a for life! pic.twitter.com/s5XSlDG7A7

— Steve Chamraz (@TMJ4Steve) July 21, 2021
Is that not how most people would celebrate!? Go get yourself some dang chicken nugs and tendies. You know what? Shoot your shot at getting it free for life. The ultimate heat check, as the city chants behind you and thousands, follow along online. This was a sensational man-of-the-people way to celebrate the city's championship for a sensational player from a sensational team.