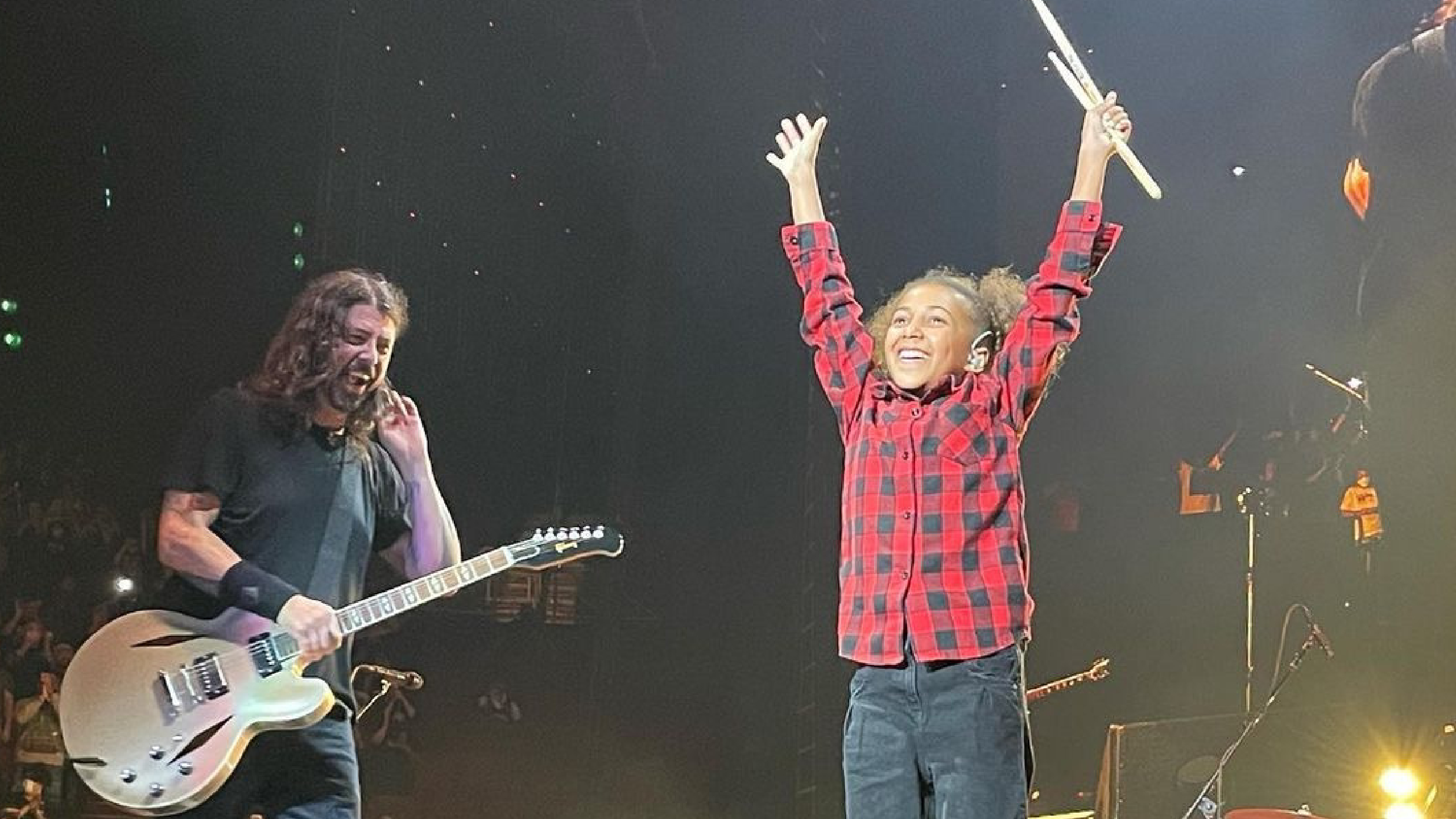 Credit: YouTube/Nandi Bushell
When the world shut down, Dave Grohl kept the internet happy with a digital drum battle with a 10-year-old music prodigy. Grohl and Nandi Bushell went back and forth at it, with the Rock and Roll Hall of Famer finally ceding defeat to his young "nemesis." He also said they'd play together sometime in the future, and the future is here, as Nandi (now 11) finally got to take the stage with the Foo Fighters and play alongside her idol.
On stage, Grohl set up the moment by first talking about the drum battle he had with her over the last year.
"This person inspired me last year so much, and I'll tell you why," Grohl said. "Because in a time when you would pick up your phone or turn on your computer and all we had was bad news, for that one day, you'd pick up your phone and see that connection between two people making music together and spreading joy and love all across the world."
Grohl said he didn't think much of Nandi's challenge at first until his friends started texting him that he had to respond to it.
"One day I picked up my phone, and my friends were all texting me asking if I had seen this s–t? And I clicked on the link and I see someone is challenging me to a drum-off," Grohl told the crowd. "So I'm like, 'Isn't that nice?' I kind of brush it off. But all my friends tell me, 'No dude, you have to step up. This is the real deal. This is a drum-off!'"
"So I respond. I said alright, I'll play nice. But then she comes back, and she whoops my f—ing ass in front of the entire planet, Round three! I do something else, and she comes back and kicks my f—ing ass again."
He then said they've had the honor to jam with some pretty amazing people over the years, including Beatles and Stones and Pink Floyds. But "this one right here takes the cake" he said, before introducing Nandi to help close out the show by rocking "Everlong" together. She then took center stage as the crowd chanted her name, giving her a memory she will NEVER forget.
She shared the video on YouTube, calling it epic and saying it's her "daddy who filmed the video and is screaming a lot." That's what dads do when their daughters get to see their dreams come true.