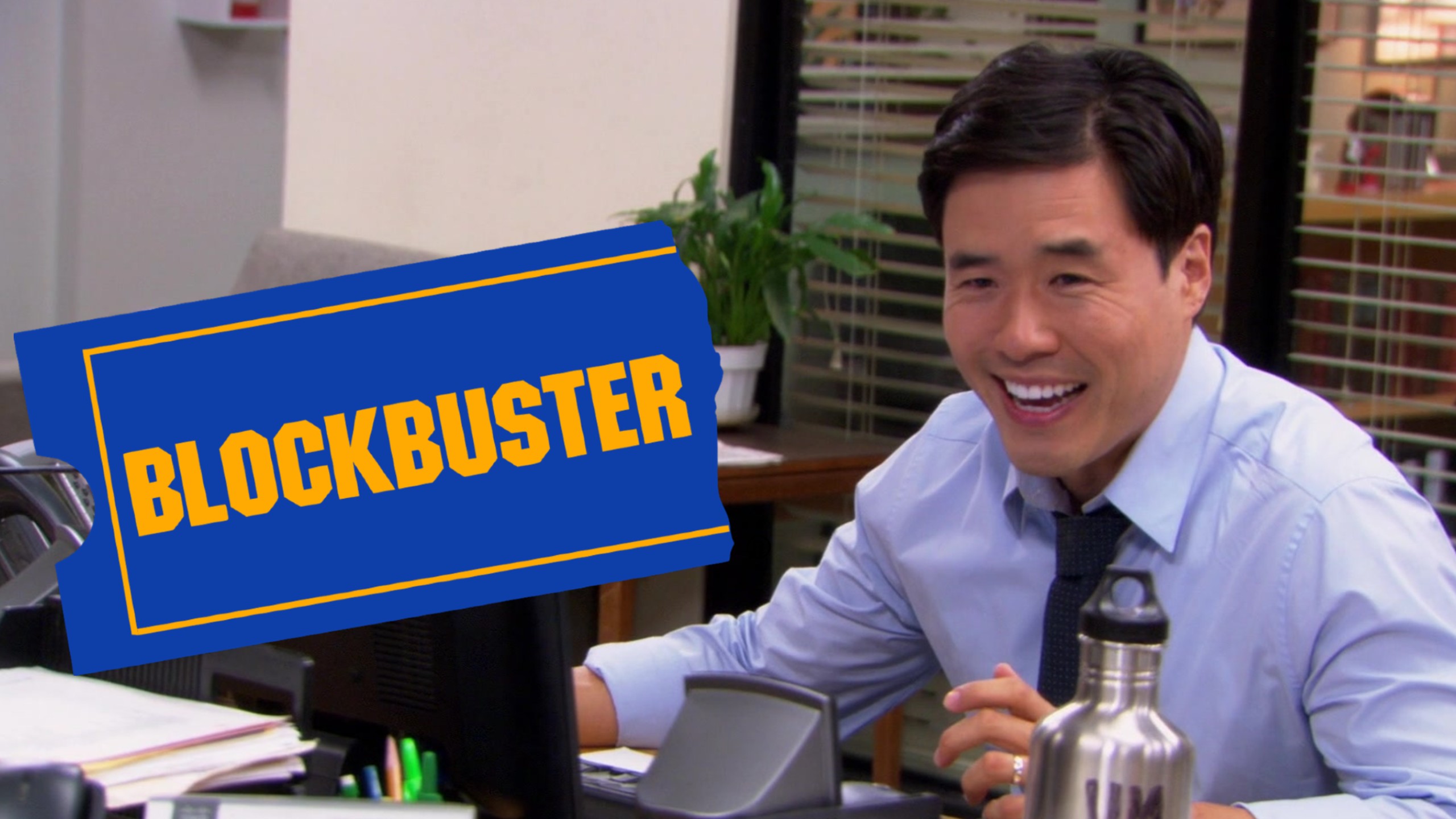 Credit: YouTube/The Office
The irony with this is almost too painful.
As Netflix continues to dominate the movie (and now dipping its toes into the world of video games) streaming market, it's nice to see they haven't forgotten the video stores they drove out of business.  Netflix, which previously released the documentary The Last Blockbuster, has now ordered 10 episodes for a Blockbuster Video workplace comedy series starring Randall Park (WandaVision, Fresh Off The Boat).
As reported by Deadline, Blockbuster the series will be "an ensemble comedy that takes place in the last Blockbuster Video in America, that explores what it takes – and more specifically who it takes – for a small business to succeed against all odds."  Vanessa Ramos, who previously developed workplace comedies Superstore and Brooklyn Nine-Nine will be leading the project, with Happy Endings creator David Caspe and Superstore's Jackie Clarke on board as writers and executive producers.
Ramos states that "getting to make a show about a place I love, with my friends Jackie and David, and Randall Park as our star is a dream come true, somehow feels like an understatement.  I could not be more grateful to Jim and Megan at Universal for supporting this project since day one and Tracey, Andy, and the whole team at Netflix for being on board with so many weird jokes."
What's interesting is the producers have acquired the rights to Blockbuster and will use the store's iconic logo and uniforms in the series.  Oh baby, can't wait to see those khaki pants back in action again.
I used to work at a Blockbuster Video back in my younger days.  The 10 free rentals a week were a nice perk, but my god having to push that cart around and trying to sell people candy they didn't want, or having to tell someone they had late fees made it all not worth it.  On the other hand though, when I was a kid I loved going there.  It always felt so great walking in, browsing, and finding the last copy of that brand-new release to take home.  I guess it wasn't all bad.
I feel like this has a lot of potential.  Hopefully, this series can capture all the nostalgia and joy of going to rent a movie or video game from a Blockbuster, while also capturing the pain and agony of working at one.  I've experienced both, so I expect nothing less.