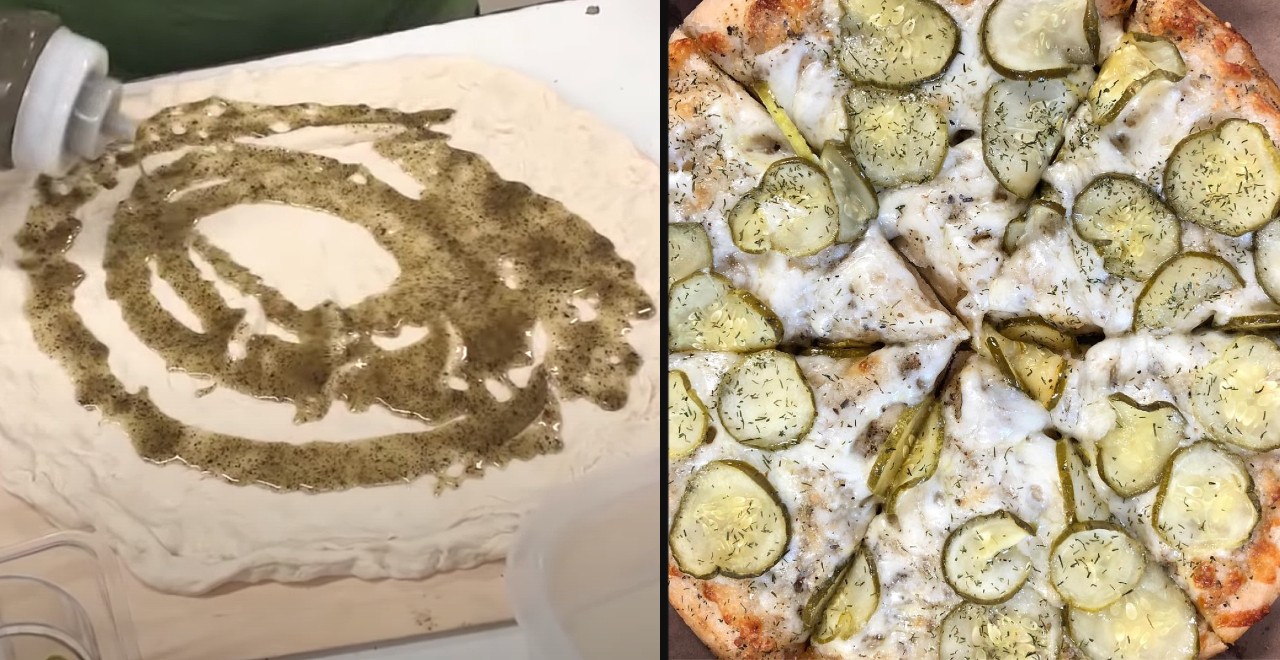 Credit: YouTube/Food Insider, Instagram/rhinospizzawebster
Listen. It's been a tough year, we get it. But you don't have to do this. We stood by your side during the Peeps-flavored Pepsi fiasco, and we kept our mouths shut when you went through that extremely disturbing pink mac and cheese phase. Pickles and pizza don't belong together. You've gone too far, and we're worried about you.
Pizza is one of those foods that's extremely hard to mess up. But doing so can be criminal. Dough, sauce, cheese – it's hard to make an incredible pizza, but it's even harder to make a terrible pizza. But by George, they've done it. An unsettling Food Insider video recently resurfaced on Twitter prompting people around the world to ask one important question: why?
This restaurant uses around 10 gallons of pickles weekly to make its pizza 🍕

Watch more Pizza Perfection on @PrimeVideo: https://t.co/bbwBK9AIKL pic.twitter.com/Q4Qka9MHus

— Food Insider (@FoodInsider) April 6, 2021
The video comes courtesy of Rhino's Pizzeria in Webster, NY. The unusual pizza joint boasts one of the strangest pies we've ever seen – a garlic sauce and mozzarella pizza topped with an ungodly amount of thinly-sliced dill pickles. To round it out, the pie receives a generous sprinkle of dill seasoning, because why the hell not? And of course, Rhino's suggests that visitors top their briny monstrosity with a squirt or two of ranch dressing.
I love pickles, I do. I also love mint chocolate chip ice cream, but you couldn't pay me enough to eat it on pizza. Evidently, though, this unusual pie is a pretty big dill in New York and beyond.
"People have been coming from all over – Buffalo, Syracuse, Pennsylvania," Chef Cindy Arena told Food Insider in the original 2018 video.
Unsurprisingly, the pizza seems to hit the spot especially well for pregnant women. I've seen a pregnant woman mix tuna with peanut butter though, so I'm not sure that's a particularly solid endorsement. In a poll shared on Twitter by Food Insider, 68.7% of people said they'd be willing to try the dill-packed pie, while the other 31.3% were less than enthused. To each their own, I suppose – but if you do decide to give it a go, gum seems like a good investment.