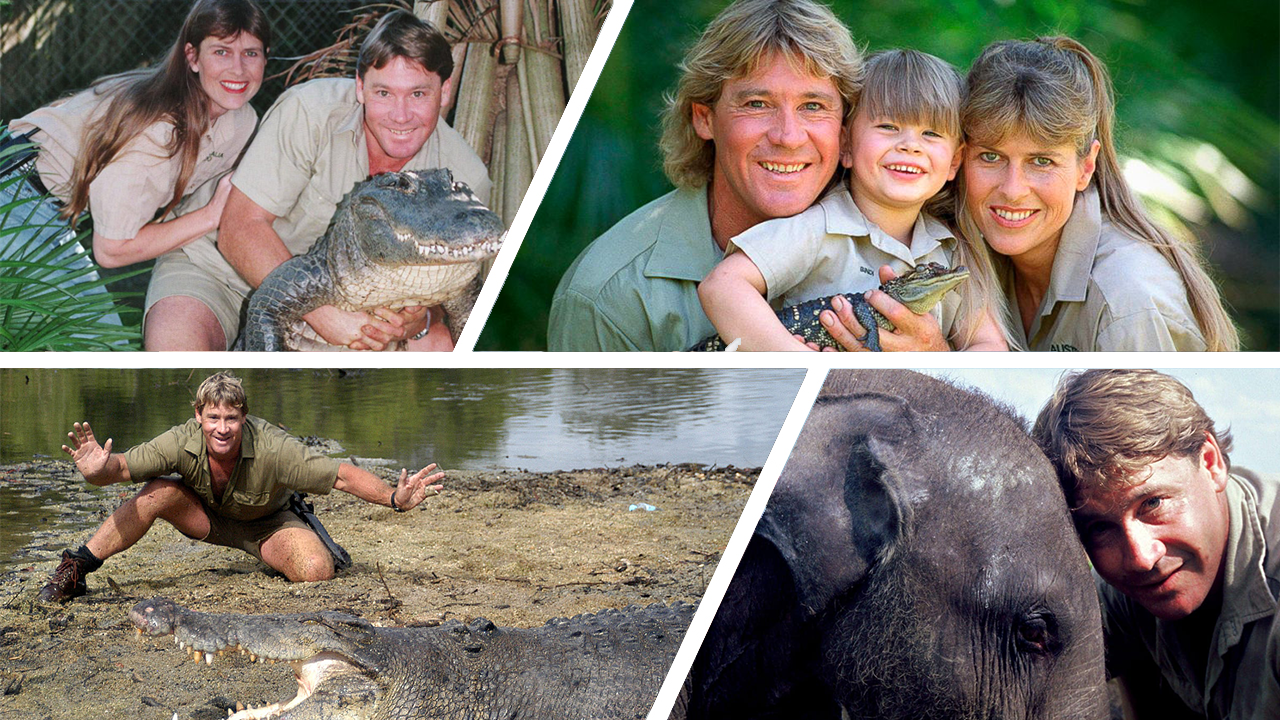 Credit: Getty/Australia Zoo
On September 4th, 2006 the world changed. It's now been a decade and a half since we lost Australian zoologist, larger-than-life TV personality, animal lover, and one of our favorite dads, Steve Irwin.
Steve Irwin was a lot of things, and fearless was one of them. Unless you count the fact that he was afraid of parrots. Still, he wrangled his way into our hearts by wrangling crocodiles, cozying up with snakes, and dadding two toddlers — the most fearsome job of all.
Take a look at Steve's upbringing and it only makes sense that he grew to be one of the world's most famous zoologists. Steve was raised by a wildlife rehabilitator mom and herpetologist dad (that means he was all about reptiles and amphibians) at their family zoo, then called the Queensland Reptile and Fauna Park.
Young Steve took part in caring for the animals and even received a 12-foot scrub python for his sixth birthday. Loving animals was basically in his blood.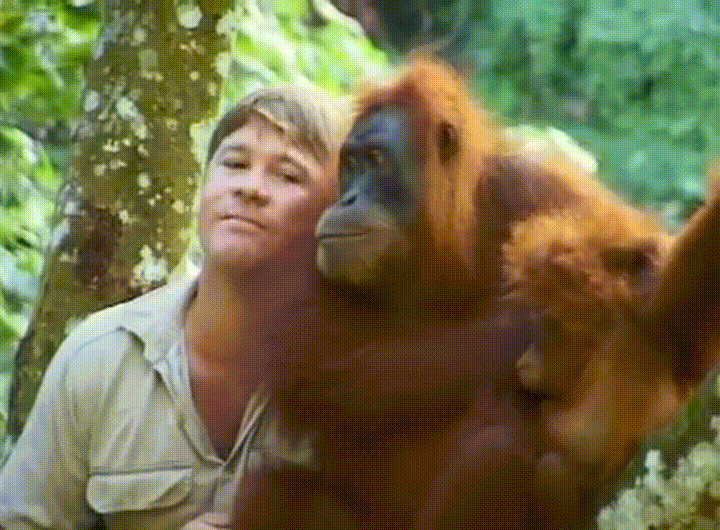 Later Steve would rename his parents' family park to the Australia Zoo in 1998, which, serendipitously, is where he would meet his future wife Terri Raines in 1991. Teri, who is from Eugene, Oregon, was visiting wildlife rehabilitation centers in Australia when she ended up at the Australia Zoo. The two called it love at first sight.
"The fact that he was so humble and loving towards these animals was so attractive to me and he looked like a rock in those shorts, too…so I may have noticed that," said Terri on the first time they met. Eight months later, they were married.
So began Steve's journey into passing his hereditary love for animals down to a little family of his own. First came daughter Bindi Sue, who was named after a crocodile called Bindi and Steve's Staffordshire bull terrier called Sui.
Then came Robert, who reminded us of Steve so much during this video that we teared up a lil.
Speaking of tearing up, recently Bindi — who is now a mom — recreated an old family photo starring her and her baby brother in the womb.
But raising a beautiful family didn't stop Steve from excelling in his career. Turns out, having a family full of animal lovers — including a super supportive wife — fits right into the whole famous TV personality/zoologist lifestyle. For instance, Steve and Terri even trapped crocodiles on their honeymoon while filming the first episode of The Crocodile Hunter.
Explosive success on-screen catapulted Steve to zoologist fame. His success allowed him to upgrade the Australia Zoo by adding a "Crocuseum" and expanding to 76 acres of parks, accommodations, and various wildlife habitats.
Steve's renown also allowed him to spread his message to the masses: "I consider myself a wildlife warrior. My mission is to save the world's endangered species." Steve purchased large tracts of land in Australia, Fiji, the U.S., and Vanuatu to preserve as wildlife parks — just one way he left a lasting legacy of conservation and love for wildlife.
But Terri says Steve was never all that into the celebrity aspect of his work — it was always about the animals for him. "I don't think that famous was ever really a word that occurred to Steve. He never changed," Terri said.
He founded the Steve Irwin Conservation Foundation, later renamed "Wildlife Warriors Worldwide," for educating people on the importance of caring for injured, threatened, or endangered wildlife.
He also helped found the International Crocodile Rescue, the Lyn Irwin Memorial Fund in honor of his mother, and the Iron Bark Station Wildlife Rehabilitation Facility.
But his legacy takes other forms, too: a snail, a turtle, and a national Australian holiday.
The crikey steveirwini, a species of snail discovered by Queensland Museum scientist Dr. John Stanisic in 2009, is named in honor of Steve. The snail, with its "swirling bands of creamy yellow, orange-brown and chocolate giving the shell an overall khaki appearance," reminded Dr. Stanisic of a certain beloved crocodile hunter.
Add to that a turtle, a new species Steve and his father Bob Irwin stumbled upon during a crocodile-catching trip in Queensland, Australia in 1990. "Irwin's turtle," or Elseya irwini, is a rare breed, just like famous zoologist himself — but word on the street is that the turtle isn't as approachable as Steve was.
Steve's many accomplishments, discoveries, and heart of gold earned him his very own national holiday in Australia, Steve Irwin Day. But you don't have to be in Australia to celebrate the lasting legacy of Steve — might we suggest marking your calendar for November 15 and joining us in celebrating The Dad's official favorite zookeeper? (Here are some ideas: rewatch old The Crocodile Hunter episodes, visit your nearest wildlife rescue, or if you're feeling patient, build a birdhouse with your kid.)
It was a tragic stingray encounter that took Steve from us too soon, Sept. 4, 2006, while filming in the Great Barrier Reef. Steve was being his Stevest right up until the end: interacting with wildlife, of course — and being a good dad by filming extra footage for Bindi's TV show between shoots for the docuseries Ocean's Deadliest.
The whole world wept for the loss of one of zoology's greats — then-Prime Minister of Australia John Howard expressed "shock and distress" at Steve's untimely death: "Australia has lost a wonderful and colourful son."
Steve's family held a private ceremony at the Australia Zoo, where he was buried a day later in a private spot away from visitor access. Later at a public ceremony in the Australia Zoo's Crocuseum, staff spelled out Steve's catchphrase "Crikey" in yellow flowers.
Later, in 2007, the road that runs by the Australia Zoo was renamed from "Glass House Mountains Road" to "Steve Irwin Way" — a name we love because, though it refers to a physical street, it also sort of sounds like it's referring to a way of life that involves loving earth and the creatures on it.
Prime Minister Howard offered to arrange a state funeral, but his family declined, saying that Steve would have preferred to be remembered as an "ordinary bloke."
But Steve was anything but.
Steve left a lasting legacy through his love for animals, his activism for conservation, and just by straight-up being a good dad.
Now Bindi, Terri, and Robert carry on his legacy by running the Australia Zoo, where they share their family tradition of caring for animals and the planet with visitors from all over the world.
Now Bindi is a television personality, zookeeper, and conservationist, just like her father. (And she just announced the launch of her new book, Creating a Conservation Legacy.) Her brother Robert is no stranger to TV either and is making his way as a wildlife photographer.
A few days ago Bindi took to Instagram to mark the 15 anniversary of her father's passing:
"I wish with all my heart that Dad could hug my beautiful girl. It's been 15 years since he passed away. I hold on to the thought that he's her guardian angel now, watching over the most special part of my life, Grace Warrior."
We think Steve would be proud.
Rest easy, croc hunter, we salute you.