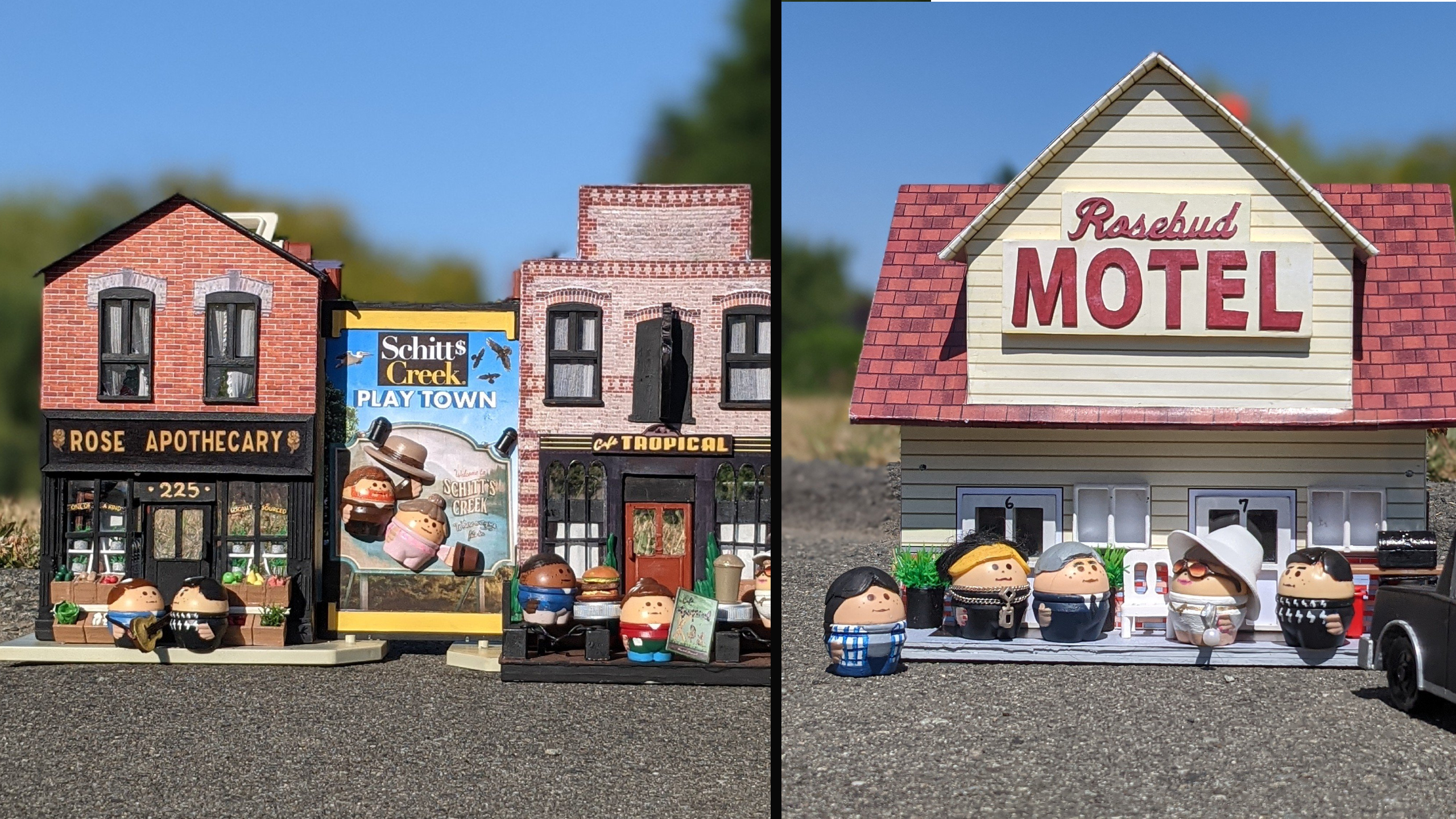 Credit: Twitter/ToddCameron22
A dad who lost his livelihood when COVID hit decided to keep himself busy playing with his 2-year-old and some of his old toys. Then he started transforming those toys into characters and set pieces from Schitt's Creek. And now Netflix has offered him a full-time job playing with toys.
My son loves toys & I love Schitt's Creek so I spent 5 months of spare time renovating my vintage toys into my favorite town. Won't you join me for a thread stroll through the little slice of paradise that I like to call the playtown where I currently am? @SchittsCreek @danjlevy pic.twitter.com/WV2DI7thnn

— The Little Schitts (@ToddCameron22) July 7, 2021
Todd Cameron was a wedding DJ and karaoke host before the pandemic made entertainment gigs like that harder to come by. Like many during the early days of lockdown, he found comfort from one of the greatest sitcoms of the last decade, "Schitt's Creek." Inspiration spurred creativity, and his toy transformations quickly went viral.
View this post on Instagram
Now, Netflix wants him to do the same thing for more of their shows to use for social media and promotional materials. Playing with toys has become his full-time job. "I had no idea it would turn into the start of a career," the dad told the TODAY Show. "it's really heartwarming to have a phenomenon like this."
He said some of the show's stars started sharing his work which paved the way for him to be noticed by the Netflix team. He also said the toys were durable enough to be used by his toddler for epic play sessions. Ultimately, he said it was a surreal experience to see it grow like it did ending up as a creative job.
A masterpiece. https://t.co/Imy1uFdJQW

— dan levy (@danjlevy) May 23, 2020
"I just did what I love to do, which is create things to make people laugh and make people smile and share that with my son," he said. "Do what you love. Even if you don't have an amazing opportunity, at least you'll have spent your life doing what you love."