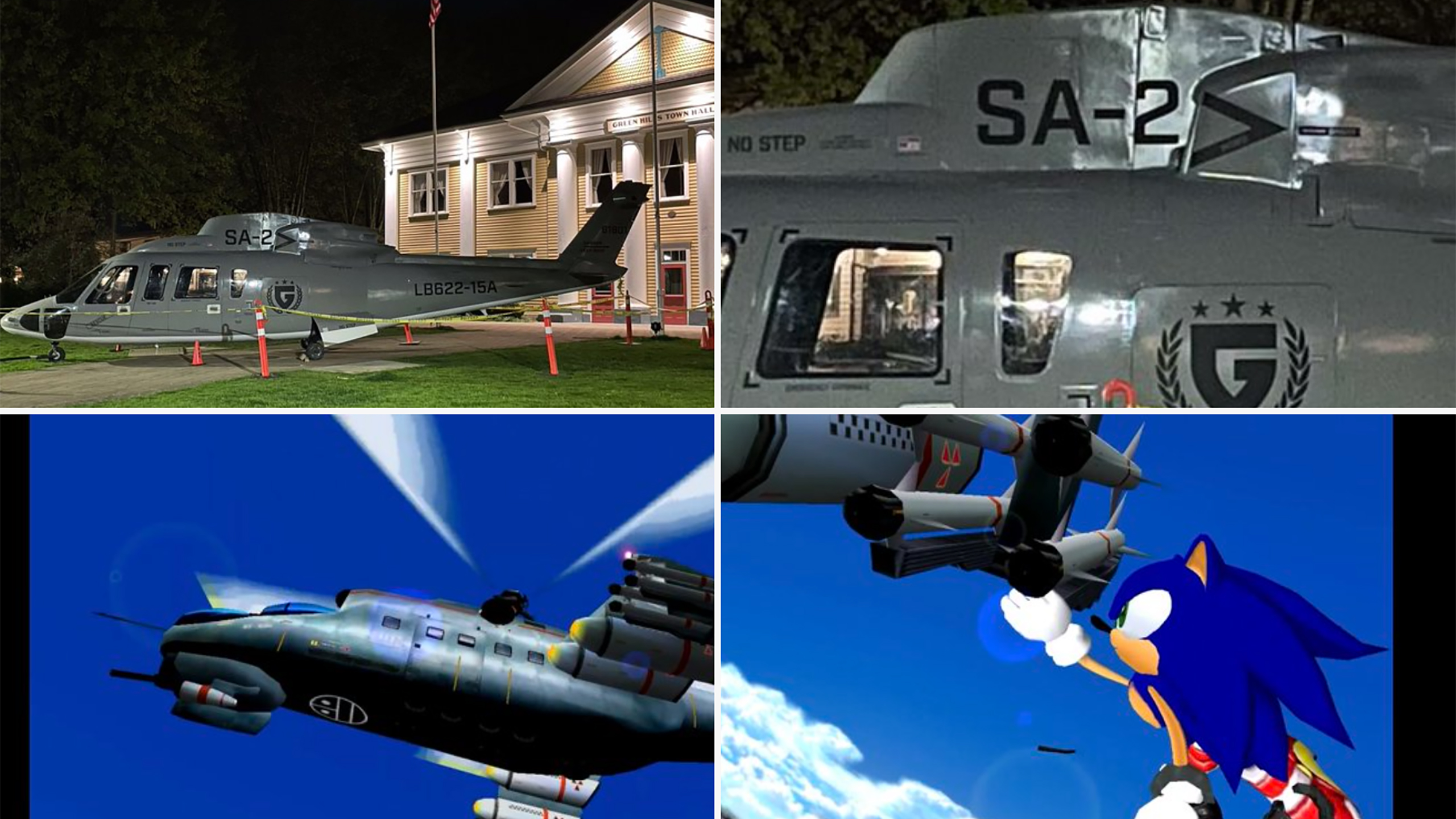 Credit: Twitter/Cybrid101
It has been just over a year since the first Sonic film released, but production is already well underway for Paramount's anticipated Sonic the Hedgehog sequel.  We still don't know any major plot details or if Jason Momoa will actually be voicing Knuckles, but eagle-eyed fans have spotted a cool little Sega Dreamcast Easter Egg from some leaked set photos.
Fort Langley is under siege.

The tanks have rolled into Fort Langley — the new Green Hills for the #SonictheHedgehog sequel.
Can Robotnik be far behind?
▶️https://t.co/CsxyIXDZUh #SonicMovie2 pic.twitter.com/LtnMXeTMb2

— Hollywood North Buzz – YVRShoots (@yvrshoots) April 19, 2021
While most people will just see a photo of a helicopter in one of the images, if you look closely, it's marked with "SA-2".  This means it's actually the same helicopter that's featured in the opening level of Sonic Adventure 2.  You know, the helicopter Sonic complains about being low budget for not having any food or movies?  I never really thought about that, but does that mean Sonic has been a passenger on an actual plane before?  Would it not have been faster to just run to where he wanted to go?  Would he not have been super impatient while waiting for his flight?  Sometimes we need to ask these tough questions, no matter how insane they might seem.
For those that haven't played Sonic Adventure 2, it originally released on the Sega Dreamcast back in 2001.  The opening level 'City Escape' features Sonic jumping out of this helicopter and is considered to be one of the most iconic levels in Sonic game history.  It definitely makes sense that fans are pretty excited to potentially see it make its way into the next film.
YOOO a G.U.N helicopter has been spotted on the set of Sonic the Hedgehog 2! 👀
Love the SA2 reference! pic.twitter.com/fE1dtbq3LF

— Cy (@Cybrid101) April 19, 2021
THEY HAVE THE G.U.N HELICOPTER ON THE SET OF THE SONIC MOVIE 2.

SONIC HAS TO JUMP OUT COMPLAINING ABOUT LOW BUDGET FLIGHTS PLZ😬😭🙏🏻 pic.twitter.com/wnXIDcwBK0

— ⭐️ GamesCage – Hype BEEP BOOP⭐️ (@OnTheDownLoTho) April 19, 2021
I think if they're going to include the helicopter, they may as well go all out and just recreate the whole level in live-action.  Throw in that absolute headbanger of a song and make sure that there are perfectly placed ramps in the middle of the street so Sonic can do some sick jumps and flips off them.
The first Sonic the Hedgehog film was a box-office hit and well-received by both critics and moviegoers.  It even won Jim Carrey a Critic's Choice Award for his role as the evil Dr. Robotnik.  Personally, I think it was great because it embraced the history of the franchise so well.  There are loads of Easter Eggs to find in the first movie, and it looks like the sequel could potentially have just as many.
Sonic the Hedgehog 2 releases in theaters on April 8th, 2022