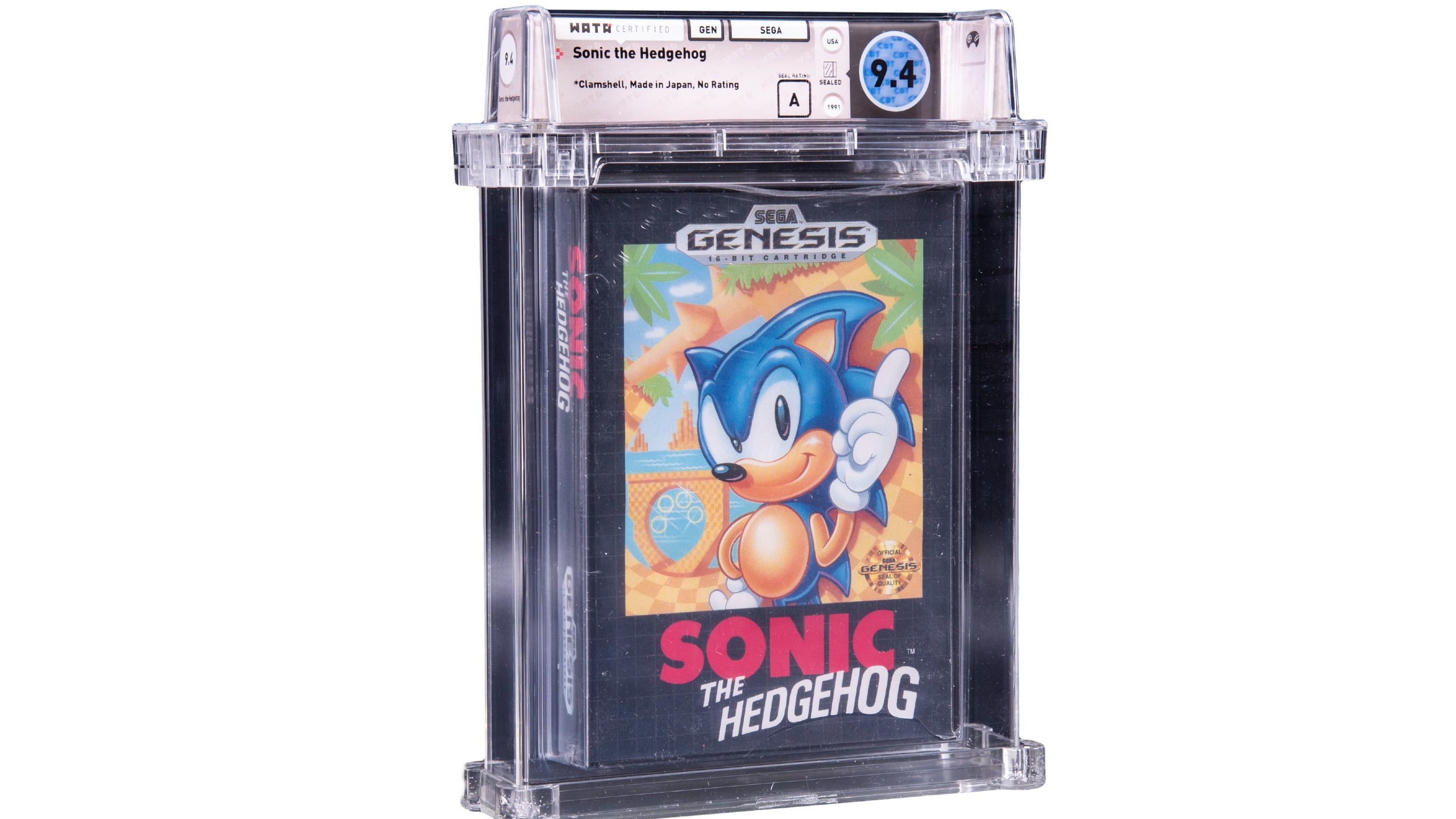 Credit: Twitter/GoldinAuctions
Video game auctions continue to yield astronomical prices, leaving those of us (myself included) wondering why we foolishly sold our old games long ago.  These high-priced auctions are also leaving the game's creators baffled as well.
Sonic the Hedgehog's father himself Yuji Naka took to Twitter to express his shock.  He couldn't understand why an original copy of his game sold at auction for $430, 500.  Naka believed it was a scam.  I say have some faith in your life's work man!  Sonic is awesome.  I don't know if any game is worth that much, but it's still awesome nonetheless.
🦔What's this https://t.co/U6BkQaWgHz

— Yuji Naka / 中 裕司 (@nakayuji) September 21, 2021
As reported by Eurogamer, this particular copy of Sonic the Hedgehog had been rated with a quality of 9.4 by Wata and has become the highest-selling Sega game of all time.  Anything above a 9.0 rating is suggested by Wata to be "investment grade", and will likely only increase in value.  Great news for whoever had the cash to nab this mint piece of gaming history.  Who knows how much it'll end up auctioning for in the future.
While the vintage video game market has long been viewed as an investment, there have been doubts that prices are now being artificially driven up by collectors to drive up the value of their own collections.  Wata Games (the one that graded this Sonic cart) has been currently facing controversy due to reported conflicts of interest that it worked with Heritage Auctions to artificially inflate the retro game market.  Both companies have denied these accusations, and this auction was handled by Goldin Auctions, but who knows if they're all just in on it.  If it is true, that's a big problem.  Not everything is available digitally, so if I want to pick up a rare game, it's going to cost me an arm and a leg to buy a physical copy on eBay, or vintage stores are going to start selling retro games for crazy prices.  It's pretty bad now, but it's only going to get worse with how the value of these games are skyrocketing so quickly.
I mean, it is strange that so many classic games have been auctioned off for millions of dollars just within the past few months.  We've seen a copy of The Legend of Zelda on NES sell for $870,000, a copy of Super Mario 64 sell for $1.5 million, a copy of Super Mario Bros. on NES sell for $660,000 and a record-breaking $2 million, and now Sonic can join the ranks.  Who the hell knows what's going to happen next.