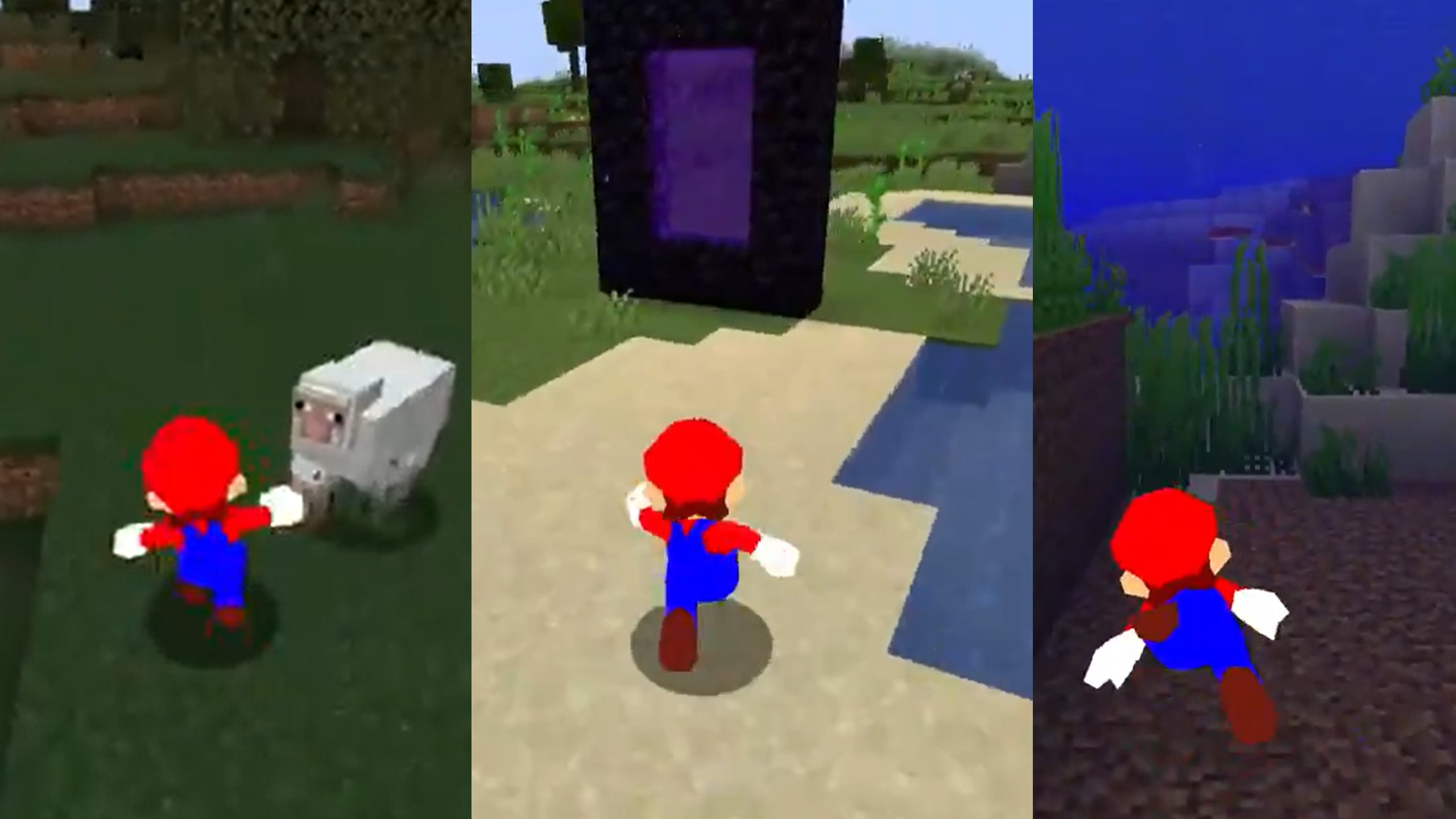 Credit: Twitter/@pdxdylan
Super Mario 64 will never go away. It truly is an absolute classic that will live on for generations, and its influence on the gaming industry cannot be overstated. So, does it really come as a surprise that a modder has now dropped the famous N64 plumber into the world of Minecraft? Well, I've never seen anything like this before.
Yeah, yeah, I know we've got the Mario skins in Minecraft on Nintendo Switch and Wii U, but this is completely different. In a video posted by Pdxdylan on Twitter, the mod Dylan has been working on shows Mario from Super Mario 64 exploring Minecraft environments. In this modded version of Minecraft, Mario can jump, punch, swim, and even use a Wing Cap to take flight in the battle against the Ender Dragon, just exactly how you would control him in Mario 64. Even when Mario touches the lava in the Nether, he bounces up in the air holding onto his butt. It's really clever and looks fantastic in action. I can't imagine how long it took for Dylan to pull something like this off.
I'm working on a #Minecraft mod that runs the Super Mario 64 engine! It's very WIP right now but here's some highlights pic.twitter.com/QCfzl10ip0

— Dylan (@pdxdylan) September 13, 2021
I think what's so fascinating about this mod is that the possibilities are endless in regards to what you could do. You could recreate the original Super Mario 64 levels, or create entirely new ones within Minecraft. You could even take it one step further and enable multiplayer to do some really crazy things. We've seen fan games change up the Mario 64 formula, but Dylan's work could really open the doors to a new realm of possibilities.
Unfortunately, for those hoping to play this mod, don't hold your breath. In a follow-up tweet, Pdxdylan said they can't promise a download for the masses, since Nintendo is notorious for DMCA takedowns on fan projects. If we're going to continue to see Dylan's work, it'll just have to be in these little clips like the one shared above.
This isn't the first time fans have mashed together Mario and Minecraft. Someone literally recreated Japan's real-life Super Nintendo World in Minecraft and we've also seen Goldeneye combined with Super Mario 64 as well for another epic crossover.