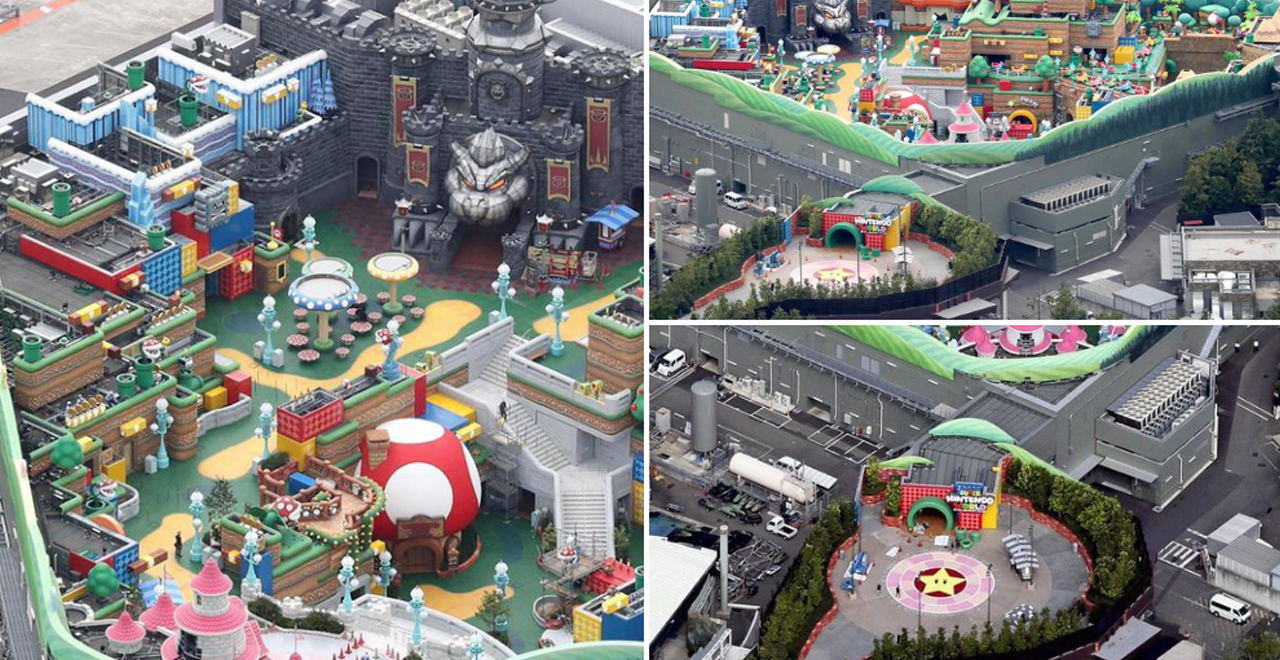 Credit: Twitter/SoCal360
During COVID times, we're all searching for a bit of escapism. Though we're more or less stuck in our houses, for the time being, turning to books, movies, TV, and video games can provide a bit of stress-relief in the form of an alternate reality for us to explore. Universal Studios Japan has taken the idea of exploring another world to the next level – instead of being immersed in video games from the comfort of our own homes, Universal Studios is bringing video games to the real world.
Nintendo has produced some of the most iconic video games over the years, from all things Mario to the insanely popular Animal Crossing series. Though the Nintendo brand has existed for over 100 years, never before has a theme park been dedicated to its countless beloved characters.
In early 2021, Super Nintendo World is set to open in Japan. The powered-up park will contain rides, shops, various attractions, and even restaurants designed with all the best Nintendo characters in mind. Guests can even wear a "Power Up Band," which allows them to hit virtual blocks and collect coins like a real-life Mario game.
Here we go! #SUPERNINTENDOWORLD, featuring attractions based on iconic Nintendo characters, is coming to Universal Studios Japan in early 2021.

Take a look at the key visuals for the Mario Café & Store, opening outside the land on Oct. 16! pic.twitter.com/5DUr78KL2L

— Universal Orlando Resort (@UniversalORL) October 7, 2020
Super Nintendo World is finally opening up in Japan 2021 👀🔥 pic.twitter.com/tQnLVWDa7M

— Modern Notoriety (@ModernNotoriety) October 8, 2020
On October 16, the park is opening a Mario Cafe & Store as a fun little taste of what's to come when the full theme park opens. The cafe will feature a full Mario atmosphere, with checkered floors and racing flags fit for a Grand Prix winner. Guests can order themed menu items like Super Mario pancake sandwiches and cream sodas, and drink from their Super Mushroom Souvenir Bottles.
Wow! Here's another up-close photos of Nintendo Land. Opening Spring 2021 at Universal Studios Japan. 😍🍄 #SuperNintendoWorld 📸: https://t.co/oHST8AIo5s pic.twitter.com/Nl6WXzovo5

— Attractions 360° (@SoCal360) October 7, 2020
Next to the cafe, the Mario store will sell merchandise featuring Mario favorites like Peach, Toad, Luigi, and more. Shirts, smartphone cases, pouches, and other accessories will be available so you can show your love for all things Nintendo even after heading back to the real world.
A Mario Café & Store will open at Universal Studios Japan later this month ahead of Super Nintendo World's Spring 2021 opening. Snag yourself a Mario themed pancake sandwich! https://t.co/3QXcJpG6fr pic.twitter.com/yfxL70Uj73

— Nintendo Wire (@NinWire) October 7, 2020
In 2015, Nintendo partnered with Universal Parks & Resorts with the intention of bringing Nintendo games to life. Though Universal Studios Japan is the first theme park to announce the opening of Super Nintendo World, Universal Studios Orlando will be opening its own "Epic Universe" in 2023. Though it's a few years away, it's going to be Toadally worth the wait.