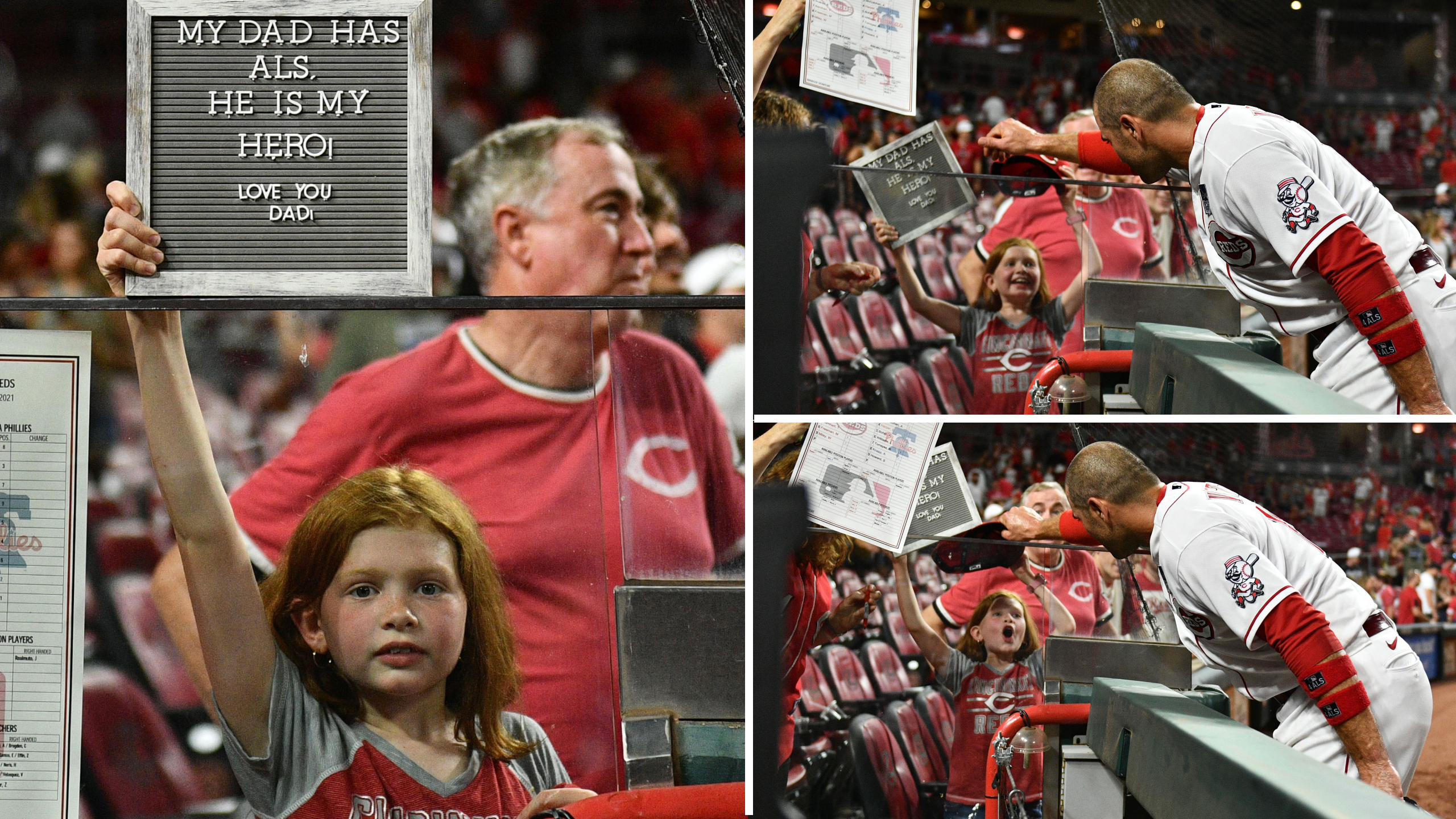 Credit: Twitter/Reds
The best sports moments aren't about sports. Sure, seeing world-class athletes do things no one else can do is amazing. But the moments that transcend the games are the ones we remember and truly define athletes. Joey Votto had a moment like that at the Cincinnati Reds game on MLB's Lou Gherig Day, as he took time to recognize a young fan who was there celebrating her dad.
MLB's Inaugural Lou Gherig day was created to honor and remember the baseball icon who is now known for the devastating disease he suffered, ALS. The neurodegenerative disease affects cells in the brain and spinal cord and thousands are diagnosed with it every year. MLB is hoping the expanded awareness will lead to an increase in funding for research and a cure for the debilitating condition.
A young fan was there with a homemade sign recognizing her dad who also suffers from ALS. Her sign was simple, it read:
"My dad has ALS. He is my hero! Love you, dad" The young girl was caught by a camera proudly displaying her sign. And then Reds superstar Joey Votto, one of the best hitters to ever play the sport (never gets the credit he's due because he's played on less than stellar teams), came over to recognize the young girl. He even gave her the hat right off his head. And the girl is thrilled. The Reds shared the interaction, calling it bigger than baseball.
Bigger than baseball. ❤️#LouGehrigDay pic.twitter.com/qhG1eYnQQE

— Cincinnati Reds (@Reds) June 29, 2021
This is the type of sports content we are here for. A young girl rocking the sign calling her dad a hero, and getting a lifelong memory and interaction with an MLB star is a perfect reward for it. Votto is a special player when it comes to fan interactions. Just the week before, he met with a young fan devastated that he'd been ejected in her first game in attendance, so he gave her some gear as well. That's the attitude that makes a great player a beloved player.
And any kid bringing a sign to the ballpark calling their dad a hero is always gonna be an MVP in our book.