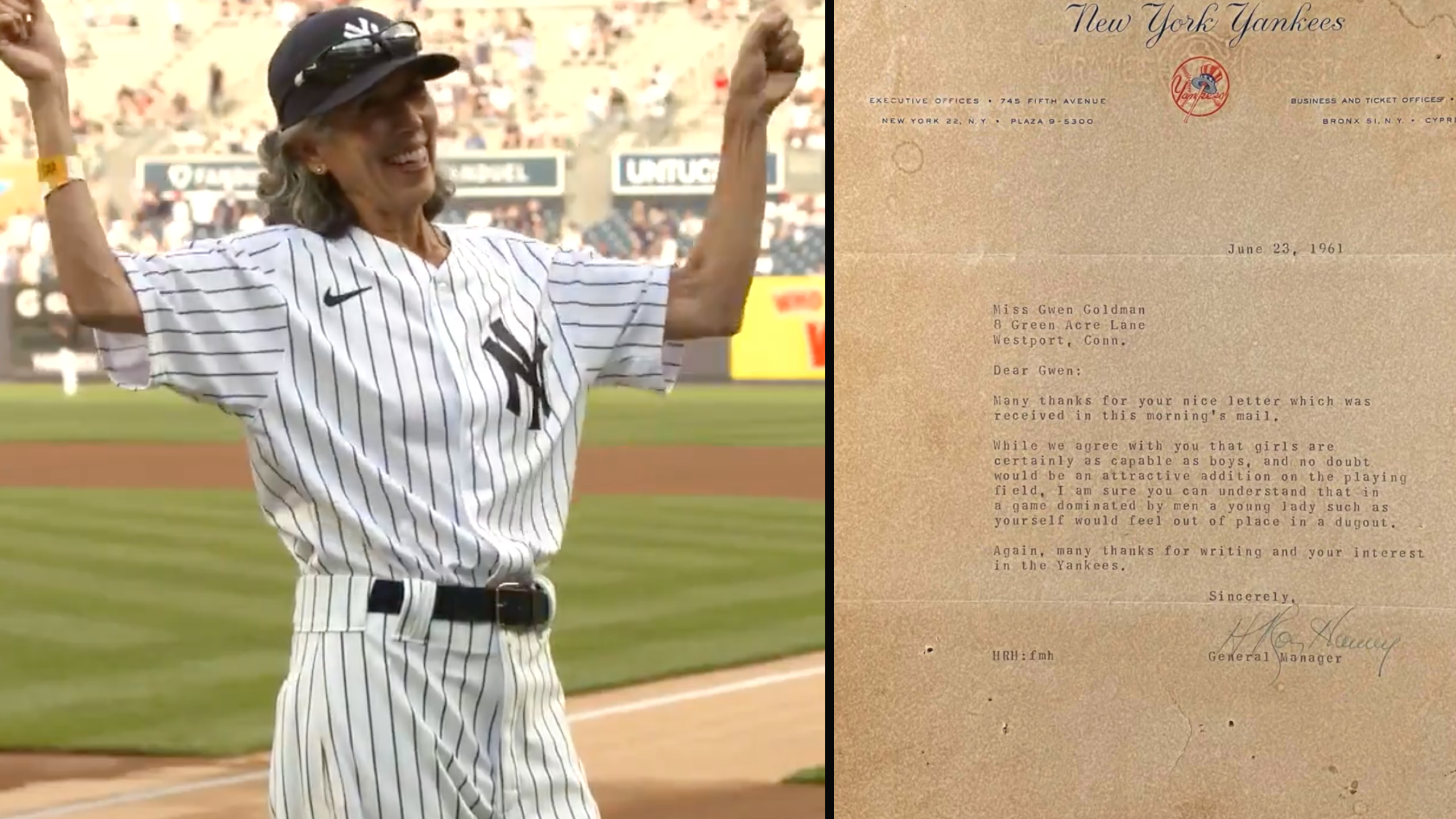 Credit: Twitter/Yankees
In 1961, a 10-year-old girl wrote a letter to the New York Yankees expressing her dream to be a bat girl for the team. And the team came through on her dream. It just took them 60 years. Gwen Goldman became an honorary bat girl at a Yankees game earlier this month a mere six decades after her request was rejected.
She also got to throw out a ceremonial first pitch as part of the team's HOPE week, which focuses on inspirational people. Goldman had written the Yankees in 1961, expressing her dream, but the team said in a game dominated by men, she would feel out of place as a young lady in their presence. They did say they believed women were just as capable and would be an "attractive addition" (whatever that meant) to the game.
Goldman saved the letter her entire life, because she was proud she tried to live out her dream.
60 years later, in a new letter to Gwen from the current Yankees GM, Brian Cashman invites her to Yankee Stadium to fulfill her dream. pic.twitter.com/FHZK3SIfe5

— New York Yankees (@Yankees) June 25, 2021
Sixty years later, the Yankees were alerted to this interaction by Goldman's daughter, and they set about righting their generational wrong. They said it was not too late to reward and recognize her ambition, and that a goal should not be diminished by time. "Some dreams take longer than others," the organization wrote in their apology.
A dream 60 years in the making.

Yesterday, we kicked off #HOPEWeek by honoring Gwen Goldman as our honorary bat girl. pic.twitter.com/067KQOC8gF

— New York Yankees (@Yankees) June 29, 2021
An emotional Goldman said "It is my honor and my dream, and I can't thank you enough for making this come true. Thank you for doing this for us women and for moving forward and opening the world up to the population," she added during the reveal. "I feel like I'm in a dream, to tell you the truth."
And sure, the Yankees lost the game she was the batgirl for, but that just means she was the only winner in a Yankees jersey that day. And no one can ever take that away from her.
Gwen, we salute you and all elderly women who are kicking ass.