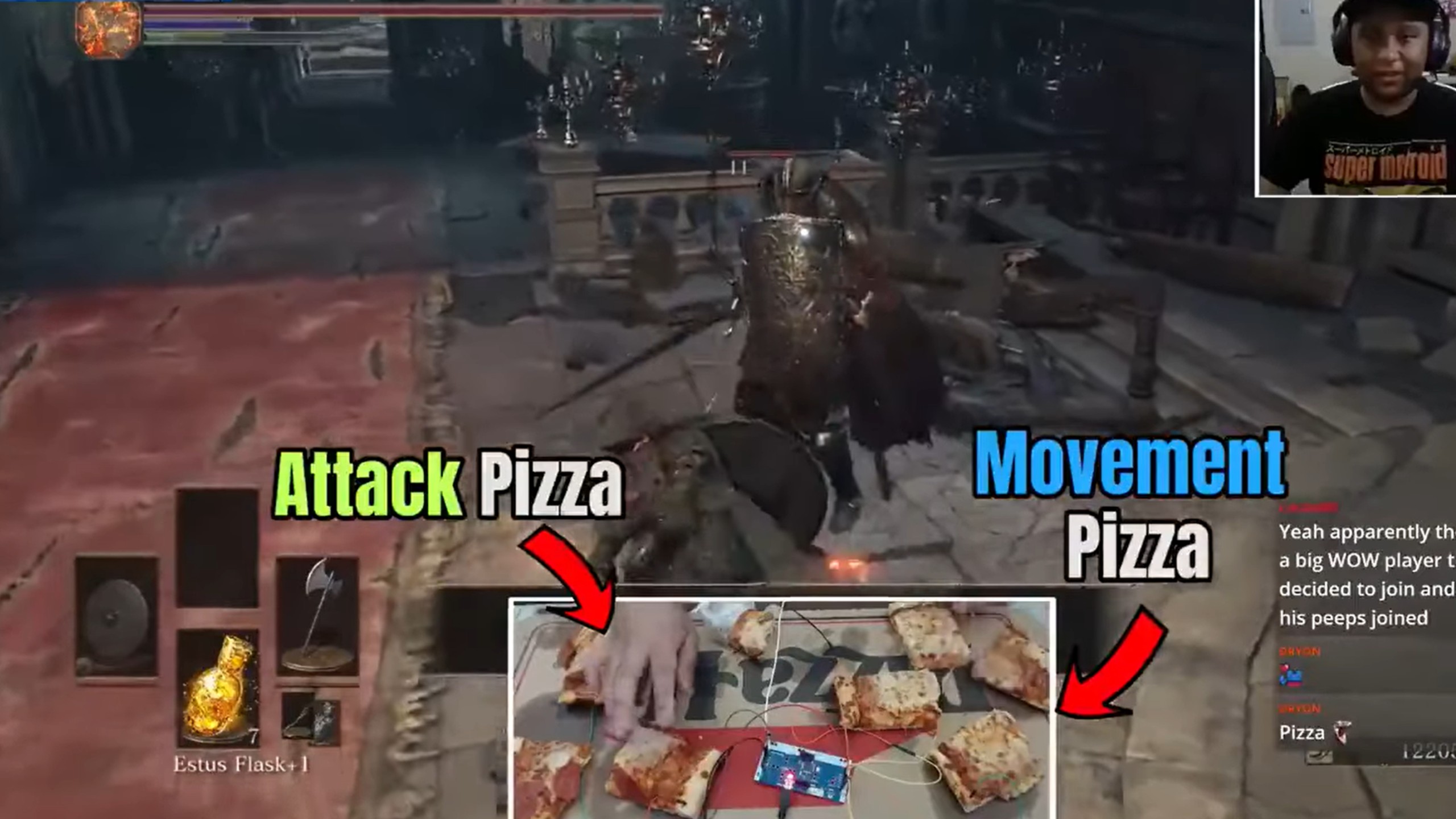 Credit: Twitter/SuperLouis64
This takes the term "greasy controller" to a whole new level.
Youtube/Twitch streamer SuperLouis64 recently decided that Dark Souls wasn't hard enough, so he needed a real challenge.  Using a special HRD board along with some wires, he plugged them into pizza slices.  He explains that "Each pizza slice is its own button. For example, I have pizza for movement, and then I have pizzas for attacking and dodging."  Oh, and if you're wondering how he could heal his character, he would have to take an actual bite of pizza.  I mean, he probably could have just pushed on the pizza that was designated for healing, but that wouldn't be any fun now would it?
Happy Friday! 🍕

We turned a wholesome box of Pizza into a controller for Dark Souls. I turned Plug-n-Play into Plug-n-Eat.
It also works on the PS5 but calling it "Pizza-Sense" didn't roll of the tongue as well!

9/10 would pizza again. I hope I made @pizzahutgaming proud 😆! pic.twitter.com/5ixHVTMR5E

— Super Louis 64 (@SuperLouis_64) July 23, 2021
Dark Souls is already a pretty punishing game.  Not only do you need to really learn the world and how to navigate it, one small mistake will cost you your life.  Once you've finally mastered how to get through said area, there's always a boss at the end that is ready to destroy you.  Learning their movements and abilities is integral to your survival.  It can all be pretty intense and punishing.  Now, imagine doing all of that with a controller made out of pizza.  This man is a legend or a madman depending on how you look at it.  If you're interested in watching the stream with the pizza controller, I'll leave the link to the actual stream on his Twitch channel here.
This isn't the first time SuperLouis64 has played Dark Souls with food.  A year ago he used a banana as a controller.  If he's going to continue this trend and is taking ideas, I would like to request that he play Dark Souls on the KFC console with a controller made out of chicken next.  It just seems like the next logical step.