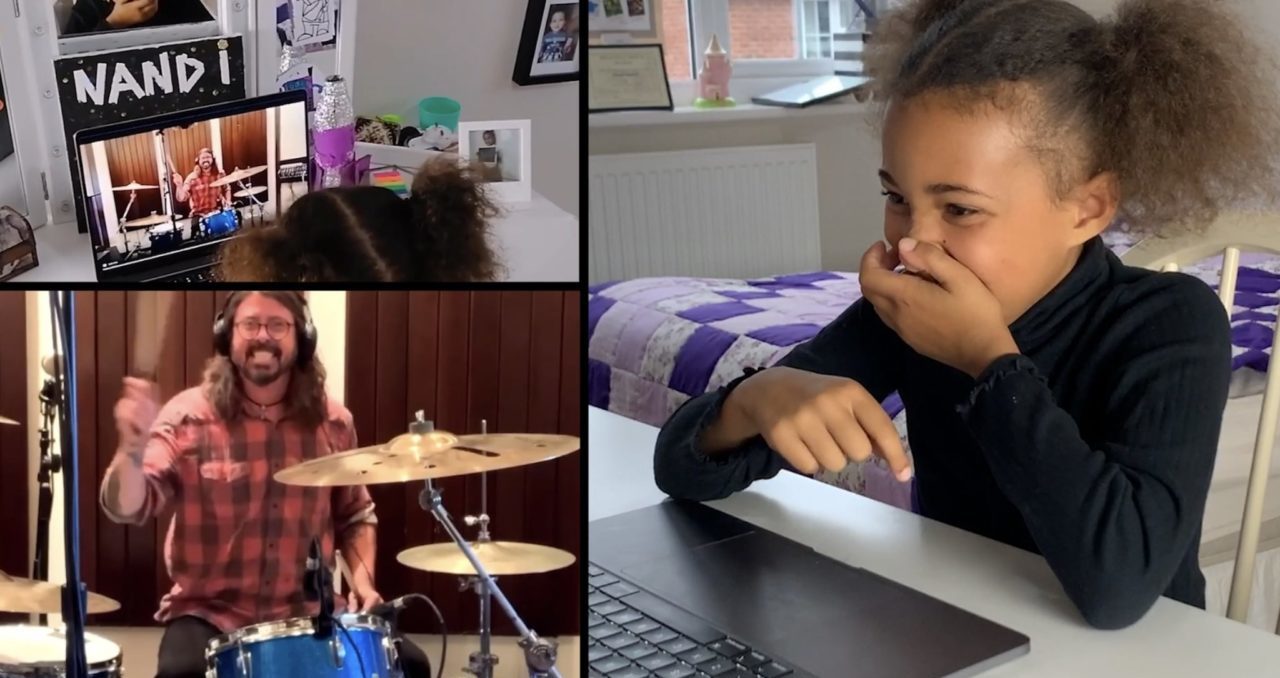 Credit: twitter/NandiBushell
Dave Grohl, King of Dad Rock, credited who we have to thank for the release of the new Foo Fighters album; the 10-year-old music prodigy who he faced in a virtual drum battle. His back and forth with musical powerhouse Nandi Bushell over the summer delighted large parts of the internet. And it had a lasting effect on Grohl (and for Nandi, obvs).
Speaking to a Kerrang in advance of the new album dropping, Grohl said the band's new album, Medicine at Midnight, was finished and close to release. The band had set up an ambitious tour to support the new record, but it was shelved due to that pandemic thing we have seen in the news from time to time. Grohl was set to keep it back until the band could tour to support it, but then his battle with Nandi changed that. He said that the whole saga caused him to realize touring isn't the only reason they make music.
"We make these songs to be heard, and the thing that inspired me the most to release this album was that drum battle I had with Nandi," he said. "It was spreading joy and happiness. People would turn on their computer or phone and for three and a half minutes they would smile because a 10-year-old girl was kicking my fucking ass in a drum battle. To me, that's what the world needed."
Foo Fighters lead singer Dave Grohl chats about the band's tenth studio LP and drumming prodigy Nandi Bushell with USA TODAY's Patrick Ryan. pic.twitter.com/h3r8lBh3K4

— USA TODAY (@USATODAY) February 4, 2021
The world did need it, which is why it went viral, racking up millions of views the two kept raising the stakes. Grohl said it was a real departure from the typical gloom you see in modern culture (outside of browsing the latest from good news at The Dad).
"You open your laptop or look in your fucking phone and it's just this dark cloud of doom, you know," Grohl said. ​"Every day you pick up your telephone and you think, ​'Oh, God, what is it now? What's next?' You're just waiting for this bad news. But this exchange that she and I were having did nothing but bring happiness and joy to people. I thought, ​'That's done entirely remotely, so why can't our music do the same?
"Why can't we put the record out and hopefully it'll give people that same feeling. Why can't we do that now?' And so we did."
Medicine at Midnight came out recently and is already another in a long line of hits for the Foo Fighters.