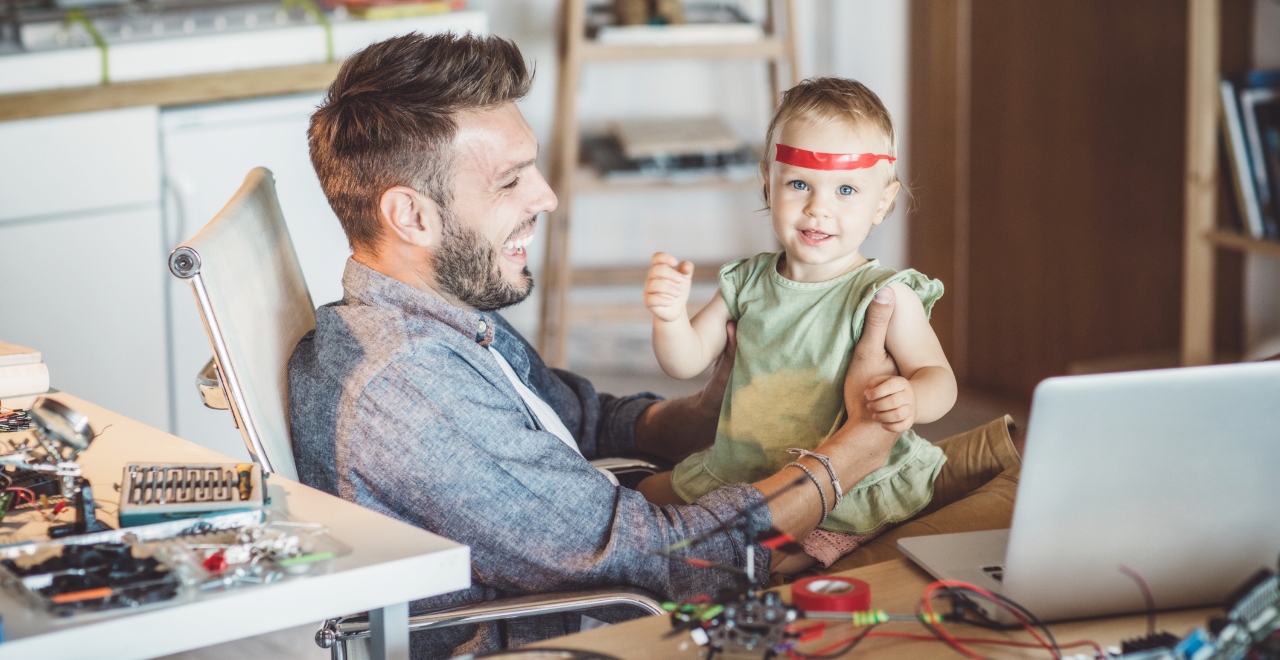 Arts and crafts time is hard, man. You're probably not feeling the construction paper. Coloring pages might not be your thing either (except for the Baby Yoda coloring book, right?). And don't worry; no adult likes glitter. So, when you're stuck trying to appease the small humans in your household with arts and crafts time, what can you do? Look no further than your garage, toolbox, or junk drawer. Duct tape is the answer, friend. Always has been. Always will be.
Duct tape has been around for almost a century now and has served many important purposes. Its original purpose? Duct tape was invented to help package and ship ammunition to the soldiers on the frontline during World War II. Soldiers then used it to do everything from creating makeshift bandages to repairing broken windows and tents. Post-war, it primarily became used on ventilation ducts (hence the name duct tape).
Ironically, despite serving HVAC specialists for decades, a study in the '90s found that duct tape was actually one of the worst possible options for fixing heating and cooling ducts. Due to its low performance, it's actually against building code in many parts of the country. Still. You're not a true DIYer until you've slapped some duct tape onto a problem. Besides, duct tape went on to do other big things, too. It served another government agency after the war when it started flying aboard NASA space shuttles. As a matter of fact, duct tape saved the astronauts on the Apollo 13 space mission when they used it to create air filtration canisters in the lunar module.
So, what is duct tape? It's actually made from layers of adhesive, fabric, and a plastic-like material. The combo makes the tape waterproof, just like a duck's feathers — which explains why businessman Jack Kahl created a branded duct tape in 1980 under the now eponymous "Duck Tape" banner. Around that same time, the brand became the first to offer duct tape in colors other than the standard silver. From flower power patterns to mustachioed strips, duct tape now comes in bold colors and patterns for everyone's enjoyment.
What can you do with the tape once you have it in your possession? As it turns out, quite a lot. Below you'll find some of our favorite duct tape crafts that prove just as useful as they are fun. Grab your scissors, tape, and tiny craft-loving humans, and let's get duct-taping.
1. Duct Tape Wallet
Duct tape wallets were the original duct tape crafts. Believe it or not, people actually pay to buy these simple accessories from other people. But if you spend all your money buying a wallet, what will you keep inside? Make your own, dude.
2. Tri-Fold Wallet
Same concept, different design. If you like a thicker wallet, the tri-fold pattern is more your speed. These instructions make it look super easy… because it is.
3. Duct Tape Folder
If you're looking for a duct tape craft that your kid might actually use every day, look no further than a duct tape folder. The fact that this one has an old-school Mario mushroom on the cover is just icing on the cake.
4. Duct Tape Rose
Forget your anniversary? Ransack the basement or garage for your handy-dandy roll of duct tape and don't reenter the house until you've crafted your partner a dozen duct tape roses. Bonus points if you get super meta about it and make your roses out of rose-patterned tape.
5. Duct Tape Hammock
The duct tape hammock is basically guaranteed to make your yard more fun — the kids will definitely be stoked to have this relaxing hangout spot. Bonus: Everyone who comes to your backyard BBQs will be wildly impressed with your skills.
6. DIY Duct Tape Batman Mask
Whether you're ready to live out your dream of being BatDad or you want to get a head start (literally) on Halloween costumes, you can't go wrong with a duct tape bat mask.
7. Ninja Star Made of Duct Tape
Yes, we're suggesting you help your kid create a DIY ninja star during craft time. But listen, it's just tape. Having said that, gently reminding your kids that you should never throw ninja stars of any kind at someone's face probably isn't a bad idea.
8. Duct Tape Phone Case
Would we trust this phone case on our brand new iPhone 12? Negatory. But we'd absolutely give it a whirl on the SE.
9. Zig Zag Duct Tape Bracelet
If your little accessory-obsessed kid seems leery of duct tape-themed arts and crafts time, we have just the thing to lure them in. These duct tape zigzag bracelets follow the same idea as the gum wrapper bracelets. Except, ya know, they're made from duct tape. If hats are more your kid's speed (or yours), you could always try making a duct tape fedora.
10. Duct Tape and Cardboard Flip-Flops
You know… in case you get truly desperate.
Does duct tape melt easily?
Whatever craft you're working on, it's important to keep it cool. Although it is very difficult to burn duct tape or most adhesives, a temperature above 200 degrees will cause some damage. So, to be safe, keep your duct tape creations from heated surfaces to avoid fires and ruining crafts.
Is duct tape waterproof?
When something is waterproof, this means it works just as well as it does dry. This is not the case for duct tape. It may not be waterproof, but it is water-resistant, so it will hold up for a while if exposed to water, but its stickiness will go away over time.
How to Remove Duct Tape Residue
While building creative duct tape toys, you may get some of the duct tape residues on the surfaces around you or even on your hands during your construction. To get rid of this sticky feel, try the following:
Scraping is always a good option. Just make sure you don't scratch the surface beneath.

Warm water. This is especially helpful for removing the residue from the skin. 

Rubbing alcohol. This chemical is a jack of all trades and will remove stickiness from any surface. 
Duct Tape Jokes
We've all thought of using duct tape in situations we probably shouldn't, which is part of what makes it so funny. We can use this industrial tool for just about anything, from fixing your kid's pants to telling a joke.
I just made a book out of duct tape!
That's my story, and I'm sticking to it.
When do you use duct tape on a duck?
When he's quacked.
Silence is golden.
Duct tape is silver.