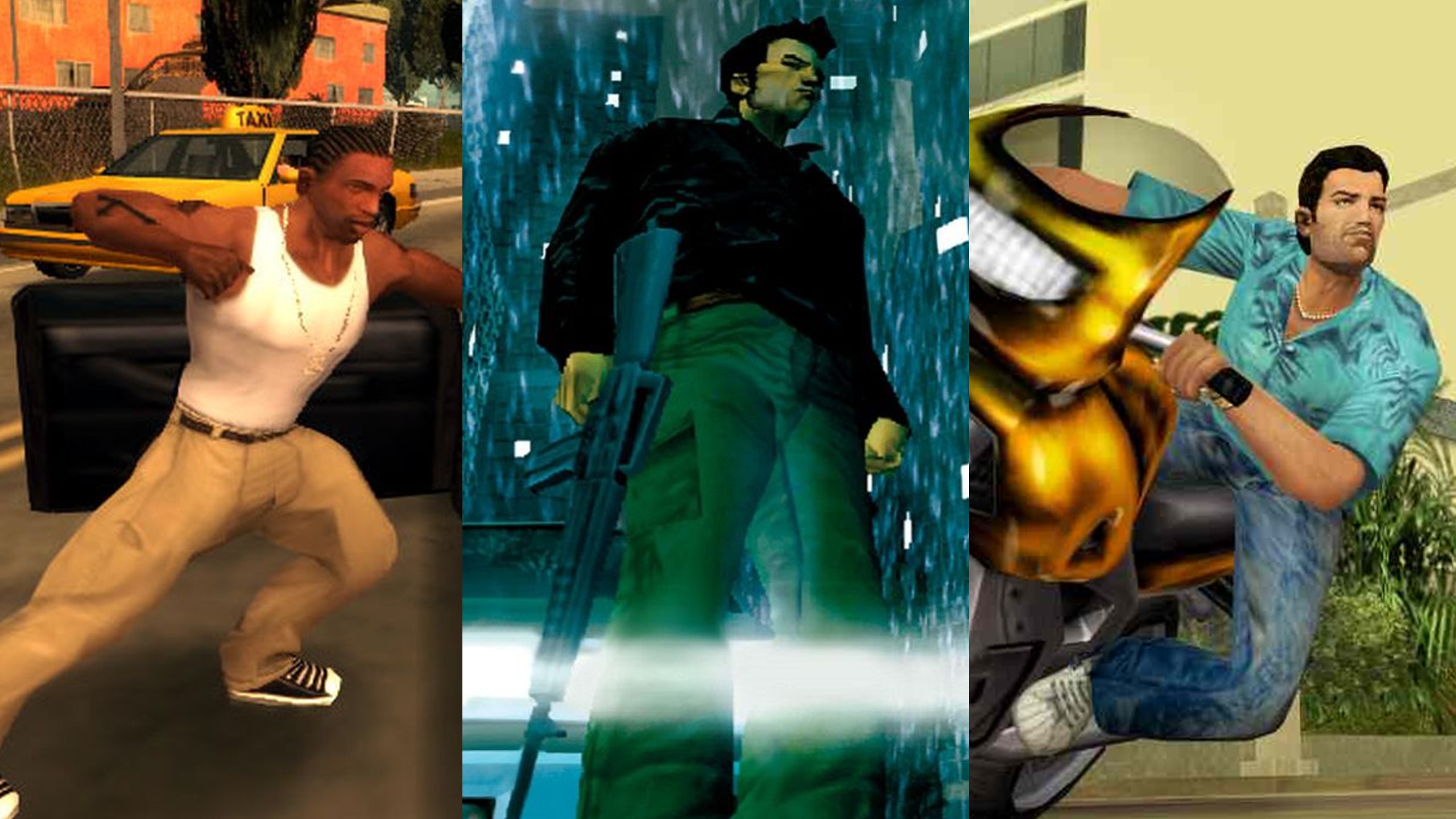 Credit: Rockstar Games
Back in August, word got out that a remastered Grand Theft Auto Trilogy would be releasing on all platforms. Developer Rockstar Games had nothing to say on the matter, but now they have plenty to say… well, I mean, their game launcher has plenty to say.
Over on Twitter, @videotech_ looked at the back end of the latest Rockstar Games launcher update (out of curiosity I guess?), and low and behold, they found preparations for the arrival of GTA 3, GTA: Vice City, and GTA: San Andreas.
It seems the new Rockstar Launcher update from today has began preparing for the new remasters for the GTA Trilogy. pic.twitter.com/qgqu9aegdL

— Ben (@videotech_) October 5, 2021
Along with this juicy discovery, IGN reported that over on the GTA forums (as covered by GTANet on Twitter) users alloc8or and Razed- discovered the logos seen below that all but confirm that these remasters are incoming. allo8or also mentioned that the achievements/trophies in each of these remasters include new and tweaked versions when compared to previous releases and each set of logos uses familiar character art from their respective games.
#GTATrilogy – The Definitive Edition

Credit to @Word https://t.co/dDFLGy373c pic.twitter.com/7U3XDptnD9

— GTANet (@GTANet) October 5, 2021
Let me tell ya, seeing those logos is a punch in the old nostalgia. I'm just hoping that we'll get to purchase all three games as one cohesive package. I'm sure there are those that would prefer a certain game from the trilogy, but they're all so great, I'd just take the lot for one price.
These "Definitive Editions" will reportedly be remastered using the Unreal Engine and will have feature updated graphics. Whether or not this means totally upgraded character models and whatnot, we'll just have to wait and see. The UI is also getting an upgrade too, but will apparently be keeping the same style as the originals. Just as long as they fix the aiming controls in GTA 3, I'll be happy. I always found it so difficult to target enemies.
Some news on Grand Theft Auto 6 would have been nice, but this is still great. I can't complain since we're at least not talking about Grand Theft Auto 5 again!