How to Unclog a Toilet – Waging War on the Clog From Kids Toys, Rings, and Other SH*T
Although you can't count on too many things once you become a parent, you can count on a kid flushing something down the toilet that will cause a major clog. (A significant number of plumbing businesses survive on work from things kids do the toilet. True fact.) There are stretchy hairbands, wedding rings, and every possible toy from Legos to foam bath letters to mounds of Play-Doh (yes, it's happened to us). Of course, you're welcome to shove your hand in and try to grab the sh*t out (pun intended), but it's often too late as the kids love watching it go bye-bye while flushing.
How To Unclog A Toilet
Regardless of whether the toilet is clogged from a child's toy, a morning bathroom situation, or something in between, unclogging the toilet takes a little bit of know-how and the right products.
If you'd rather skip to the products you can use when you want to know how to unclog a toilet, scroll down. Otherwise, here are some hit and miss options for how to unclog a toilet without a plunger.
We cannot guarantee these techniques will work all of the time. We can guarantee they will create a f*cking mess that will have you questioning whether digging an outhouse in the backyard would be a better option.
Always turn off the water source before working on your toilet clog. The shut-off valve is the tiny oval-shaped knob on the wall or coming out of the floor behind the toilet.
Pour in extra water: When you have a siphon style toilet, adding more water to the toilet bowl puts pressure on the clog from the weight of the water, and the extra water may pop it loose. Or it may overflow the bowl and create a mini-flood. Fun times.
Baking soda and vinegar: Empty as much water from the bowl as possible. Then use a combination of two cups of vinegar to one cup of baking soda, which may work on organic materials causing a clog. It'll foam up and look cool too, so the kids will love it. Let it sit for 30-60 minutes and then dump in extra water to see if the clog has loosened.
Don't use a wire hanger: You'll see plenty of Internet suggestions that tell you to unwind a metal clothes hanger and try to snake it through the toilet. A flexible auger (like we have listed below) will work as a toilet snake; an inflexible wire hanger will not. The siphon style toilet has multiple loops and bends in the pipe before it reaches the main sewer pipe. (You can see these bends outlined along the outside of the toilet if you want to crawl around near the back of the toilet.) An inflexible wire will just get stuck.
Use a 2-liter pop bottle: Empty as much water from the toilet bowl as possible. Fill a 2-liter soda bottle with water. Jam the nozzle end into the toilet drain hole and squeeze the bottle hard. Hopefully, the rush of water will knock the clog loose. Be ready for a lot of splashback, though. Like a HAZMAT level of splashback.
Saving an item: The chances of you being able to pull an item out of the toilet is slim, not without disassembling the toilet. For small items, like a wedding ring, if you flush, it's probably not even going to get stuck. It's just gone. On the other hand, children's toys may get stuck. You'll want an auger to try to snag it and pull it back out. If you push it farther down, it could create even a bigger problem.
Best Products For How To Unclog A Toilet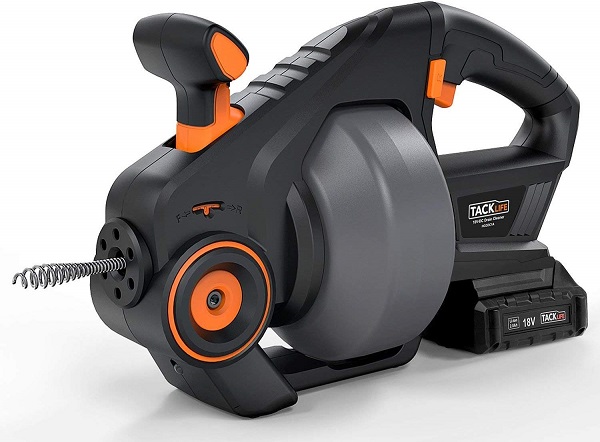 We might as well start our list of products used to unclog a toilet with a power tool. (You know why.)
This snake has a 25-foot cable that can pop loose clogs inside the toilet or other pipes inside the home. It works on pipes between 0.75 and 3 inches in diameter.
It's powerful enough that it will clean out the majority of clogs, but it's not overly powerful to the point that you'll do excessive damage to the toilet and sewer pipes, and the plumber just makes the cha-ching noise over and over as he's inspecting your work.
When wondering how to unclog a toilet, a high quality, solid plunger will do the trick more than 99% of the time … 98% if you have kids.
You can bet your significant other is going to try to convince you to buy a little plunger that fits underneath the sink, matches the bathroom's decor, and that won't be noticeable.
No.
If you are ever going to stand up for yourself, this is the time. You need a big plunger to handle the worst clogged toilet problems. It's simply physics. Do not lose this fight, or you're going to lose your battle with a clogged toilet … and your manhood. Seriously.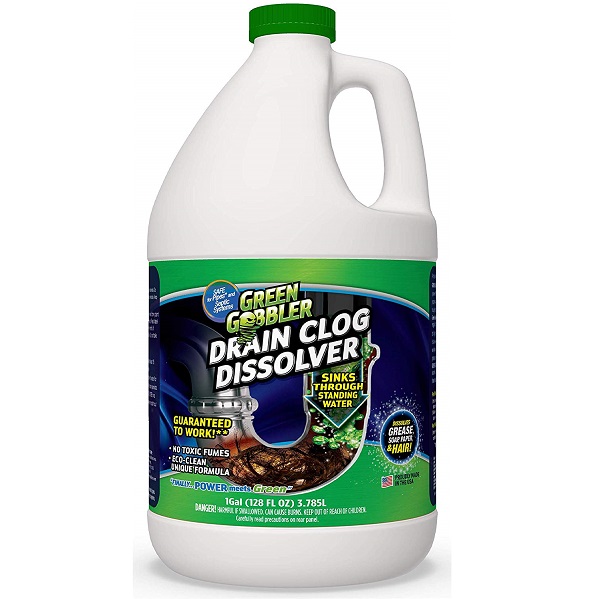 If you're wondering how to unclog a toilet without a plunger, and you're sure the clog in your toilet is organic — crap, toilet paper, or something similar — this is the solution. It's made more for sink pipes, but it'll work on a nasty toilet clog too.
The best solution is to pour this into the toilet bowl, let it work for a half-hour or so. If the clog is still there, try the plunger again, as the clog remover may have loosened things a bit.
It works especially well on hair clogs. Why would you have a hair clog in your toilet? We don't want to know. But if you do, this is the answer.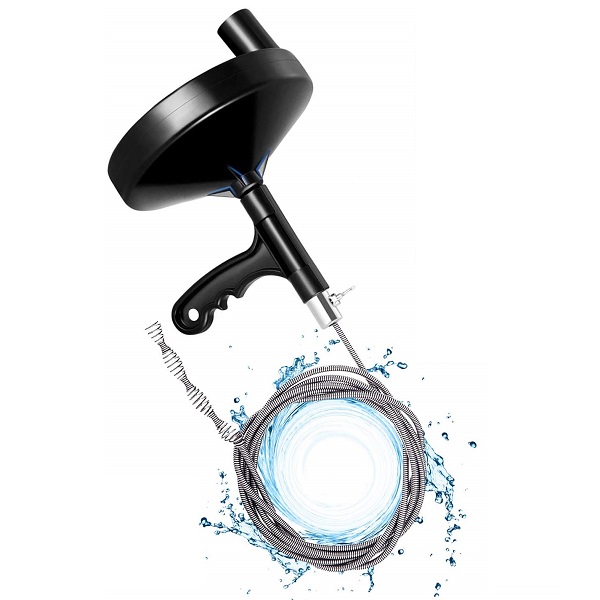 If the power auger we listed earlier is a bit out of your budget, this hand-operated auger gives you a cheaper alternative. Its 25-foot flexible steel wire can stand up to repeated uses, and it can bend 90 degrees or more to wiggle through the bends and kinks in the siphon toilet piping.
You won't look as cool as with the power auger, but it's better than putting on a rubber glove and trying to jam your hand down the toilet hole. Way better.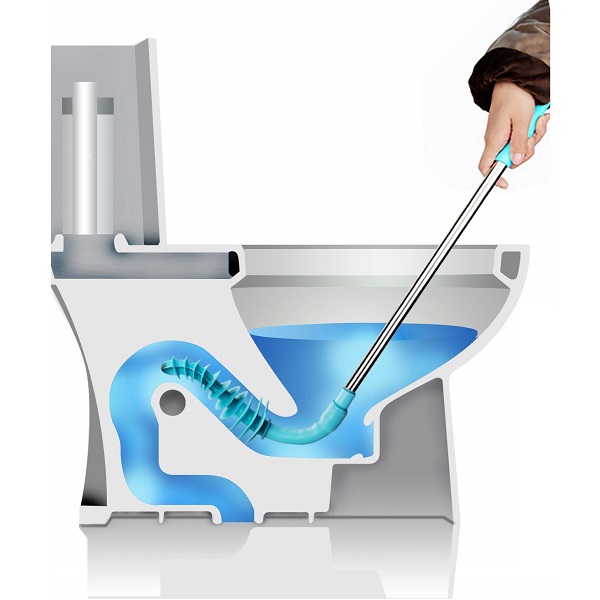 We readily admit, this thing looks terrible. It looks like something you might find at that store that's under the Interstate overpass. And we only know that because we went there for gag gifts for a friend's bachelor party. (That's our story, and we're sticking to it.)
It's a plunger of sorts, but the flexible part is made to wind inside the siphon tube, allowing you to get at a nasty clog. It's not going to snag an item and pull it back to you like an auger might, but it tries to push the clog farther along, hopefully allowing it to wash down the sewer pipe.
We'd rely on the regular plunger first, but this is a reasonable choice as a backup before calling in a professional.
Here's another God-awful looking toilet unclogger. If your wife balks at having a large traditional plunger in the bathroom, she's going to lose her sh*t if you try to store this where it's visible in the bathroom. So place it in the back of the closet and only bring it out when you really need it.
Jam the equipment through the hole in the toilet bowl. Then build up air pressure in it with the included pump. Let the air go, and it hopefully with blow the clog away, down through the sewer pipe. Be prepared for some serious toilet water flying backward out of the toilet bowl.
On the plus side, at least the manufacturer is highly focused on safety. After all, the warning label that comes with it says, "Do not spray on people." We can't make this stuff up.
Ultimately, if you cannot pop the clog loose, you'll have to pull the heavy toilet out of place, working at the clog from the opposite end. This creates a giant, wet mess. And if you don't re-seat the toilet correctly, you could have serious leaks. It may be time to call in a plumber if the toilet needs to come off the floor.
Although we only recommend picks we really love, we may earn a commission on purchases made through links from our site.