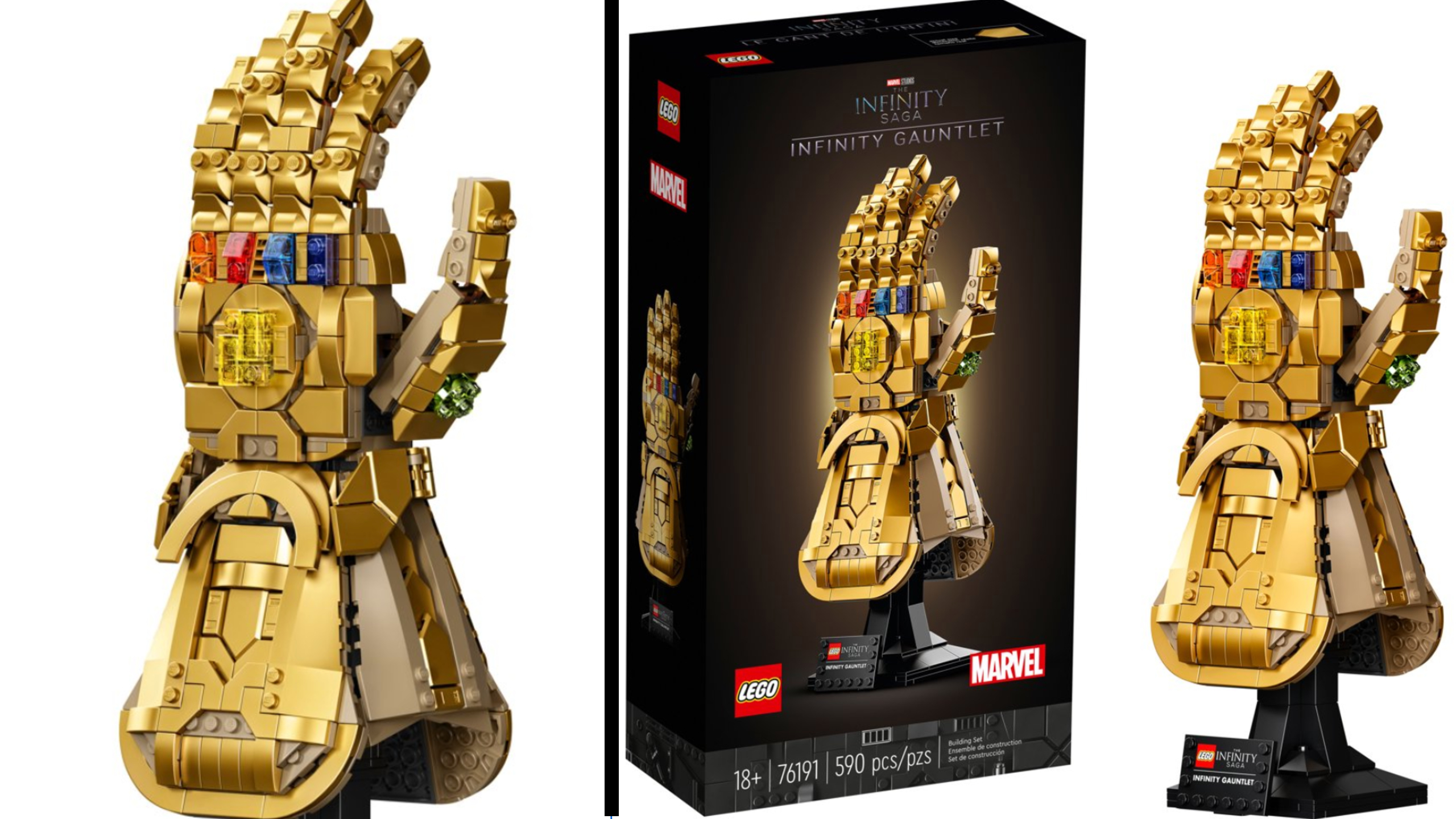 Credit: LEGO
Toys aren't just for kids anymore. Video games are routinely played by adults, board games are having a moment, cooking accessories are better than ever, and even LEGO has badass (and pricey) sets clearly aimed at adults. But the new LEGO Infinity Gauntlet is among the best new toys "our kids" must have.
We are all tired of stepping on the cheap little plastic nuisances littering most basement and bedroom floors. Now, you can get rid of (half) them in a single snap. At least you can talk yourself into that being a possibility, once you're fully assembled your Avengers Infinity Gauntlet.
LEGO has revealed their Infinity Gauntlet build for $70. pic.twitter.com/9qZQewvaed

— DiscussingFilm (@DiscussingFilm) May 18, 2021
You can't get it until later this summer, but it's already listed on all the major sites (Walmart, Best Buy, etc etc etc). It's a 590-piece deluxe build, with movable fingers and a nice base for display purposes. It's a foot tall and is recommended for adults because you can't really trust a child with all the Infinity Stones. You never know what havoc that could wreak.
The official description makes it sound even more bad-ass than it looks.
"LEGO Marvel Infinity Gauntlet is a challenging construction project that rewards the builder with an impressive display piece. One that perfectly evokes Marvel's captivating style. This LEGO brick recreation of the iconic Infinity Gauntlet featured in the Avengers Infinity War and Avengers: Endgame movies is certain to attract attention and interest wherever it is displayed.
With movable fingers, vibrantly colored Infinity Stones, and a descriptive tablet attached to a sturdy base, this golden gauntlet provides an engrossing construction challenge. The finished model will captivate all who see it. Escape the busy world and immerse yourself in the relaxing pleasure of adult LEGO building sets. They're perfect for anyone with an interest in creative construction or comic-book culture."
Of course, it's going to be challenging, but there are worse ways to spend an afternoon than by assembling one of the most powerful objects in all of comic book lore.
And when you finish it, you can Dad-quote Thanos every time someone comes over and is impressed ("They called me a madman…").