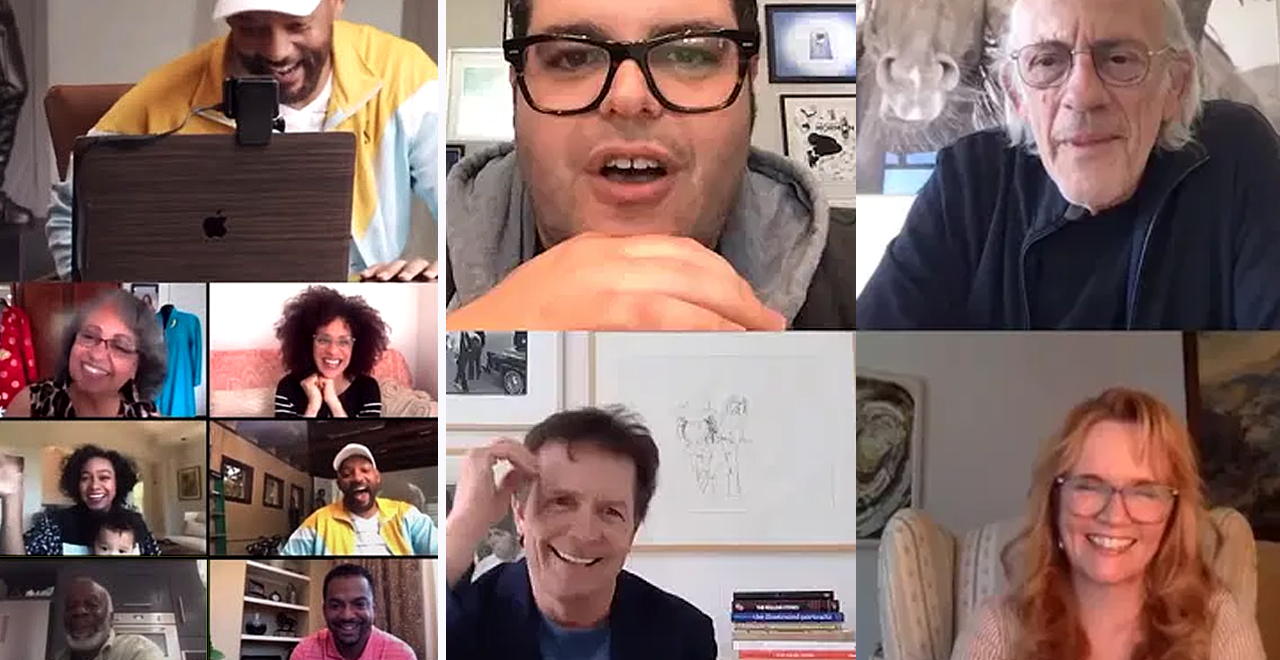 Credit: Instagram/Will Smith YouTube/Josh Gad
Celebrities: currently just as bored as the rest of us nameless nobodies. And if there's one silver lining to all this, it's that they're far more susceptible to the concept of cast reunions. Most are willing, eager even to recapture any modicum of onscreen chemistry they shared with former costars. It's truly a treat for everyone involved.
Here are 6 of the best pop culture reunions we've seen so far this year.
The Goonies

Heeyyyy you guyyyyys! If the prospect of a Goonies TV series doesn't shift your nostalgia gear into overdrive, this certainly will. Josh Gad, Olaf himself, recently launched a reunion-centric YouTube series called Reunited Apart, and so generously invited on the clan from this 80s classic. Thank goodness Goonies also never say no to reunions.
Back To The Future
Josh Gad making with the goods once again. If you're even the most casual fan of the BTTF trilogy, you're certain to get a kick out of this one.  Featuring Christopher Lloyd, Michael J. Fox, Lea Thompson, director Robert Zemeckis, and several surprise guests! Spoiler: Huey Lewis! There was also one cast member missing from the first round but he made his presence known here.
The Fresh Prince of Bel-Air
When Will Smith launched his quarantine Snapchat show, Will At Home, we knew this was an inevitability. Will successfully reassembled the whole Banks family (minus Uncle Phil of course, RIP) to chat about their time together on Fresh Prince. Carlton, Hilary, Ashley, Geoffrey, Aunt Viv. Even Jazz pops in for a bit!
Parks & Recreation
It's been 5 years since your favorite crew from Pawnee, Indiana appeared together in the series finale of Parks & Rec. In a bid to raise money for Feeding America's COVID-19 Response Fund, Amy Poehler, Chris Pratt, Aziz Ansari, Rashida Jones, Aubrey Plaza, Nick Offerman, and a few other familiar faces got together for, not just your run-of-the-mill cast reunion, but a whole freakin' scripted episode, with everyone filming remotely. Hopefully, this paves the way for other shows to do the same. Fingers crossed for Seinfeld's "The Zoom Call."
Community
Community is one of the most resilient sitcoms in TV history. It stayed on NBC for four seasons despite abysmal ratings, got canned, was immediately revived by its fan base, and then killed once more. Now the students of Greendale Community College are back, raising money for frontline workers with a table read of the season 5 classic, "Cooperative Polygraphy." Even Donald Glover was there!
Splash
Okay, now you're just showing off, Josh. But we approve of the John Candy related content.