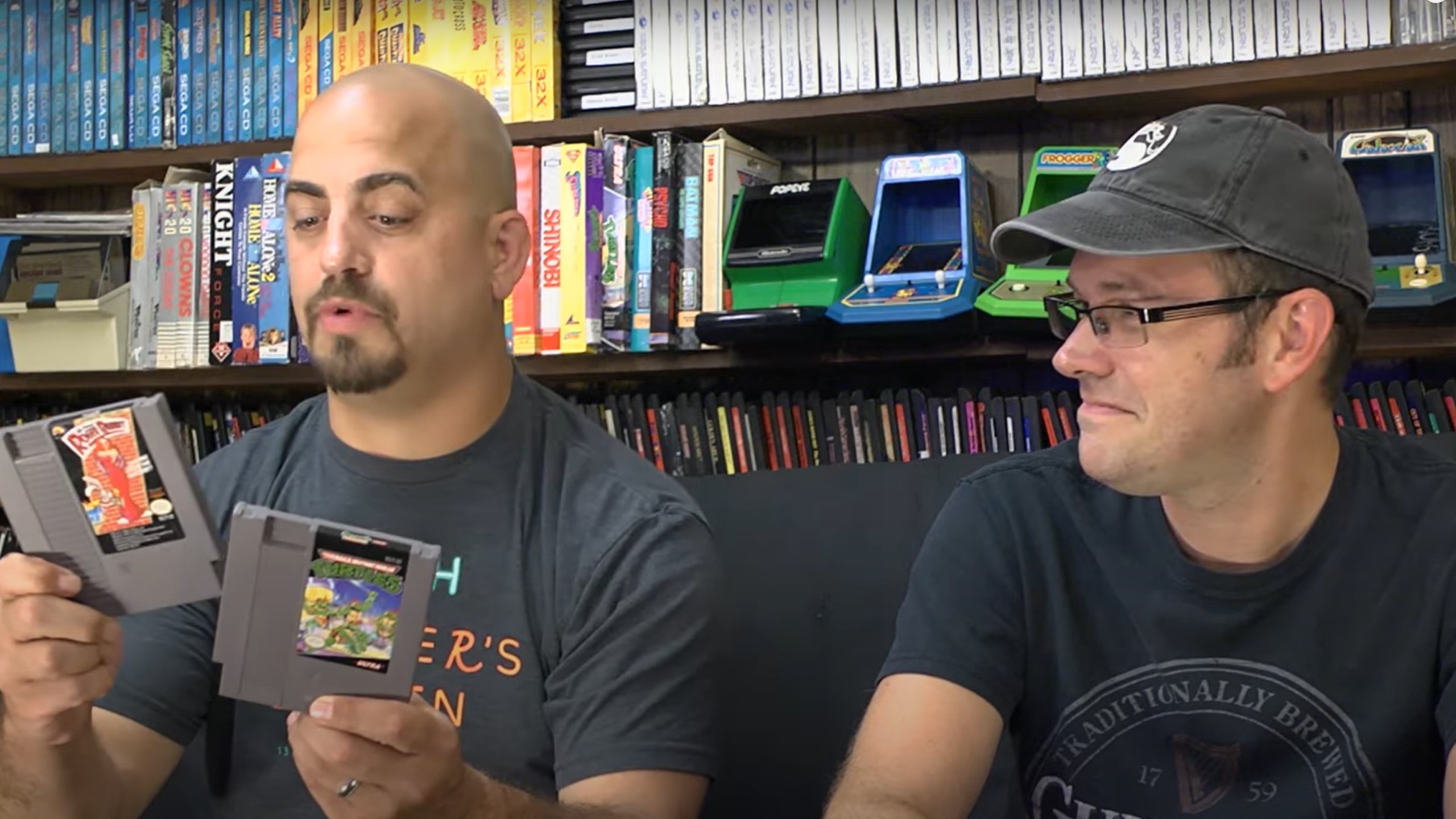 Credit: Youtube/Cinemassacre
James Rolfe aka The Angry Video Game Nerd has made a career out of reviewing some of the best of, the worst games ever made.  His persona "The Nerd" is famously known for yelling and cursing at whatever game he's playing and I can guarantee that if you hear the AVGN theme song, it'll get stuck in your head.  It's always fun watching him suffer and lose his mind while playing, but James does have his chill moments in some of his other content when he's not in character.  One of his recent videos titled "Reuniting a Childhood Friend with His Nintendo Games" is a perfect example.
If you've watched certain AVGN videos in the past, you might have noticed a name scribbled on the back of some of the NES cartridges he was holding.  Well, it turns out those games were passed down to James by his friend John.  Now, James has taken the time to reunite his friend with some of his old game collection, which includes The Karate Kid, Marble Madness, Who Framed Roger Rabbit?, Adventure Island, Punch-Out!!, Ikari Warriors, Super Mario Bros./Duck Hunt, and the dreaded Teenage Mutant Ninja Turtles.  It's some pretty wholesome stuff.
James and John have known each other since 1992 and watching the two of them take a trip down memory lane while passing the NES controller back and forth takes me back to simpler times.  If you grew up playing video games, this was just the norm.  I can remember sitting down with friends and just playing games for hours without a care in the world.  We really don't see that anymore though, since everything can just be played online.  It kind of makes the whole experience a little less personal and I really do miss those days.
Honestly, I would love to see more content like this from James.  AVGN is great, but it's always nice to see something so nostalgic, relatable, and down to Earth.  It got me thinking about James' question at the start of the video and why he decided to do this.  "How often are you reunited with your childhood games?".  The question alone almost makes me want to sell my PS5 and buy back my childhood game collection.