35 Golf Movies That'll Send You Straight To Your Happy Place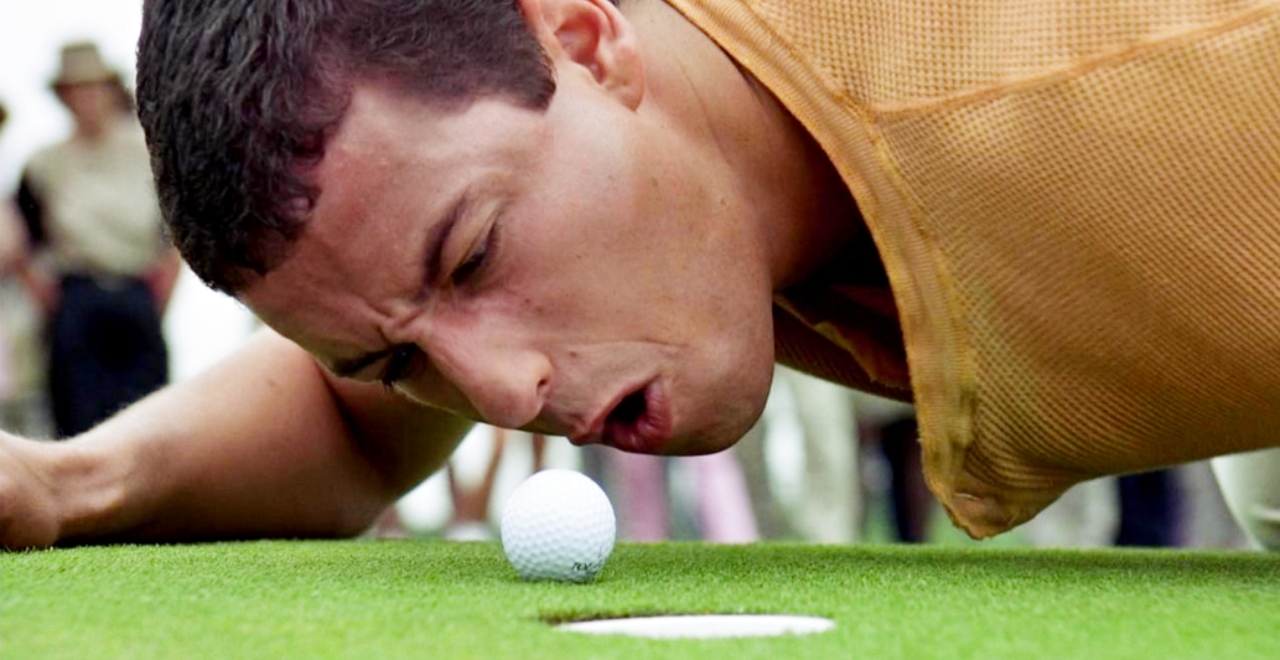 You know how the saying goes: If a day's nice enough to be out on the golf course, it's nice enough. There are few things better than standing at the tee with the wind at your back as you prepare to crush your ball toward the fairway. Even if you spend more time in the sand than David Hasselhoff, a bad day of golf is still better than a good day in the office. Unfortunately, unless you're Dustin Johnson or Rory McIlroy, you can't actually spend every afternoon on the links. That's what golf movies are for, though — to fuel the dream on all the other days.
For your viewing pleasure, we pulled together a list of the best golf movies out there — from classics like Caddyshack to new contenders like Tommy's Honour. We're not going to rank them because, well, it's all pretty subjective. Besides, golf movies are like playing golf: Even when it's shitty, it's still a worthwhile way to pass the time. Keep reading for our commentary on a few favorites, followed by a golf movies list to add to your queue.
Best Golf Movies
1. Caddyshack (1980)
I mean, right? Is there another movie that even comes close in terms of the most quoted golf movies of all time? The cast alone — Chevy Chase, Rodney Dangerfield, Bill Murray — easily lands it in the top five. And it was directed by Harold Ramis. Plus, the f*cking gopher, man… it never gets old.
2. The Legend of Bagger Vance (2000)
You might not expect a movie that centers around a washed-up drunk and a vagabond caddy would be such a solid addition to this golf movie list. But when the washed-up drunk is Matt Damon and the vagabond caddy is Will Smith, well, it just works. The addition of Charlize Theron with a Southern accent doesn't hurt either.
3. Happy Gilmore (1996)
You can't really go wrong with Adam Sandler. OK, that's not exactly accurate — things often go extremely (hilariously) wrong in Adam Sandler movies, but that's the appeal. Take, for instance, what happens to Chubbs' hand in Happy Gilmore. Tragic, yet still funny. In full disclosure, if you've never yelled "are too you good for your home?!" at your ball, we probably can't be friends.
4. Tin Cup (1996)
Long before he was killing it as John Dutton on Yellowstone, Kevin Costner played rebellious golf-pro-turned-instructor, Roy McAvoy, rallying to make a run for the PGA tour — and the heart of his rival's girlfriend, played by Rene Russo. It may be predictable, but we don't care. Still one of our all-time favorites.
5. The Caddy (1953)
When you have a movie where Dean Martin plays the golfer and Jerry Lewis plays his caddy, you can bank on it being funny. It's a classic screwball comedy and one of the most nostalgic efforts from Martin and Lewis. The fact that it revolves around golf is basically just an added bonus.
Other Golf Movies to Give a Shot
If you blow through those first five and need more quality golf content to distract you from your everyday life, try these next.
A Gentleman's Game (2001)
Dead Solid Perfect (1988)
Tommy's Honour (2016)
The Man With the Perfect Swing (1995)
Miracle on the 17th Green (1999)
Pat and Mike (1952)
Who's Your Caddy? (2007)
Leslie Neilson's Bad Golf Made Easier (2018)
Becoming Redwood (2012)
The Boys of Sunset Ridge (2001)
Dorf on the Golf (1987)
Follow Thru (1930)
The Golf Specialist (1930)
Love in the Rough (1930)
Part-Time Wife (1930)
Spring Fever (1982)
Three Little Beers (1935)
The Squeeze (2015)
Seven Days in Utopia (2011)
National Lampoon's Golf Punks (1998)
Documentaries & Golf Movies Based on True Stories
If you're still holding out hope for that PGA card, cue up the following movies that are full of real-life inspiration. They may be just the kick in the ass you need.
Bobby Jones: Stroke of Genius (2004)
The Greatest Game Every Played (2005)
The Short Game (2013)
From the Rough (2013)
Seve: The Movie (2014)
Follow the Sun: The Ben Hogan Story (1951)
The Founders (2016)
The Back Nine (2009)
Golf in the Kingdom (2010)
Uneven Fairways (2009)