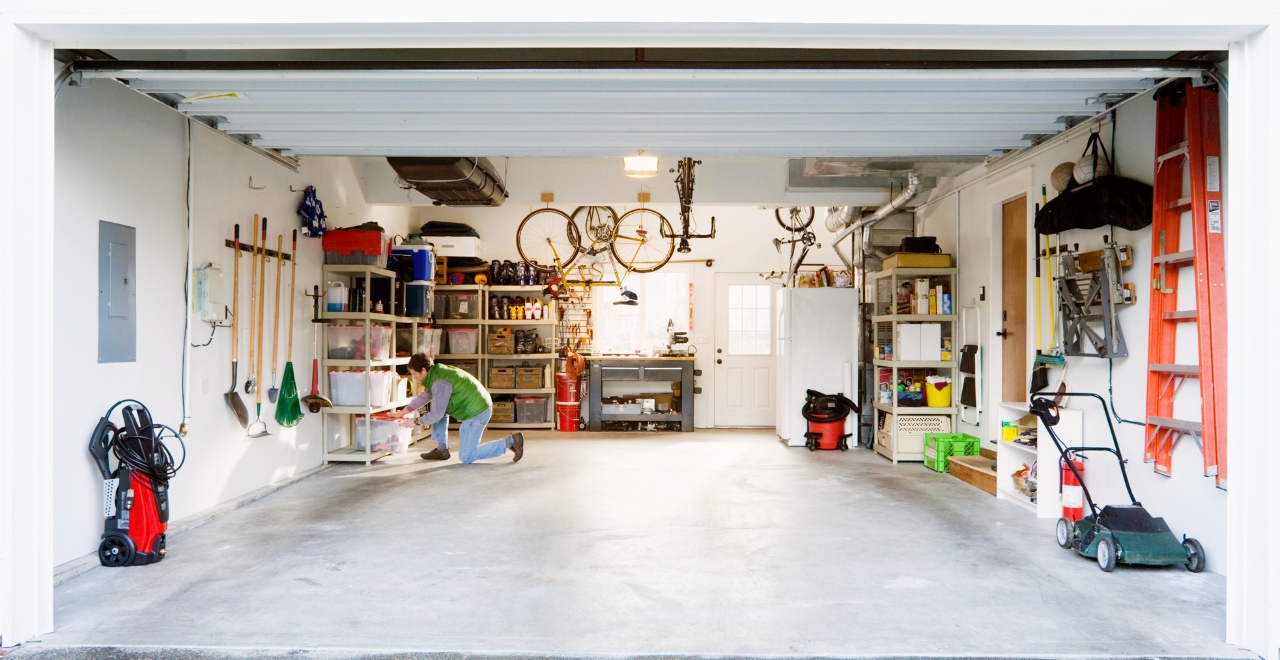 Credit: Getty Images/Don Mason
Let's be real: An "organized garage" often seems like an oxymoron. They serve too many purposes and see too many visitors. Everyone and their uncle have been in your garage. If it's open (and in the summer, isn't it always open?), that's the door people use to come in. In the winter, your partner is adamant they want to use the garage "for its intended purpose," and you're suddenly trying to make room for the family van. But what about your tools? What about all the crap you've been told you "need to find a place for"? How are you supposed to do that in the garage when it's also home to the SUV, the sports equipment, and more bikes than you have kids? It's overwhelming. But there are some key things you can do to make it less so. Enter: DIY garage storage ideas.
The following tips, tricks, and hacks will help you make sense of the chaos you currently call your garage.
DIY Garage Storage Ideas and Garage Tool Storage Ideas
Figure Out What You Need
Go stand in your garage. Survey the area. Maybe bring a friend or spouse to offer an objective perspective. You need space for car and bike storage. You're going to need a place to stash the holiday stuff. And, of course, you need a place to hang, hide, and use your tools. Decide on the zones you need to create within the limited space of your garage. Make a list.
Play "Crime Scene"
You'll need:
A tape measure
Masking tape or painters tape
It's easy to see a bunch of junk and want to run out and buy tubs to shove all that junk in. But then where will the tubs go? If the Christmas wreaths get mixed in with your circular saw, you're never going to find anything (or if you do, your wreath may no longer be in one piece). Once you have your list of zones, figure out where you want to put them. Measure how much space that cluster of bikes takes up and tape off a "parking area" (close to the garage door so the kids aren't rolling bikes out by the new car).
Cluster your holiday decor together in a neat and orderly fashion. Measure that and tape out where you think it will go. Consider your workbench and your tool storage and measure and mark that space, as well. In essence, you're mapping out a crime scene for your belongings using tape — although the true crime would be not making the most of every inch of storage you can find in your garage.
Note: The walls and ceilings are fair game, too. Can you hang the less-used bikes from the ceiling? Imagine how much shit you can put on hooks on a pegboard! The possibilities are endless.
OK, Fine — Go Shopping
Now that you've surveyed the scene, you might have a better idea of what you need. Here are a few things to keep in mind:
If you already have bins to use, measure them before you buy shelves.
If you already have shelves, measure those before you buy storage bins.
If you don't have either: Prepare to do a ton of math.
If possible, buy clear bins so you can see what's inside.
Label stuff. You'll thank yourself later.
Flexibility Is Key
Remember that what's in your garage at the beginning is only going to multiply over time. And trust us, you don't want to have to do this every other year until the kids go off to college. So, leave bins empty to fill at a later date. Buy shelves that hold more than you have or that can be adjusted to fit more as you go along.
Start at the Garage Door
Pro tip: Start at the garage door. Why? Well, mainly because your tools and workbench have probably been allocated to the back wall, right? (Always. That's always where Dad's workbench ends up.) That area is going to take the most time. After all, tool storage is also probably your main reason for doing this. If you start with your tools, chances are you'll stop after your tools.
It's Time! Go Crazy With Your Tools!
Your tool storage and workspace can look as anal-retentive as you want them to look. There are no wrong answers. Some dads play "crime scene" with a permanent marker and pegboard, giving each hand tool a designated spot on the wall. Other dads spend a fortune on one of those rolling metal toolboxes and then toss everything inside. Let's shoot for a happy medium.
Overhead Rag Storage
Keep your garage space clean by keeping wipes close by. This is a great way to keep the garage spic and span. If your ceiling is low enough, nestle a box of paper rags within its joints. Each time you need a rag, just reach up and grab one to wipe down the counters or your face and hands with ease. Try installing it in the ceiling or sticking the box onto the wall.
How to Keep It Organized
Keep similar tools or tools you'll use for the same kind of job in roughly the same spot.
Be nitpicky about the nuts, bolts, and screws. Listen, none of this little stuff is expensive. But it's also possible to end up with 200 of an odd-sized screw you only needed for three projects because you couldn't find the box you bought last time. Those tiny drawer units are super cheap at places like Harbor Freight. Buy a few. Borror the label maker from your partner or work, and go to town. You can literally type up labels and put them on the drawers while watching the Lakers. And the next time you need a #24 wood screw, you know exactly where to find one.
Lock every drawer that you possibly can. Little hands can do big damage with a staple gun.
Have a decoy toolbox. Keep it stocked with the bare necessities and cheap versions of things your family might want to borrow. Hammer, screwdriver, Allen wrench, drill, picture-hanging nails/screws, tape measure — you get the gist. Keep it somewhere super obvious, like right on top of your workbench. That way, when they need something, they can find what they think they need easily (read: Without digging through your stuff).
Another way to keep your garage clutter-free is to use a ball claw. This device mounts to the wall and holds your basketballs, soccer balls, footballs, and volleyballs in a safe and accessible place. The next time your kids are looking for their equipment, they can avoid searching under the car or rifling through gardening tools, and making a big mess.
Fishing Gear Storage
Do you enjoy fishing trips with the fam, but are tired of your fishing gear getting tangled up? Use a swimming pool noodle and a long line of PVC to keep your lines separate. Cut tiny slices into the noodle about four inches apart. Slide the noodle around the PVC and then screw the covered PVC pipe into the wall. Then place your fishing rods into each cut.