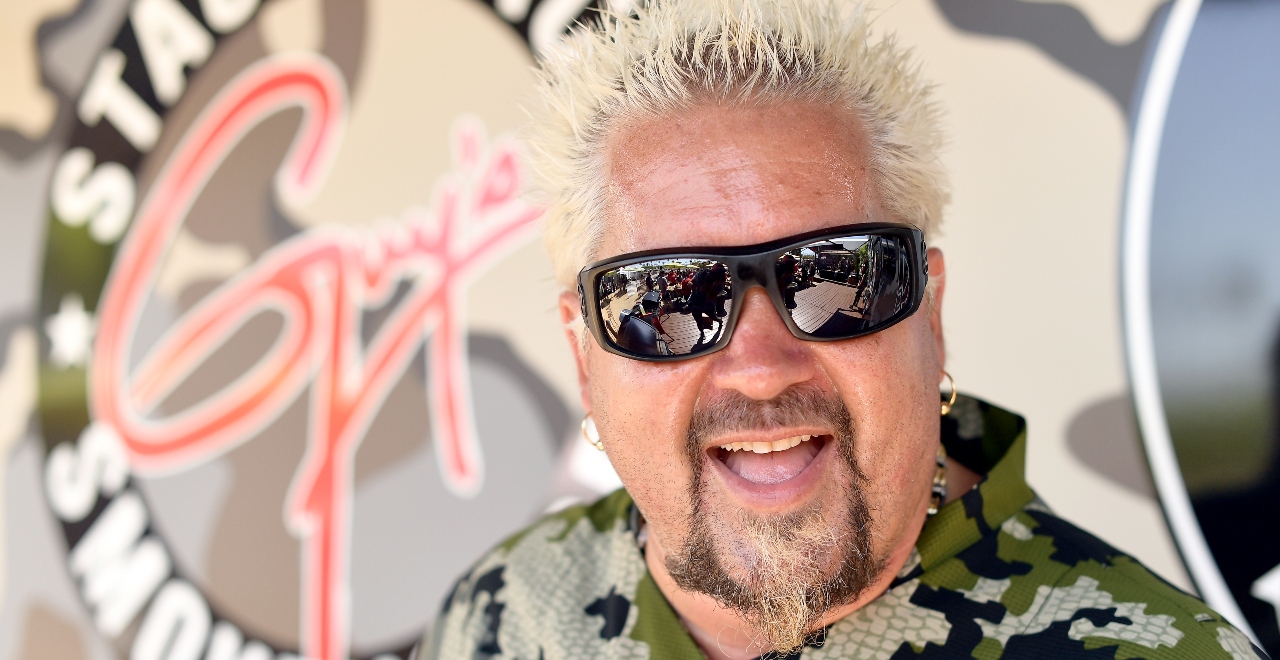 Credit: Getty Images/Matt Winkelmeyer
There exist two main camps of people where Guy Fieri is concerned: those who love him and those who are learning to love him. From his frosted spikes to his penchant for referring to everything as "gangsta," he's a character. But, honestly, we're down with any dude who has the cajones to dub himself the Mayor of Flavortown or feeds first responders. Plus, have you heard the delightfully cringey jokes he cracks? Or those classic Guy Fieri quotes, like, "It's funkalicious"? Peak dad. (We know — we can smell our own.) So, yeah, we reside comfortably in the "love" Guy Fieri camp. The dude is entertaining AF. He's also pretty damn relatable. We, too, wake up in the morning thinking about food.
He basically embodies all that the word dad has become, including being a badass father figure. He's a vocal advocate for teaching kids to cook — and not just in a "pass the whisk" kind of way. He wants your kids in the kitchen creating, sauteing, and setting things on fire. We're here for it. (Our homeowners' insurance… not so much.)
So, we come bearing gifts: Some truly hilarious, inspiring, and amusing Guy Fieri quotes. Let each one drench you in goodness, like taco grease in a hot skillet or that first pour of a cold beer. We dare you to reach the end without having even more respect for this Columbus native, host of Diners, Drive-Ins and Dives and Guy's Grocery Games, and Mayor of Flavortown. Slap some sunglasses on the back of your head and enjoy.
"Holy moly, Stromboli!"
"I could put this on a flip-flop and it would taste good."
"If you're cooking and not making mistakes, you're not playing outside your safety zone. I don't expect it all to be good. I have fat dogs because I scrap that stuff out the back door."
"Cooking is like snow skiing: If you don't fall at least 10 times, then you're not skiing hard enough."
"I wake up in the morning thinking about food."
"Cooking with kids is not just about ingredients, recipes, and cooking. It's about harnessing imagination, empowerment, and creativity."
"If it tastes really good, and it's funky, it's funkalicious."
"I love watching; I love getting all the science about food. That's one of my favorite things."
"I wanna be the ambassador to Chimichanga Flavortown."
"I'm a five-seasons griller. I don't care what the weather is like. My hair is impervious to any kind of dampness, so I don't have too much to worry about."
"Peace, love, and taco grease!"
"[Those] fried green tomatoes — brother, that's a symposium of flavor."
"This is gangsta!"
"Don't ever use lighter fluid. It's un-American. Amateurs, losers, and idiots use lighter fluid."
"Preparing food is one of life's great joys, but a lot of times, parents ask their kids if they want to cook with them and then tell them to go peel a bag of potatoes. That's not cooking — that's working!"
"His seafood is so fresh, it'll slap ya!"
"We're takin' you on a road rockin' trip down to Flavortown, where the gravitational force of bacon warps the laws of space and time."
"Pig candy."
"I've always been an eccentric, a rocker at heart. I can't play the guitar, but I can play the griddle."
"This is money!"
"Sometimes you pull up to a place, and you just know it's going to be good."
"It's never too late to get good at something."
"Shut the front door!"
"No matter how tough the meat may be, it's going to be tender if you slice it thin enough."
"You've got balls inviting me here."
"We're riding the bus to Flavortown!"
"Some people are just born to cook and talk."
"What a hot frisbee of fun!"
"Capital T tasty!"
"Kids want to sauté, to cut the pizza, to see how the ingredients come together. If you let them do the fun stuff, they'll develop skills and interests that will stay with them forever."
"Cooking with kids is not just about ingredients, recipes, and cooking. It's about harnessing imagination, empowerment, and creativity."
"Cooking is like snow skiing: If you don't fall at least 10 times, then you're not skiing hard enough."
"I don't know if it's fair to call their Russian dressing Russian dressing — it should be called something sexy, like liquid Moscow."
"If you slow it down, eat in courses, your body, mind, stomach will catch up with this full feeling and you won't eat as much."