Everything To Know About the Mentos and Coke Experiment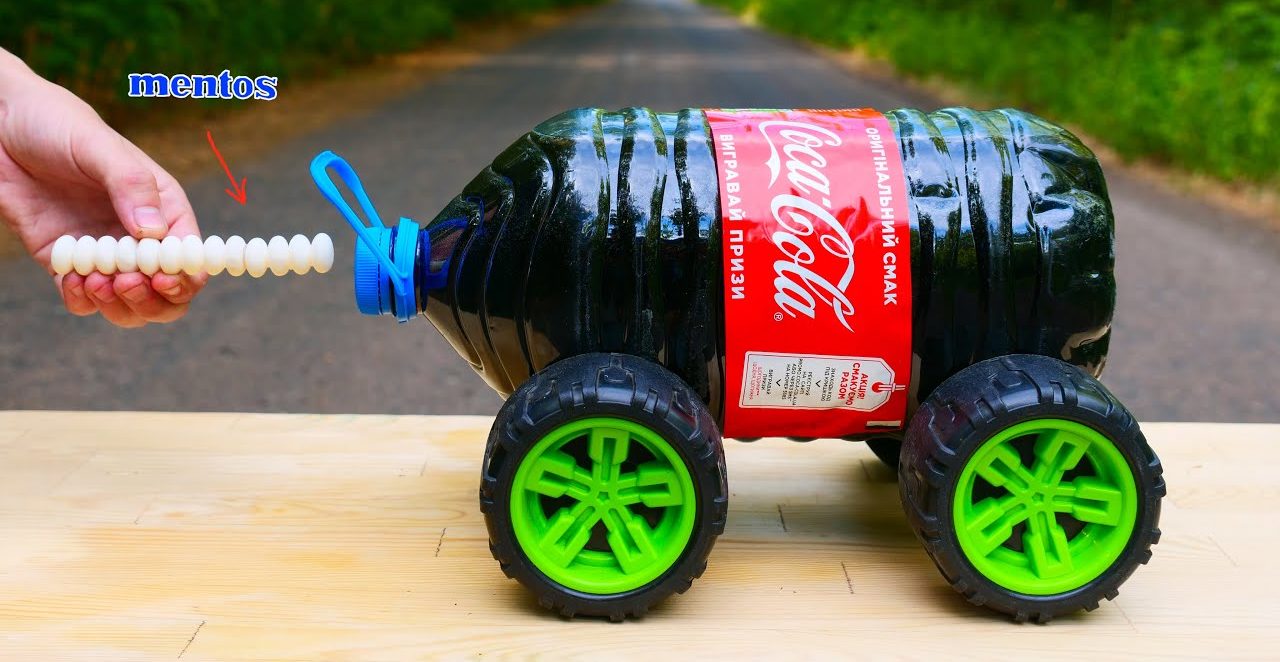 Now that we're entering the eleventeenth month of social distancing and pandemic life, we've all become pretty adept at finding ways to fight off boredom. Building elaborate LEGO sets? Done it. Channeling our inner David Copperfield by learning magic tricks? Yep, that too. And thanks to the popularity of TikTok, we've all witnessed the rise of many new social-media-born trends over the past year. Interestingly, though, one of those social-media-born trends isn't new at all: the decades-old Mentos and Coke experiment. It's true — all over the internet, you can find kids and their parents recreating the same experiment that's been done thousands of times before. By dropping some Mentos into a 2-liter of Coke, they create a man-made geyser of epic proportions.
It's not as basic as it seems, though. There are so many variations and riffs on the experiment now. From using different kinds of carbonated drinks to different sized bottles and even trying the other Mentos flavors, there are plenty of ways to give the experiment your own spin. Why does it work? Which gives the ultimate "explosion"? And what other factors can take the experiment to new heights?
We have all the answers (and then some). So, strap on some safety goggles and show your little science nerds how it's done. As we walk you through all the basics, be sure to watch the videos of some different takes on the experiment!
The History Behind the Experiment
The Mentos and Coke challenge didn't even start with Mentos. In the '80s, budding scientists would thread the Wint-O-Green Life Savers onto a pipe cleaner and then drop them into bottles of soda to create geysers. It was a popular experiment in science classes across America. And then the '90s happened. The manufacturer of Life Savers changed their sizing, and the candies would no longer fit through the mouth of a 2-liter bottle. Never ones to accept defeat, scientists set out to find new ways to make geysers. They found their answer in mint Mentos. And the rest is history… but, also the present.
Chemical or Physical Reaction?
While many people incorrectly claim that a chemical reaction causes the minty-soda geyser, they aren't entirely in the right. In actuality, the answer is a bit more complicated. Scientific American explains that it's more of a physical reaction. The reaction comes from the microscopic bumps on the candy disturbing the carbon dioxide in the Coca-Cola, causing it to release the epic burst of fizziness. Diet Coke has historically created the biggest burst because it has the most CO2. It's all aided by the shape of the bottle. Don't quite understand? Honestly, that's okay. We're all here for the geyser, not the science.
Variables to Consider
As we mentioned above, Diet Coke and Mentos create the biggest geyser. However, there are plenty of other things to try. Just because we know Diet Coke will create the biggest geyser, it doesn't mean we can't still experiment with other soft drinks. Using the various fruity flavors of Fanta may not create giant pop volcanos, but they will produce wildly colorful ones. 
Another interesting variable to consider is altitude. Depending on where you sit above or below sea level can also impact the height of your geyser. Live near the mountains in Tennessee or Colorado, for instance? See how the experiment's results change when you do them at the top of the mountain versus when you do it at the base.
What other ways can you alter this experiment?
Sure, the shape on the 2-liter definitely plays a big part in your geyser-making. However, it does not have to be a constant or control. How can using different shapes bottles or containers affect the outcome?
How to Perform the Experiment
Supplies you need:
Mentos

Diet Coke
Safety goggles
Supplies to consider:
More Mentos

Other pop flavors
Painter's tape
Tape measure
Different sized vessels
How to:
Your best bet is to set up your experiment outside and in front of a wall or garage door. You can use your tape measure and painter's tape to measure off 1- to 2-foot markings on the wall or door. Definitely mark measurements all the way up as high as you can reach.
Sit your 2-liter of Diet Coke close to the measurements, don your goggles, drop a few Mentos into the bottle, and run. Use the highest wet mark on the wall to measure the results. (If it didn't splash on the wall, consider yourself lucky and use your kids' best guess as to how high it reaches.) You could also set up your phone to video the drop and help keep accurate records — just keep it back far enough that it can catch the whole wall. Consider using another piece of painter's tape to mark the Diet Coke's peak splash.
Repeat the experiment with different types of soda or different vessels, continuing to record your results. Because, really, what else do we have to do right now? Plus, as ways to kill time go, this one's pretty cool. 
What happens if you eat Mentos and Coke?
You may have heard that drinking Coke with Mentos will cause you to explode. But that's not entirely true. You won't blow up, but you will feel like an erupting volcano of discomfort. It causes you to burp and vomit profusely because the carbon dioxide in your stomach will need a way out. This provokes the puking. So, you won't die, but it isn't a very fun activity.