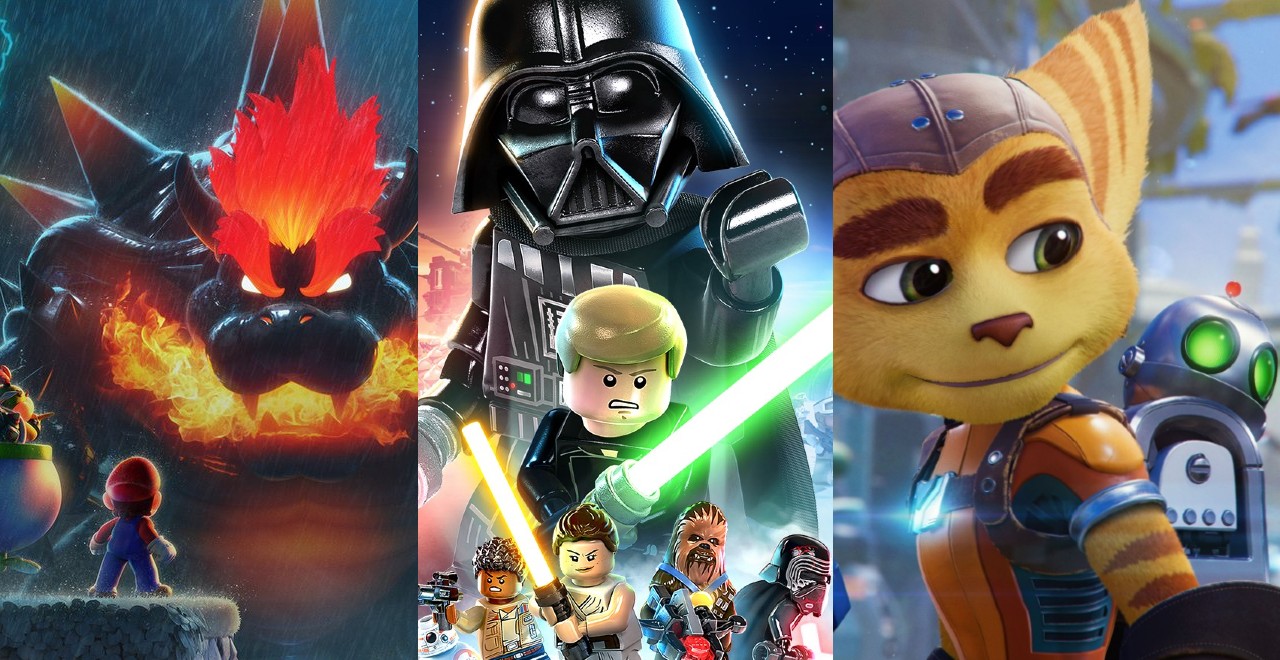 Credit: Nintendo/Warner Bros. Interactive Entertainment/Insomniac Games
2021 is going to be a big year for video games.
I say that every year, but it's especially true this time.  Nintendo has a great line-up of titles for their ever so popular Nintendo Switch and Sony & Microsoft, while focused on releasing plenty of exciting next-gen gaming experiences for their new consoles, will still be supporting their previous PS4 & Xbox One systems.  With love for current and next-gen gaming, this just means a year full of entertainment.
The list I've put together here contains a variety of new games releasing (or rumored to release) in 2021 that you and your kids could enjoy playing, a couple that are pure speculation (oh, I just love to speculate), and a couple "mature" titles that us adults can be excited about.  There's something here for everyone to look forward to.  It's also crazy to think we're only in January and I'm trying to figure out how I'm going to find time to play all of these.
Super Mario 3D World + Bowser's Fury
I'm so glad that Nintendo decided to finally port this over to the Switch.  My kids and I absolutely loved Super Mario 3D World when it originally released on the Wii U, and it's right up there as one of our favorite Mario games of all time.  The levels are well-paced and the co-op is a ton of fun (unless your son keeps picking you up and throwing you off a ledge for a good laugh).   This game seemed to inspire Sony's PS4/PS5 exclusive Sackboy: A Big Adventure, which is another great co-op experience to check out.  With this updated Switch release, it includes the "Bowser's Fury" add-on, which contains Baby Bowser as a playable character (if the newest trailer up above is suggesting that), new levels, and a giant Bowser vs giant Cat Mario battle.  It looks awesome.
Super Mario 3D World + Bowser's Fury releases for Nintendo Switch on February 12th, 2021.  You can pre-order now.
Ratchet & Clank: Rift Apart
Sony's Ratchet & Clank series has always been something special.  The characters are lovable, the world is vibrant, the weapons are wacky, and the humor always has its tongue placed firmly in cheek. Ratchet & Clank: Rift Apart is coming exclusively to the Playstation 5 and will be the 10th entry in the main storyline.  This new adventure includes new features such as a playable female character and interdimensional warping mechanics.  If you haven't kept up-to-date on your Ratchet & Clank lore, don't worry.  Developer Insomniac Games says 'Rift Apart' will act as a sort of standalone story, so newcomers won't be completely in the dark.  For Ratchet & Clank enthusiasts though, I'm sure there'll be lots of references to the other games for us to appreciate.
Ratchet & Clank: Rift Apart will release on PS5 in 2021.
New Pokemon Snap
This is a nostalgic surprise!  The original N64 Pokemon Snap was such a cool concept.  It was a unique and relaxing experience taking photos and trying to discover all the Pokemon in each area.  You could unlock different items like fruit, which you could toss at the Pokemon to get them out of hiding for that perfect photo.  With this new game, it includes an assortment of Pokemon from all the games in the franchise.  The only thing missing from this version is the ability to print off your pictures at the local Blockbuster Video.
New Pokemon Snap releases for Nintendo Switch on April 30th, 2021.  You can pre-order now.
Scott Pilgrim vs The World: The Game – Complete Edition
Based on the graphic novels by Bryan Lee O'Malley (and film adaptation by Edgar Wright), Scott Pilgrim vs The World: The Game is a co-op, side-scrolling beat em'up that takes its inspiration from classics such as Streets of Rage and Final Fight.  It also features a great, old-school inspired soundtrack by Anamanaguchi.  Celebrating its 10th anniversary, the Scott Pilgrim game was originally available digitally on PS3 and Xbox 360 but was de-listed from their online stores and just never showed up again… until now.  It does suck that I'll have to purchase this again, but it's totally going to be worth it.
Scott Pilgrim vs The World: The Game – Complete Edition is now available on PS4, Xbox One, Nintendo Switch & PC
Lego Star Wars: The Skywalker Saga
Lego Star Wars: The Skywalker Saga was originally supposed to release on October 20, 2020 but was unfortunately delayed until 2021.  It will adapt all nine entries in the Skywalker saga of films, so there's going to be lots of content to get through.  Judging by the trailer, it looks like it's going to be the best Lego Star Wars game yet, and I'm not ashamed to admit that a Lego game trailer gave me chills once that classic Star Wars main theme kicked in.  Gets me every time.
Lego Star Wars: The Skywalker Saga will release on Nintendo Switch, PS4, PS5, Xbox One, Xbox Series X/S in 2021
God of War: Ragnarok
The God of War franchise started out strong when it released back in 2005.  Over the years though, Kratos became a stale character.  Luckily, the developers of 2018's God of War felt the same way. It still featured the same over-the-top action we loved, but it added a new element to Kratos by giving him a son that was actually a part of the moment-to-moment gameplay.  Immediately, I had a connection with him, as I wanted to do everything I could to keep Atreus safe. I didn't always agree with how hard he was on his "boy", but when Kratos started to become more caring and open up all dad-like, man… did it hit me right in the feels. I cannot wait to see where their journey takes them with this next installment.  Hopefully, it can live up to everyone's expectations.
God of War: Ragnarok will release on PS5 in 2021.
Halo Infinite
Originally an Xbox Series X launch title, Halo Infinite's reveal last summer was met with criticism. Fans didn't think this looked quite like the next-gen Halo game they had been waiting for, so Xbox took that criticism very serious and delayed its release to Fall 2021.  This extra time allows developer 343 to really polish it so it can live up to the quality of the other titles in the series. Now, with a set release date, Xbox fans can really start to get excited for their "killer-app".
Halo Infinite will release on Xbox Series X, Xbox Series S, Xbox One & PC in Fall 2021.
The Legend of Zelda: Breath of the Wild 2
All we have is this cryptic teaser trailer from 2019, but we know it has been in active development since then.  I'm thinking we're going to get a new trailer this year with a holiday 2021 release date.  Breath of the Wild was a wonderful departure from the usual Zelda format, and while this one looks much darker in tone (like Majora's Mask), I hope it still retains the massive open-world exploration and clever dungeons that made the first so refreshing.  Also, the Zelda franchise turns 35 this year.  Wouldn't 2021 be a great time to announce the release date for this new one?  Maybe we'll just get an Ocarnia of Time remaster on Switch instead, I'd be cool with that too.
The Legend of Zelda: Breath of the Wild 2 will release on Nintendo Switch.
The Elder Scrolls VI
Ok, this last one's just for fun.  Sorry to get your hopes up.  This "Official Announcement Teaser" trailer we got two years ago was about as bare-bones a trailer as we could have got. Publisher Bethesda obviously just wanted everyone to know that a new Elder Scrolls game was in the works, but it has been two years since they made the announcement.  Either they're saving a big reveal for 2021 and planning a holiday release, or we might have to wait until at least 2022 to jump back into the single-player world of Elder Scrolls. Considering everyone is still playing Skyrim though, I assume they're in no rush and we'll just have to keep waiting patiently.
The Elder Scrolls VI will release sometime this century, as long as Bethesda doesn't keep re-releasing Skyrim.
So this is just a handful of big releases to look out for this year, and who knows what other unannounced projects will pop up in the meantime.  Yeah, 2021 is going to be a big year for video games.