Our 15 Favorite Dad Stories From 2018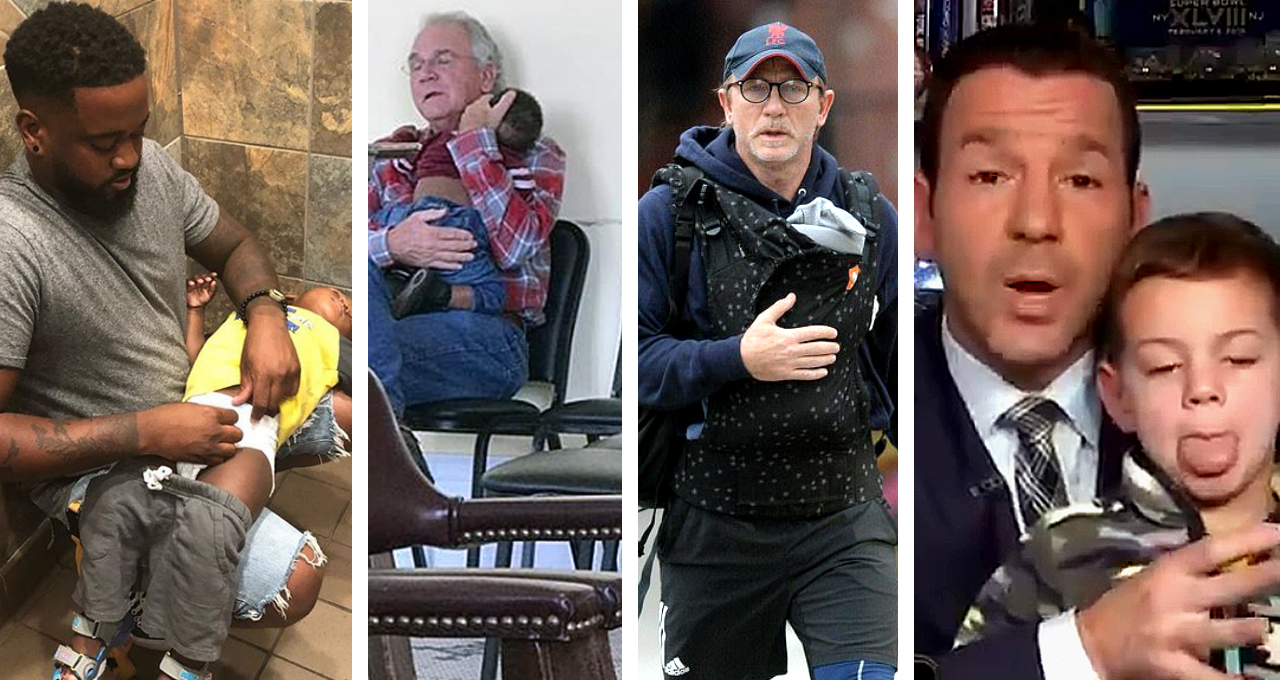 2018 was yet another strong year for dads. We were vocal, we rallied against outdated stereotypes. We had each other's backs. We continued to proudly change diapers and we insisted on changes to public washrooms. We led with our soft side and warmed hearts with our strong side. We cried. We built things. We built strong relationships with our children. We kept being goofy and made our kids laugh.
And of course we set the biggest fashion trend of the year.
Wait, what?
Here's our 15 favorite dad stories from 2018:
1. Change
One dad's struggle with the lack of diaper change tables in men's washrooms ignited a national conversation. New York State recently introduced a law requiring them.
Full story here.
2. Dances with Son
A video of a dad's heartwarming dance for his hospitalized infant son went viral. A few months later he announced his son was cancer free!
Full story here.
3. SUPERDAD
Look up in the sky. It's SUPERDAD! This awesome dad booked several flights over Christmas so he could spend it airborne with his flight attendant daughter while she worked.
Full story here.
4. 'Paw Paw' Power
A woman took a photo of grandfather Joe Hale as he held a stranger's baby at the doctors office. He clearly has a very particular set of skills.
Full story here.
5. Fire Escape Song Time
One dad was cool and collected while he and his daughter escaped the notorious "Camp Fire" in California.
Full story here.
6. Confronted With Compassion
When his son was being bullied at school one dad took a different approach in dealing with the bully. Kindness.
Full story here.
spent some time with my sons school bully yesterday .. just to dig a little deeper on"why?" .. come to find out he was being bullied for not having clean clothes n clean shoes.. I asked "why?" .. just to find out that his family is currently homeless????????♥️????✊????I had to do Something pic.twitter.com/IY29lgChqY

— TattooArtistAubrey (@illuminaubrey_) October 17, 2018
7. Bonding
Piers Morgan took to Twitter to belittle Daniel Craig for carrying his baby. Dads were shaken but not stirred. They rallied around modern fatherhood and had Bond's back.
Full story here.
Oh 007.. not you as well?!!! #papoose #emasculatedBond pic.twitter.com/cqWiCRCFt3

— Piers Morgan (@piersmorgan) October 15, 2018
8. Heartwarming Halftime
An army dad returning from Afghanistan surprised his football playing son during his game.
Full story here.
9. Coastguard Surprise
A USCG father who had been at Guantanamo Bay for a year double-surprised his son at a Cleveland baseball game.
Full story here.
Sometimes you're guaranteed to win if you just play the game …

Thank you to USCG Chief Petty Officer, Tim Lieb, for your service to our country … and welcome home! ????????#RallyTogether pic.twitter.com/iaanq8j1dw

— Cleveland Indians (@Indians) August 7, 2018
10. Son Interrupts Live Broadcast
NFL host Ian Rapoport continued to deliver his report despite his son's antics.
Full story here.
When my son Jude, home sick from school, walks into my office as we break down the Dez Bryant-to-the-#Saints signing… pic.twitter.com/BpSLHlkRlb

— Ian Rapoport (@RapSheet) November 7, 2018
11. Dancing Dad Embarrasses Daughter
A happy-go-lucky Cubs fan refused his daughter's repeated requests to quit flossing.
Full story here.
12. Dad Turns Sons' Drawings into Reality
A dad and his two sons collaborated to bring their drawings into the real world.
Full story here.
13. Coffee Turns Kids Into Superheroes
With a little photographic ingenuity one dad's morning cup transformed his children into superheroes.
Full story here.
View this post on Instagram
14. Heartwarming Father & Son Ad
An ad for a French telecom brand danced its way into our hearts.
Full story here.
15. Dad Style: 2018's Biggest Fashion Trend
White clunky sneakers and Crocs were in, just not the grass stains.
Full story here.
Make sure to check out our tweet roundup of the funniest tweets by dads from 2018.
Everyone at The Dad wishes you and your family a happy and healthy 2019!